Looks: Smart.
Nature: Funny.
Talent: making boundaries look smaller on any Cricket ground, sending bowlers packing, and beating the pulp out of the cricket ball.
Bad habits: soaring bowlers' economy rates and causing mental trauma to West Indies' opponents.
Claim to glory: two T20 world cup hundreds, 1 World Cup double century, but even before than that, two triple centuries in Test match cricket.
Nickname: Universe Boss.
Name: Are you joking? Chris Gayle, who else?
Christopher Henry Gayle is the ruler of T20I cricket. He's made most runs for the West Indies cricket in ODIs. He's ahead of even the great Brian Lara in 50-over cricket, havng lunged ahead of the Prince of Trinidad by seventy five runs.
He's funny as hell, probably those who find Kapil Sharma show as the funniest on planet earth may not agree, but it doesn't matter.
Chris Gayle also parties like crazy and can give any Hollywood hotshot or a wannabe hipster chilling goals.
Few cricketers have found such adulation as also fear from the end of the bowlers.
But if you thought that's all that there's to speak about Cricket's entertaining Jamaican, then probably you haven't watched the game for a bit.
There is an undeniable problem at the moment. And it's that Chris Gayle is nowhere to be found.
Somewhere, his normal self has had him kidnapped; no one seems to know where the mighty Universe boss, who also calls himself a lion, on occasions, is.
You know the guy who hits massive sixes and inspired the likes of Evin Lewis? The same dude who opened a Test match inning by virtue of a massive six against New Zealand, circa 2012!
Anyone seen that Chris Gayle? If so, kindly pass him a message that guys like Bravo, Pooran, his captain Pollard, Russell and others as also millions of fans are looking for him.
Tell him, they all miss him.
Having said that, let's cut straight to the point.
Facts first. Not since Formula 1's George Russell's favourite word is Facts, but hey.
The Chris Gayle we see today isn't really that Gayle whom we've come to enjoy and gotten entertained by on so many occasions.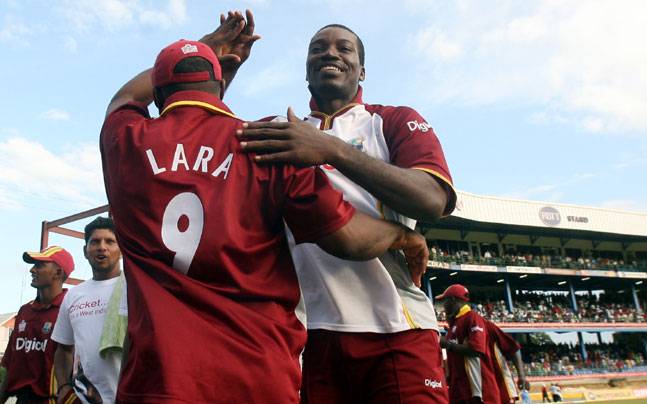 The one man who's a marauding force of nature and a real tormentor of both pace and spin. Not the guy so far about whom it could be said that he's mastered the art of wrist spin but the one who's been found out instead by them wrist spinners.
For a bloke who batted disdainfully even against the best spinners in the game, think Warne in the Aussie's Rajasthan Royals days, think Vettori of New Zealand, and sent Xavier Doherty packing in the 2012 ICC world cup contest versus the Aussies, Gayle's a different person today.
Perhaps he's retreated himself into a no-communication zone and perhaps that's because it's the best thing to do.
Why?
He's not been getting to do much for him to be talked about. And what he does for the world to talk about is sending bowlers into a tizzy.
Firstly, Chris Gayle, even as he's on the final legs of his career or as they say in motorsport, final few laps of the race, needs to get back to form.
His 2021 form alone points to a major source of worry.
Thus far he's played 16-17 T20Is from which his returns are about as impressive as Brian Lara's fiercest toe crushing yorkers.
And, of course, Lara was no yorker specialist
Gayle's batting average this year is seventeen. You read that right.
The Gayle we know for his bamboozling hits has somehow retreated into a tiny cocoon.
Some may still love him- and they should- for he's ben a pillar of the game's most liked skill- bit hitting.
Akin to Bond, James Bond who has the licence to kill, Chris Gayle's batting carries the licence to thrill.
But hasn't it gotten damp, of late?
He couldn't handle Starc, had no answers to Hazlewood. That the familiar smasher of spin fired just one fifty and that too, at home vs the Aussies, meant no success.
Even against Sri Lanka, earlier this year, made twenty nine runs from three innings. His average was under 10.
And that's Christopher Henry Gayle we are talking about.
From 16 T20I games, the most dangerous batsman of the shortest format is apparently sitting on an average of well under 20, 18 to be precise.
The issue is, the Chris Gayle we know and have come to love all these years, the fun-loving, freewheeling bowler-destructor is nowhere to be found.
Then, what do we see in Punjab? Gayleforce called time on the ongoing season.
The big scores are nowhere to be found. And now, he's not playing the IPL anymore citing trouble with dealing with the bio bubble in the UAE as the reason for his self-manufactured ouster.
But the key question is, when he returns, can he go bang bang on the cricket pitch for the West Indies? They'd love to rally behind the big man.
Who won't?
He's national treasure of the West Indies.
The issue has never been about the big shots or muscular blows but the application and of late, consistency. If that can't happen in the world cup of a format where Gayle's highest score is 117, then one fears it'll be the end of the road for Christopher Henry Gayle.
So what the West Indies would like the big man to do is- hit the nets, less of the party or dance floor and get going against spin. They'll unleash everyone on the main man of Caribbean cricket- Shamsi, Ashwin, Yasir Shah, Usman Qadir, Ish Sodhi et cetera.
He can still put on a big whack, undoubtedly. But can he save his stumps from the likes of Rashid Khan and Nabi and others whom he's yet to get the grip of.
Forget not, there'll also be George Linde and George Dockrell, two bowlers our man from Kingston, Jamaica has hardly played against.
Chris Gayle will back himself to go big- as he must. He's the man for the big occasions. Don't forget his Aussie bashing in the World Cup, T20 of 2012 in the semis against Australia.
Forget not his grinding of the same opponent in the same game in next world cup edition, 2014.
What'll 2021 bring for the Universe boss?
May the best happen to the man who calls himself the six-hitting machine and rightly so.