Mayank Agarwal isn't a serial killer.
Mayank Agarwal has no plans on shooting anyone inside the Indian parliament. There's nothing wrong that he's done in his life to afford the treatment being meted out to him.
Raising slogans on pseudo but worthy causes such as- Free Tibet or turning orator on Mansplaining doesn't come naturally to him. But what does, however, is scoring runs.
Considering his last five cricketing appearances have yielded scores like- 90, 34, 66, 47, 80- anything other than batting beautifully may seem out of his talent zone.
To be utterly honest, Hindi might be his natural tongue. But this 27-year-old seems to communicate best in fours and sixes, converting 1s into 2s. And yet, despite having a good track record, he finds himself unpicked in the playing eleven that are currently roasting the West Indies.
Why was Mayank Agarwal- a batting average of 50 in both List-A and First-Class cricket- not picked for the Rajkot Test is something more complicated than the Black Dahlia murder in Los Angeles and stranger than solving the Rubik's Cube under 2 minutes?
What's more surprising is a piece of unsolicited advice offered to one of Mayank Agarwal's compatriots, Karun Nair, by an unidentified selector. Remember Karun wasn't picked too. Nair, who captained the Board President's Eleven was told to get back to scoring big in domestic cricket.
Considering that's the way to mount a presence in the national side, then what is it that Mayank Agarwal has been doing? Surely, he's not copying Hardik Pandya's blue streaks- is he?
Here's what Mayank Agarwal's domestic record suggests.
From 43 First-Class games, the Karnataka batsman has managed 3372 runs, 8 hundreds, 18 fifties. From 70 List-A games, he's amassed 3472 runs and scored 12 hundreds.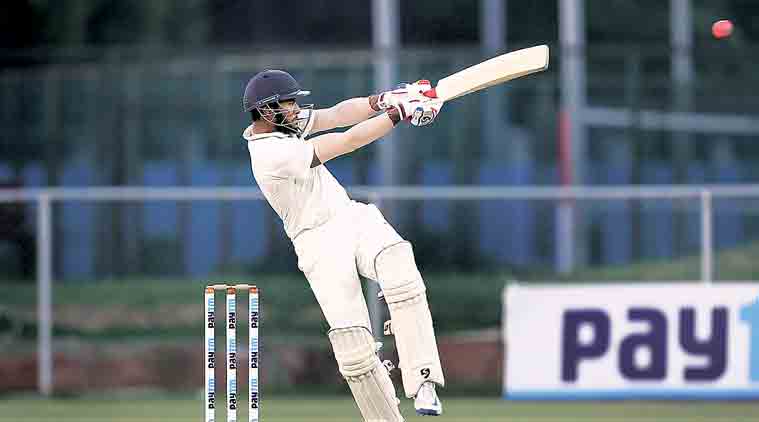 For a 27-year-old- is that an unaccomplished outing so far? The weirdness surrounding Mayank Agarwal's non-selection doesn't only deal with the West Indies series. He was unpicked during England. In a series where Rahul and Dhawan were constantly persisted with, the batsman was made to catch live action on TV.
Supposing youth is the way to be- for ultimately, that's the core of any competitive side- is Virat Kohli and Team India being at their rational best by ignoring talents like Mayank? A similar case happened to Sanju Samson, who, one can say with a quiet surety won't break into the national colours anytime soon.
It's happening to Karun Nair and it's probably going to happen to Mayank Agarwal again. What's worrying is that the constant overlooking isn't really leading India anywhere- or is it?
Hypothetically, should Dhawan been done away with and Agarwal had been picked, just the way Hanuma Vihari was- would it have brought Indian traffic to a standstill back at home? Surely, if Pant can get selected, mightily because of his 2018 IPL exploits, then what precedent are the selectors setting?
What's the takeaway for the fan? Does it mean that IPL performances matter more than List-A and Domestic turnouts? If so, what has Hardik Pandya done to warrant selection in both South Africa and England tours; was he able to rescue India in the third and fourth Tests with the bat?
That India are a competitive side in Tests is something that is indicative of its stellar home run. Surely, their cricket overseas in the longest format is about
Pujara, who walloped bowlers on home turf much of the last year and failed, like Rahane abroad, is yet to prove his might overseas. But exceptional batsmen like him can afford to fail because they've been given ample chances to hit hundreds on flat decks in the sub-continent.
Virat Kohli didn't become the batsman he is had he not been given a chance to forge his steel in testing Australian and English conditions. How on earth are we going to judge the potential of men like Mayank Agarwal if they aren't even given a chance to perform in the first place?
Are cricketers like him batting to become a 'have-been' without wielding a bat in front of an anticipating crowd? Or are they here to prove that talents like Amol Mazumdar wasn't just a rare sad story of the yesterdays?