If you were in Kohli's victorious team at Rajkot, you may frankly have laughed seeing the West Indies. Somewhere, you may have felt strange that why was the Test not made into an official 3-day game? If you were a West Indies supporter- a species that despite seeing the tumult their cricket is constantly undergoing, supports a group that often plays like a bunch of amateurs– you wished, why wasn't this a 2-day affair?
And maybe that wasn't the only issue for a Windies fan. You weren't sure as to what was more laughable. Was it the sight of Sunil Ambris- two hit wickets on debut against NZ- dancing down the track to a wrist spinner, when on naught, with the score reading 97-4 (only to be stumped)? Or was it the wild heave Hetmyer attempted a few deliveries back when he could've simply played a defensive stroke?
Usually, when teams are asked to follow-on, they take it head-on as if a blow is made at their ego. Some show grit, others falter, but after trying.
So the question confronting West Indies fans is- for the team doesn't seem interested in answering- did the team try hard enough? In fact, did they seem interested in trying?
How did the West Indies fail to show a spine- regardless of what the team composition was- is something that not only highlights all that's wrong with their game. It, in fact, cheats their fans, who often have to excuse themselves from for such performances, having to seek refuge in the mindlessness of entertaining T20s such as the CPL.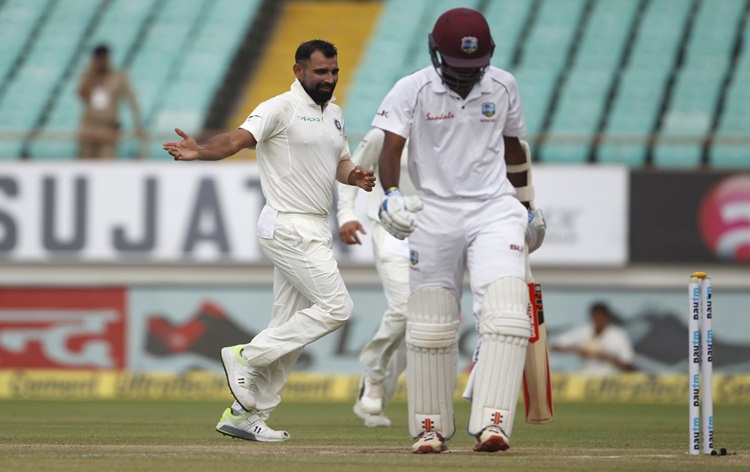 Stupid is as stupid does, so said Tom Hanks' character in Forrest Gump.
Just that, when you put shift the context from film to cricket, you realize, the West Indies stay true to a role that fetched Hanks worldwide stardom. In a way, it also makes them famous, although not in a positive frame.
If you peel off each layer of Rajkot Test, you'd realize, the pitch, even on Day 3, was a good batting track.
Was it not?
West Indies' chance of winning the Test, which was about as likely as is that of a rodent defeating a camel in a jungle feud notwithstanding, were remote. But their failure to touch 200 in either inning causes nothing less than grief for true fans.
How on earth did they earn a follow-on on a flat deck where India's number seven managed to strike a hundred, a teenager with no international experience fired one in his debut game is a mystery no intelligence agency in the world can solve.
Yet, the question persists. How could the West Indies go so wrong?
At this point in time, some passionate West Indies fans who haven't distanced from rationale point to a perspective on Social Media. Why shouldn't Shimron Hetmyer and Sunil Ambris' shot selection be questioned, considering the same pitch unfurled a cracker of a hundred by a bloke much junior to them- Shaw?
Sounds legit.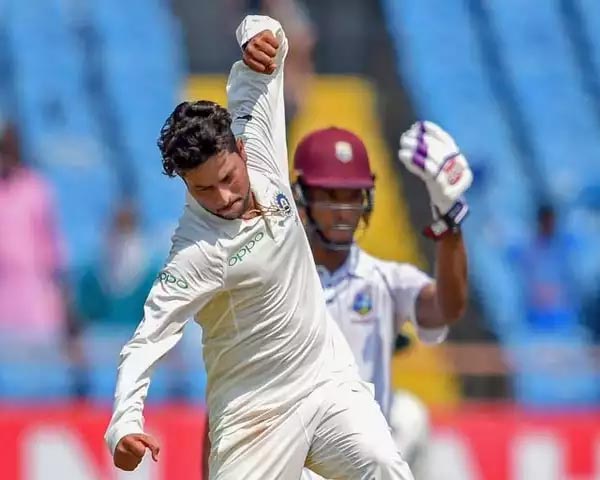 Maybe, the answer lies in the West Indies' own failure. This, provided, one's willing to assess the complete picture, concerns the abject surrender of the eleven.
Jason Holder was constantly among the wickets. Kemar Roach, nevermind his batting against Sri Lanka in Trinidad being far better than Kraigg Brathwaite's at Rajkot- recently took a five-for that sent Bangladesh 43 all-out. Both were big absentees.
But let's understand what's the Windies' bigger predicament.
It's pointless to crib at Darren Bravo's unavailability and even more pointless to cry about Samuels, one of the best batsmen currently absent. Truth be told, the height of pointlessness is to simply crib about the playing eleven the selectors put into place.
That the West Indies Cricket Board mistreats the players, underpays them, tows the line of dignity and amity often is a supreme failure on its part. It speaks volumes of where the national game is headed.
But is that alone responsible for Rajkot capitulation?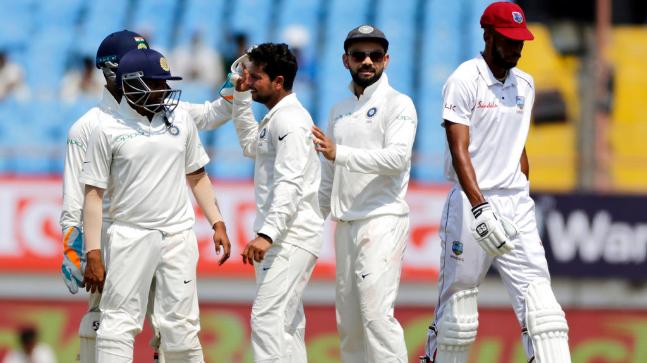 Did the board issue instructions to the shortlisted to not fight?
How much- on a scale of 1 to 10- would you give Ambris' second inning dismissal and Hetmyer's failure in both innings?
Little sense to raise questions at Keemo Paul, who scored more than the captain, for he's just starting out.
But consider a simple equation.
Would a Babar Azam, Ian Bell, or even, Martin Guptill have played the stroke Brathwaite did in the second inning, giving catching practice to forward short-leg, knowing how well his team needed him?
That said, it's also senseless to not examine some key positives. But each posits a question.
Powell's fifty was a fine knock- attacking and beautiful- but should he not have carried on? Why did the Windies batsmen play as if they were asked to keep the run-rate up in a 5-day game? If you were Bishy, you'd have simply yelled with mighty happiness seeing Shai's straight drives on Umesh and that flat six off Ashwin- remember the name- but was their sense in getting out cheaply?
Were the West Indies actually against the most dangerous bowling attack there is? Could you see Bumrah, Bhuvi around? Wonder what might've happened had they played?
It won't change an iota of West Indian fortune to blame selectors. You can call a spade a spade and you must. Cameron's no deity. Wavell Hinds is no Mickey Arthur. Browne is not gifted as Ajit Wadekar was for India.
So how does down-talking a board that's already sandbagging help? While to most the verdict of the series was decided before the team set foot in India, what might make sense is to take lessons from the defeat and muster up a fight ahead:
Stick to the crease, bat out time, play session by session. Is there a sense in watching how Chanderpaul built his inning- if you are Brathwaite, maybe!
Construct partnerships- it's not yet termed illegal in Test Cricket, plus is free of cost, no one will deduct your match-fees if you do.
Try not to do something as stupid as getting run-out in the longest format. Communicating on 22 yards is about as simple as interacting on WhatsApp.
Pinning down the team's loss on a Kraigg Brathwaite or Hope or anyone for that matter isn't the point. At the end of the day, a defeat doesn't hurt as much as the absence of intent- isn't it?
Australia during the ODIs in England- without Warner, Smith, Starc, Hazlewood- saw Shaun Marsh(remember the hundred) fight, along with Stanlake and others. Finch came up with the goods too. In their maiden Test against India, Afghanistan lost by a lesser margin when compared to the Windies.
Can this young West Indian team draw a leaf from this and be a little greedy for self-respect?