Recently, the West Indies defeated England. The world erupted in a wave of joy. Okay, that's too much. Some part of the cricketing world was admirably touched. The rest, couldn't care. It is needless to say that the West Indian fans were happy as hell and why not. For they've suffered watching the team a great deal than enjoyed its exploits, especially in the longest format of the game, one considered to be a realm of the purists.
So when the Wisden Trophy, a legendary salutation to two great cricketing histories- The West Indies (imagine all the heroes that have embraced the sport from this island pearl) and English cricket- was lifted by the weaker of the two teams- and hey, let's not confuse that, there was expectedly reaction.
And why not?
Anyone who thought that the West Indies- not your most consistent side in international cricket- a bit drab like a 90s rom-com vis-a-vis the thrill of watching one on Netflix-didn't want to improve is joking. At the same time, anyone who thought that the side may have actually improved a great deal also may have wanted to regather his marbles.
Wondering how? Starting from 2016, the West Indies have lost more Test series than there's snow in the Arctic. During their sub-continental outing, Bangladesh and India hammered them. Previously, New Zealand punched them. Any thumbsucker would note that minor aberrations such as the home series win against Shakib's men notwithstanding, it was their average cricket against Sri Lanka (during the 2018 series in the Caribbean) that cost them a chance of winning that Test series. What was funny was that in Trinidad, the West Indies had registered an innings victory.
So if anyone wished to understand why this Wisden win is being so specifically celebrated, one would have to not only consider that the last they'd won was when Shimron Hetmyer was perhaps not even in his nappies but that they aren't the most consistent outfit at winning.
And that said, now that there's no familiar captain manning the ship, one that seems to have found a way to navigate through rough waters, a question arises.
Can the West Indies somehow go for the kill and make it a 3-nil drubbing at St. Lucia?
For starters, this isn't like daydreaming, nevermind how hopeless has been this team's string of inconsistencies. For sure, they could lose it and for sure, they'll have to be even more guarded against England, who, in the aftermath of their second comprehensive series win, would come even harder at them. But does it mean that the Windies cannot handle the battle?
So what if Jason Holder- the series' only double-century maker- may not be in the Final Test? While you may have noted the kind of form Kemar Roach is in, have you checked the number of wickets he's clinched already?
Isn't it interesting to note that while Gabriel and Roach- 5 and 13 wickets in the series respectively- have amounted to 45 percent of the wickets Windies pacers have taken the likes of Anderson, cited as the world's best seamer, don't forget, 572 Test wickets, have gone wicketless twice already in the series?
While the prospect of expecting another Kemar-Shannon show at St. Lucia excites endlessly, what also emerges as an interesting parallel narrative would be to anticipate what might Roston Chase manage- 8 wickets against his name in that 381-run triumph.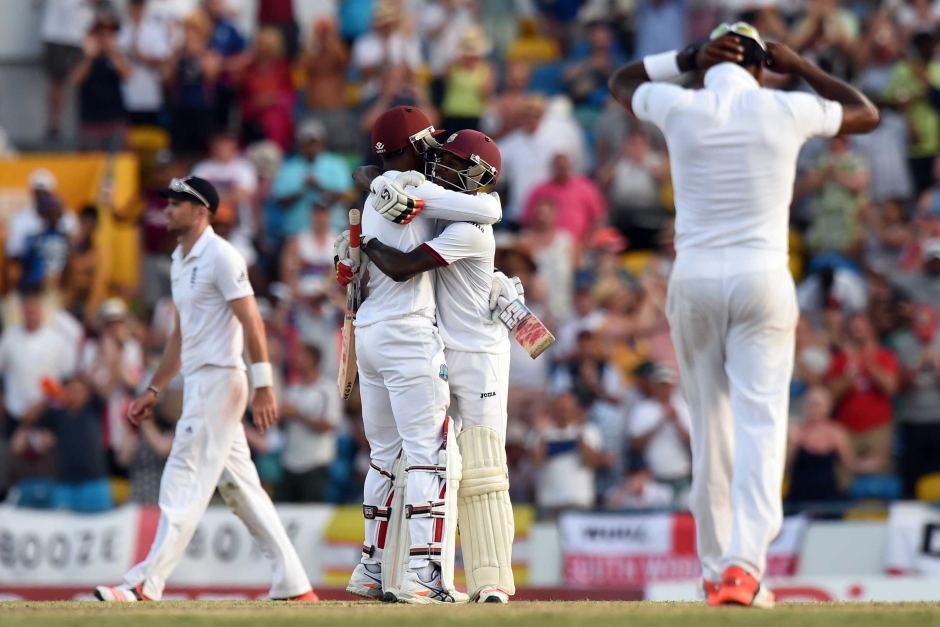 That said, while this troika alone may stun England if it comes to that, imagine what might St. Lucia's post-game party scene seem like, if the batsmen- Hope, Kraigg, Darren Bravo, Hetmyer, and hey, why forget Dowrich- were to join in the chorus to take the Calypso party to its crescendo?
That said, while Shai Hope and Kraigg Brathwaite have already gotten off to a (fine) watchful start in the series, even as neither's breached the three-figure mark in the contests yet, a familiar son seems to have returned into his own.
In Darren Bravo, fresh from that Antiguan 'blockathon', 50 of 216- not to forget- a stay on the crease for 342 minutes, the West Indies have found a batsman who seems capable to cope in at number 4.
Could that be a hint Darren may gain from in reconciling with the fact that he's more than just some Brian Lara version.2- as per popular public view- now that he's no longer in at number.3, akin to his role model? This is not to forget that he's handling himself well in at number 4?
But while the outcome of the final Test rests in the lap of the future, the Caribbean fans, who've dealt enough with morale-crushing losses and familiar repeats of those cannot be blamed for hoping.
Can they?
After all, it was this very team, having Hope, Kraigg, Dowrich, Gabriel that crushed England in England in 2017's Headingly series equalizer and also one that had also changed the venue of some 'Pom-thrashing' when it flexed some muscle at Barbados in 2015.
So don't stop hoping West Indies and at the same time, don't just hope.