Unlucky number 13. That was the date in March when we last saw an international cricket match. Remember when Australia beat New Zealand in the first ODI with the next two games called-off?
Truth be told, so long and rather dreary has been this period of Coronavirus epidemic provoking Cricket going shut-eye that maybe some fans may have just forgotten that New Zealand even arrived in Australia to play ODIs.
That being said, in a period of time that's just been about mankind excessively using hand sanitizers and increasing the sales of facial masks worldwide, with cricket being just a nostalgic subject with eyes keenly anticipating resumption of the sport, what a huge news it is to see the West Indies arrive in England.
In what promises to be a keenly-fought and hopefully, if the West Indies play well to their strengths, a close series, one just cannot offer a ruling- who might get on the top?
That being said, there are several key facets to look after.
For starters, the popular viral video that shows James Anderson- 584 Test wickets, 37 years of age- bowling typically compelling in-swingers and reverse-swingers suggests the West Indies are upto a real task. And also that it may not be that easy to protect the off-stump and the movement that might aid the hosts around the off.
Furthermore, it'll be absolutely brilliant to see what Ben Stokes, the 2019 World Cup hero- return to the fold and famous captain Joe Root to exhibit customary poise and grace with the bat.
So much is out there for heightening one's expectations about what's slated to begin in a little over 20 days from now.
But that said, how well are the West Indies prepared to contest in the 3-match tour, the implicit factor of which would be to expect Jason Holder and company put forth a staunch defence of their Wisden trophy.
Because, let's get one thing out of the way, in 2019, the visiting English side to the Caribbean encountered a host that seemed ready to roll them under a road roller, the 2-1 series win lifting the morale of West Indies akin to a sense of fulfillment one notes in a contented eater who had been going famished for days put together.
Isn't it? The fantastic bowling spells by Gabriel, Roach and the fighting double century by captain Holder paving the way for a very commendable and utterly dominant West Indies triumph.
We remember the date with the same enthusiasm Sir Ian Bishop remembers the 'name' – don't we? Who can possibly forget what transpired from Jan 23-26, 2019- the scenes of an overjoyed crowd and wide-smiling West Indians painting Barbados red with passion and peace.
But that being said, there's also a cause of concern for the side that last came calling in 2017, a tour during which they'd own The Rosebowl thanks to a mesmerizing batting show by Shai Hope and Kraigg Brathwaite, the former – who needs to hit runs now- ending up with back-to-back centuries.
The biggest concern is the absence of Darren Bravo, who disappointed the last time around he faced the English in whites- scoring 1 and 2. That he's opted out of the tour when he may have wanted to persist and revive a seemingly lost career suggests the first signs of the West Indians toward grabbing an opportunity- they've been in fine form for much of 2019- has gone begging.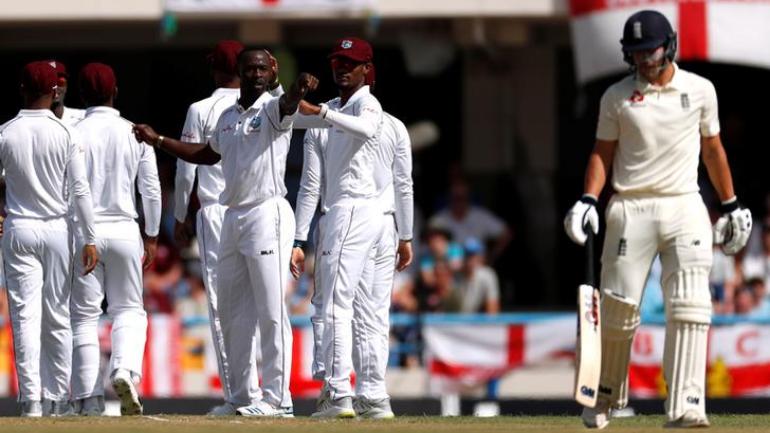 What doesn't help is to note that even Shimron Hetmyer, though young and rising but a formidable carver of runs in the middle-order chose to sit out too, as did youngster Keemo Paul.
Against that background, it's great to note that Shai Hope, Roston Chase- two batsmen without whom the Test side can't be imagined today- are already on the plane to England. Moreover, in Shane Dowrich, the scorer of a gritty and composed hundred against the very hosts (picture Barbados, 2019) is around too and will help Holder's cause to fire more runs from down the order.
That said, there's this great urgency on Kraigg Brathwaite to score. His returns, as seen recently have been rather lean by his high standards. Moreover, he's not just another player; he's the team's vice-captain. It's time for a frontline batsman to stand up and deliver.
Also because it's good for his career that will sparkle with some solid returns and not just that, the watertight technique can come handy on moving tracks in England where the ball usually talks a lot more than the bat, or as one can say, it's not easy to score runs.
Moreover, there's no Hetmyer either. So there's a big vacuum that needs someone to play a fillip. This will also be a great contest to see Gabriel and Roach deliver for the team on bowling-assisting surfaces and maybe captain Holder with his late swing and movement off the pitch can strike useful blows.
But on the other hand, let's not forget- England will be raring to go, not only because they have a record to settle with the team that delivered them a knockout punch the last time around but also because, they just beat the Proteas in the land where South Africans fire- their home- early 2020.
Time to do it more comprehensively again?
And that said, who are you supporting- your love England or are you rallying around the West Indies?