The Sri Lankans came here to the Caribbean. They didn't last that long in Trinidad. They fought valiantly well though at St. Lucia. After earning a draw in a low-scoring contest, they escaped the Caribbean with a rare victory- a hard-fought one at Barbados.
In so doing, they managed to level the series with the West Indies 1-1. What was your verdict as a fan? Were you happy to note that a team minus Dinesh Chandimal got back home unhurt?
Or did you think, the West Indies played mighty well to not lose 2-0? Regardless, we had an interesting series from both perspectives of Sri Lanka and West Indies. A few hundreds were struck. Shane Dowrich emerged as a saviour. He proved that until he lasts in the whites, there's seemingly no chance for Denesh Ramdin to get back behind the stumps with the gloves on.
Chandimal struck a vital hundred. Mendis and Perera compiled useful scores. They were dogged and in the end- even Jason Holder delivered goods with the ball and the bat. Things seemed fine until the Windies found a way to get their fortress breached at Barbados.
But let's put it all behind. For a new series rests in front of us.
At this moment, of the 2-match Test series, it can be said- without a fickle of a doubt- that Bangladesh have already endured their worst nightmare. The West Indies welcomed touring Bangladesh rather feistily.
Being 43 all out wouldn't have made Bangladesh grin one bit. They were able to last 18.4 overs in the middle. Do the math. It's 112 balls. They scored 43. They also managed to have 4 batsmen depart without disturbing the scoreboard. It was bizarre. It was strange.
In the land of Sir Viv- where runs should've been plundered- wickets were falling like early monsoon showers.
Here's the most interesting perspective. In-form wicket-shatterer Shanon Gabriel didn't have to flex his muscles exactly. Bangladesh batsmen chose to run into Roach and Miguel Cummins, 5-for and 3-for respectively.
It's hard to imagine what might be going through the mind of Shakib-Al-Hasan, the captain. It's rather funny that what is a nightmare total for a team is the dream for its very opponent.
When Bangladesh failed to survive for 2 hours, i.e., one full session and got bowled out on 43- to their ignominy on the opening day of the maiden Test in the series- the West Indies might've breathed a sigh of relief.
But if you were a true fan of the Windies, someone who's had to sit through painful batting displays, the kinds one saw during the loss at Barbados- would you really be that glad?
Whilst surely chasing down 43 and then mounting a lead doesn't seem that bit of a problem, if you were Jason Holder, you'd be a bit concerned.
No rocket-science this. Here's why.
As fans, have you bothered to analyse just what Shai Hope and Roston Chase been up to?
If anyone were to tell you that the Bajan duo cannot bat, you know the teller doesn't know his cricket. We've seen what Hope did to England, interestingly, in England. We've seen what Chase has done to Pakistan, when they last toured the Caribbean with "Mis-You". We've also seen what Chase did to Kohli's India at Jamaica in the summers of 2016.
But here's what Chase and Hope have managed in their last 6 Test innings.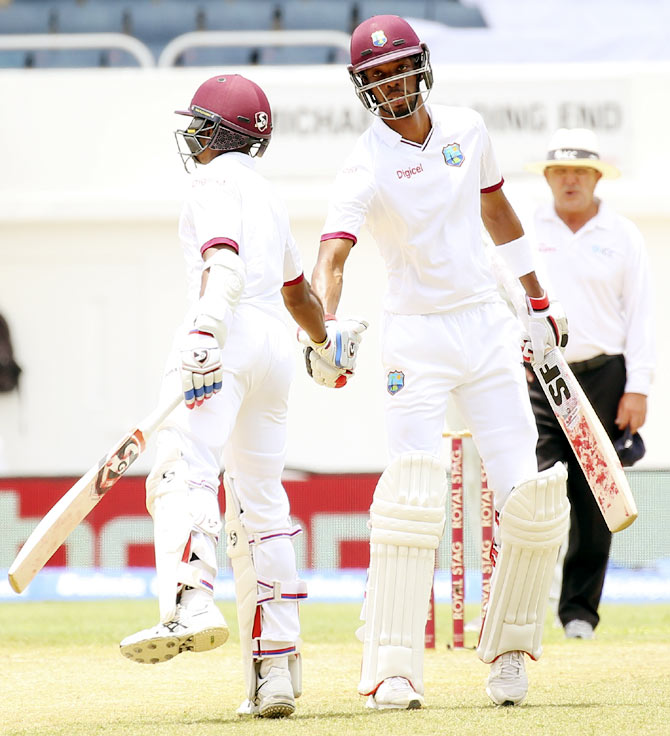 While the gritty right-hander Roston Chase has gathered scores of 12, 38, 13, 41, 5 and 14- the charismatic and dependable Shai Hope has collected 1, 44, 39,19, 0 and 11, respectively.
On pure math, two strong middle-order batsmen- in all fairness, the backbone of the current young West Indian side- have garnered 123 and, 114 runs respectively.
When you probe these capable batsmen for averages, you find that both Chase and Hope have collected runs at a vastly underwhelming 20 and 19 respectively.
How should that make Jason Holder feel? Rather, let's reverse the tables.
How should that make Chase and Hope feel who've just had their captain- also a strong, determined Barbadian- proclaim that the Windies have the best lower-order in the world?
Think it through.
With solid, capable batsmen of the class of Shai Hope and Roston Chase around, the captain says the team has among the best "lower order" in cricket- should that not make Hope and Chase hide their heads in disgust?
That said, if they struggled against Sri Lanka, it doesn't necessarily mean that they might against Bangladesh, a team against whom they have a little playing history.
Let's understand the young but capable West Indies team's predicament. The Darren Bravo's or the Gayle's and Samuels' are surely not returning into the fold anytime whatsoever.
That leaves the current nucleus of their batting with the rock-solid Kraigg Brathwaite- a silent accumulator of runs- who forms the plank around which Hope, Chase, Holder and now, an in-form Dowrich contribute runs.
Brathwaite's speciality is that he eats away time. A would-be Dravid-esque player, the West Indies should feel lucky to have him. At the same time, they should be providing him with the necessary support at the other end.
But is that really happening?
Sadly, though, of late, it's been the bats of Holder and Dowrich that have been piling on the runs. Chase and Hope- well, not so much.
Among the most notable sites for Windies, of late, was Kieran Powell striking a stroke-filled, very classy 88 at Port of Spain. But guess what, that was his 3rd Test fifty in having 25 opportunities.
Whether he represents the side as an opener or a number 3- that's not a mark to be proud of, especially when one knows what Powell is capable of delivering. Questions loom over Devon Smith's exact role; is he even delivering on faith entrusted on him by the Cricket West Indies?
All said and done, for West Indies to work up a ferocious series win- for, aiming at anything else would be criminal considering their home advantage- they've got to bat and bat well.
Perhaps, what might be great would be to simply remember the legacy they are representing. Rather, the one they are saving.