What's trending right now, among other things, is Virat Kohli's wax statue. So what is it all about?
Well, a brand new wax statue of one of the finest- if not the nicest- to have ever wielded a cricket bat in the international annals of the sport has been newly unveiled in Dubai.
Dubai, remember, is the venue of the ongoing T20 world cup 2021.
The fans and their heartwarming responses to all that Virat Kohli has gone on to earn- and in this case Virat Kohli's wax statue being the leading cause of unifying fans everywhere- was for all to see and many took to popular microblogging platform Twitter to express their ardent love for the aggressive runmaker.
This is what you need to know:
"Now, Wax statue of Virat Kohli at Dubai's Madame Tussauds. Global Superstar for a reason."
Meanwhile, another fan shared the following on Twitter, "Three GOATS in one frame! Wax Statue of Sachin Tendulkar, Virat Kohli and Lionel Messi at Madame Tussauds in Dubai."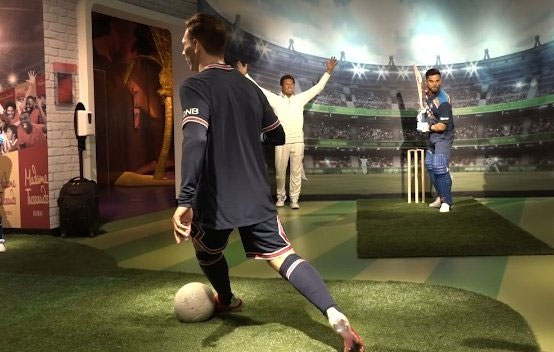 The above told,
But moving on, the long list of praise surrounding one of the most successful and highly accomplished batsmen of all time didn't stop there; another fan went on to add, "Virat Kohli's wax statue at Dubai, India, England. King Kohli Craze unreal for World Wide Brand Ambassador Of World Cricket @imVkohli."
The above comment, however, drenched in praise and admiration for the great right hander, who's all set to relinquish captaincy across all formats (soon), made the most sense in that it reminds one and all about where all has Virat Kohli's wax statue been erected.
And if this is not fascinating that the number of places where Virat Kohli's wax statue has come up about is much more than where Sachin Tendulkar has idols on him, then what is?
Not only in his case do the records speakth for the man, but also conduct, and the latter has often maligned him in mainstream media for little fault of anyone else. The temper, the angst and hyper aggressive/ reactive style and yet, the Delhi-born lad has continued to come up with performances that have only accentuated his legend, not diminished it.
It's one thing to appreciate Virat Kohli's wax statue that does look a replica of the man in his real life looks, but something quite other to take cognisance of all the effort and grit that has gone into making the fantastic batsman who he is today- a role model for cricketers- won't you agree?