Spare a thought. Spare a thought to the big-hitting, six-scoring Evin Lewis. On his watch, the West Indies looked safe and comfortable on their way to what might have easily been one-sided domination at Hyderabad.
Also, spare a thought for a young man, who, at the back of taking his West Indies to a record score of 207- the team's highest-ever T20 compilation in India, achieved his first T20 fifty. But don't spare a thought, even the tiniest of a trickle that may lead to some pause in giving respect where its due: toward hailing Virat Kohli's unbeaten score of 94.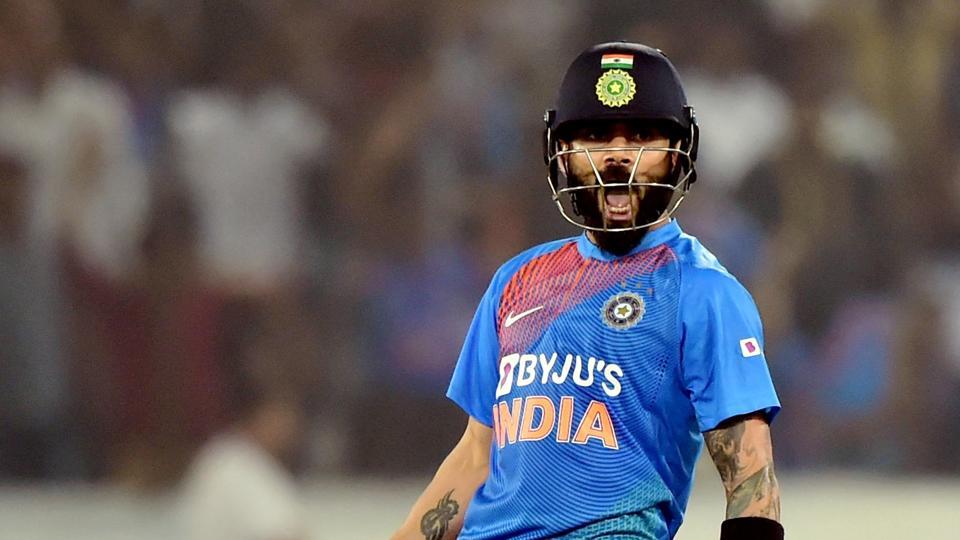 This was a knock that came off just 46 deliveries and was laced with six mighty 'half a dozens' and as many fours. Yet, it did take Virat Kohli, the great Indian batsman, man-in-charge, bowler-destructor, genuine thriller- 20-odd balls to set himself up for the big score his team was in sight of.
But then once he unfurled the inner beast, there was no stopping Virat Kohli. The exquisite cover drives, the jabs toward the mid-wicket, the sublime timing on the on-side, an area he mans with unmatched superiority, and the sixes hit on back of length deliveries- if there was the finest representation of Virat Kohli's masterclass in action, then this was it.
Those watching it whilst adorning blue jerseys were worshipping the massive hammering of the West Indian bowlers, none with a clue about how to control the master. Those, who were watching it at the insanely early hours from the Caribbean, may surely have been captivated too.
Good batsmen make lots of runs. But great batsmen make runs in a fashion that even those whose teams are being hung out to dry don't mind witnessing the enthralling sight. Perhaps, this stands true to describe the dictum which Virat Kohli has set for him and his globe-trotting fans.
In the process of scoring 94 match-winning runs, an effort that took India over the ropes, in an early exhibition of ascendency in the 3-match series, Virat Kohli also reached his personal best or individual best score in the shortest format of the game.
He was boisterous, he was a beast, and he meant business. Yet, despite having played some glorious knocks in the past in the said format, for example, his unbeaten fifty that saw India better Australia in the World T20 of 2016 (held at Mohali), Kohli exhibited some different and perhaps surprising thoughts when quizzed about the thought of becoming a format-specialist.
He, to put it simply, averted the desire to be seen as a format specialist in the T20 game.
And here are his immediate reflections:
"I don't want to change my game too much because I play all three formats. I just want to contribute in all three formats, that's what I want to do. I don't want to be a format specialist. When you are chasing a big total, there are a lot of distractions with the scoreboard pressure. But after a few dots, the game puts you in a position where you just have to hold your shape and play the shots," Kohli explained after the match.