Indian cricket captain Virat Kohli has shared that he'll be happy to see Ravi Shastri continue as the overall coach for the team. The post, however, is incumbent and seeks candidature.
Currently, the position of the head coach for the Indian Cricket Team is up for grabs and an advertisement had been floated a few days back seeking the ideal candidate for the important position by the venerable BCCI.
One's also gone on to see how the noted Virat Kohli-Ravi Shastri alliance has fetched some enterprising string of results for the team. In the last 18 months, Team India has gone on to beat the Aussies in Australia in Tests, a really rare achievement, more like the capturing of an ultimate frontier in Cricket.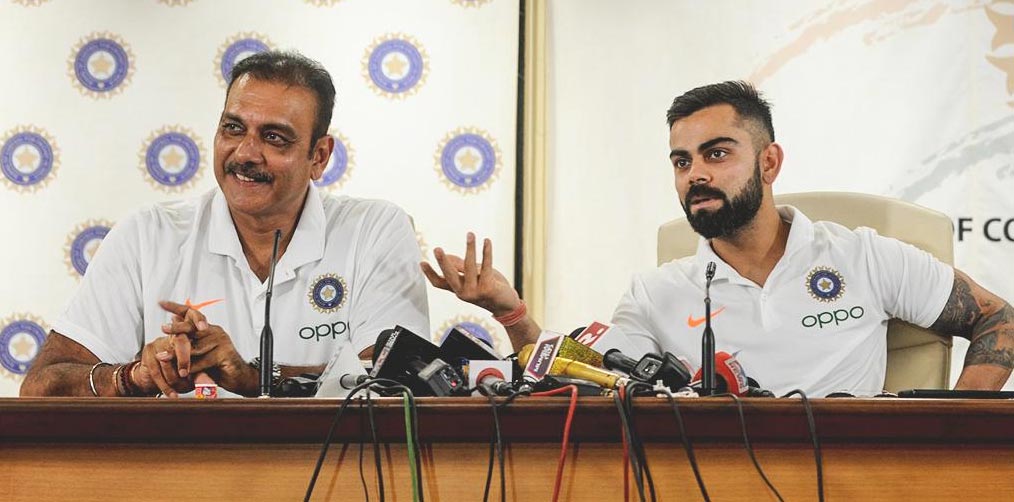 Additionally, India thumped the West Indians across all formats in the 2018 series. A few months back, they had beaten South Africa in the ODI series for the first time in a decade in half while contesting in Protea land.
That said, a few hours back, the current captain of the Indian cricket across all formats shared his views on Ravi Shastri, if the former member of the team happens to continue as the coach of the national set-up. The legendary Delhi-born batsman shared:
"Well, the CAC (Cricket Advisory Committee) has not contacted me on this. But all of us share a great camaraderie with Ravi Shastri and would definitely be very happy (with him around)," Virat told the reporters in Mumbai before embarking for the tour to the Caribbean where the team is all set to play 3 T20s, as many ODIs and 2 Tests.
On this occasion, the dashing right-handed batsman also touched upon Ajinkya Rahane, one of the bulwarks of the Test side. He was of the view that India's Test vice-captain happens to read the game well and is one of the pillars of India's batting line-up.
Additionally, Virat Kohli was also of the view that Test cricket is the ultimate form of the sport and that the concept of world championships is surely slated to bring more excitement to the game and shall keep 'the longest format interesting.'