India vs Sri Lanka ODI series is still underway with the visitors having won all the first three encounters, they have secured the series with a lead of 3-0. From Rohit Sharma's hundred to MS Dhoni's consecutive match-winning knocks to Jasprit Bumrah's consistent form, the Indian team has gained a lot from this series and the preparation of the 2019 World Cup seems to have taken off on a great note.
However, when it comes to celebration, Virat Kohli and his team know how to get a good time out of their busy schedule, especially the skipper himself.
You might remember his 'Gangnam Style' moves after India clinched the ICC Champions Trophy Title in 2013 but what we are going to show you now, will tell you how adorable Virat Kohli can get when in the company of kids.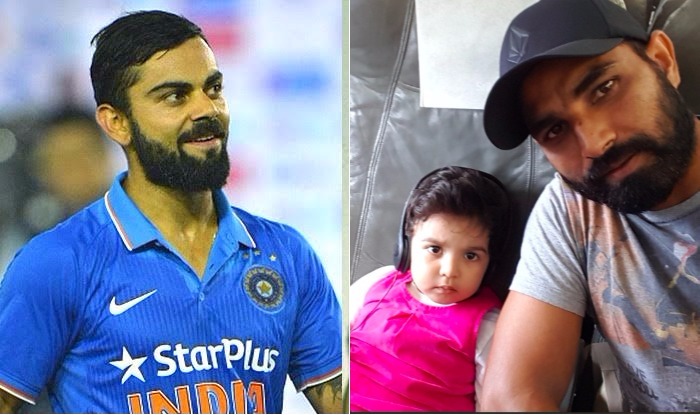 Mohammed Shami has just shared a video in which Virat Kohli and the spearhead's daughter, Aairah can be seen shaking a leg at Lou Bega's hit "I got a girl". In the video, the Indian skipper looks like learning some dance moves from the 2-year-old and the pair seems to have a good time while making their bond even stronger.
Watch the video here
Aairah dance with virat after 3-0 victory ?? @ICC @BCCI @imVkohli @HTSportsNews pic.twitter.com/m1Zg7x94l4

— Mohammad Shami (@MdShami11) August 28, 2017
Mohammed Shami has been rested for the ODI leg and as for his Tests outing against Sri Lanka, he took 10 wickets in the 3-match series. And the video is said to be recorded during the team India's celebrations after whitewashing Sri Lanka in a Test for the first time.
Last year, when team India was playing a Test against New Zealand in Kolkata, Aairah was admitted in the ICU due to high fever but Mohammed Shami still went on playing the Test match. When the captain was asked about Aairah, after the match, Virat Kohli said that he had no clue about the development, hinted towards the fact the Shami never wanted his teammates to know about it, for the sake of the match.
Virat Kohli said, "Shami is somewhat of a character in the dressing room. On the field, one might not see him coming out in the open while expressing himself too much. But he is someone whom everyone loves in the team. He is someone with whom everyone gets along with. Whatever might be happening with him or in his personal life, we won't know. I had no clue that his daughter was in the hospital. He told us afterward."
Team India has always been known for the bonds the whole squad share with each other and with many of them having another member added to the family, Aairah is just one of the adorable kids that have been keeping the atmosphere light within the team.