India are playing at home. Not too much of a secret. Is it ? Sri Lanka have arrived in India. An extensive Tests-followed by ODIs-followed by T20 series is slated to happen. Action starts Wednesday: November 15, 2017.
Oh wait, didn't India just play Sri Lanka a few months ago?
It was July, this very year a few months back. Akin to an invitation offer extended courteously by two friends to one another, it almost seems the classic scenario of, "I visit your home first upon which you come visit mine".
What's going on?
As captain Kohli led a band of determined men willing to trample Sri Lanka under the thumping power of their muscled bowling and batting departments, the odds didn't stack that heavily in favour of India's hosts.
Few games down the line, the results were for all to see. India inflicted repeated innings defeat upon their hapless hosts, the Sri Lankan side caught napping in a tough transition phase. Dhawan's bat was swatting aside bowlers akin to a famished grown up removing flies from the path of a meal. Pujara's bat was singing. Yet again. Kohli?
He was at it again. A 103 at Galle was followed by a breezy 42 at Pallakele.
At all this time the average fan grappled with a burgeoning query. Just how much of a workload can Virat possibly carry, considering he is captaining in all three formats of the game.
Let's consider some of Virat's recent 2017 figures. Even as there haven't been too many Tests this year, Kohli has managed to strike 449 runs from 7 five-day contests. In parallel to the rather laidback number of Tests, there've been several ODI series this year. Tons of it, truth be told.
This corresponds with a rather worrying trend that not many are mindful of.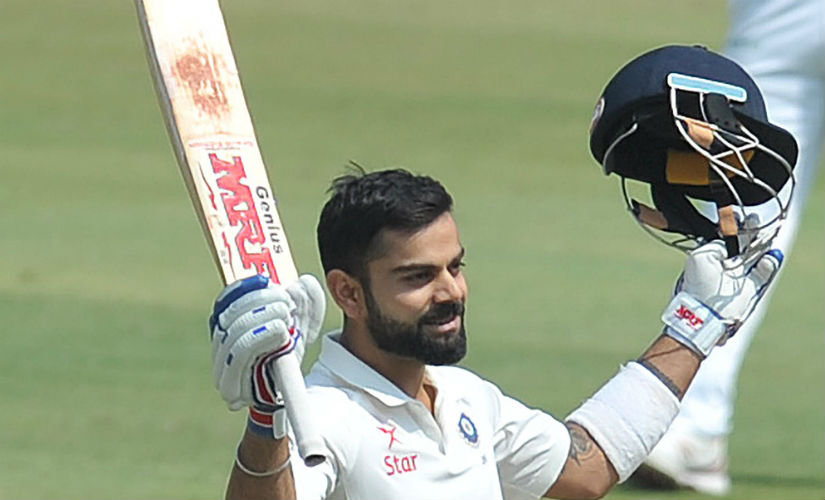 When compared to 2015's 20 ODIs and just 10 that took place in 2016, there've been 26 ODIs that have taken place thus far in 2017.
Needless to say, Kohli has been in some form. He has creamed them all: Hazlewood, Gabriel, Finn, Anderson, Herath, Mathews, Grandhomme, Sodhi.
Having collected 1460 ODI runs this year with 3 ODIs waiting in contention to be ripped by his blade, 6 of the 32 centuries he's compiled have come in 2017.
Does that not take any effort? Does that not include careful planning, thinking and given the bulwark of the modern-day contest- some toil?
Interestingly, in stark contrast to the Indian captain, two of Kohli's modern-day contemporaries- Steven Smith and Kane Williamson have only contested in 13 ODIs during the same period.
Does that tell us something about the extensive lengths to which Kohli is grinding it out there?
Now, with Sri Lanka desiring to lock horns in a series that has 3 written on it quite like a permanent tattoo etched a youngsters' forehand- with as many Tests, ODIs and T20s slated to happen pan-India- Kohli will be on the ground again.
The spectator who loves him and the critic who chides him will gather around to see Kohli belch, scream, swear, without mentioning humiliate bowlers from the pulp of his blade.
While runs and scoring freely unites us to cricket like a swarm of honey-bees to the nectar, Kohli's workload has only doubled, not to mention the effort needed to captain, plan, strategize and bat the way he usually does. Scoring big numbers, seldom away from the match's highlight.
While there's hardly been a question about the Delhi-born right-handers' form, Team India's administrators might have to re-think if that's the quantum of effort they want Kohli to shoulder?
Could it get better; rather relaxing for Virat? One wonders, in a Test squad that already has the presence of youthful exuberance- Rohit Sharma, Rahane, Ashwin- shouldn't Kohli have backed out and given those aching muscles a bit of a breather?
Why are we forgetting that an imminent tour to South Africa is just around the corner. Come the next year and we shall see the likes of AB, Faf, de Kock, Rabada, Tahir all coming together to have a go at Kohli's India?
Virat, one fathoms, you could have rested and exposed others to the obdurate, knee-crushing challenge you subject your tireless body to.