With a career that's nearing a decade-old stay in the game now, it can be said for sure that when Ajinkya Rahane speaks, it comes from a beautiful combination of the heart and mind, and with integrity in the scheme of things.
So frankly speaking, Ajinkya Rahane is one of the most wonderful and integral cricketers and names around in the very game where people often suffer from inflated self-opinon and too much of self-worth, on occasions, which never really proves to be such a good thing.
That being said, whenever Ajinkya Rahane speaks, which isn't that often for he doesn't consider himself as 'expert' or 'guru' as most would in an era where cricket and social media chatter function in parallel, there's always some novel value and richness about the content.
Therefore, understandably so, when Ajinkya Rahane was speaking about the toughest bowler he has come to face in his pretty successful career, you just knew that there was nothing untoward or unbecoming about the modest man's confession and that what he had to say came from a space of utter simplicity.
And there you go then? Any clues as to who may be the toughest bowler that Rahane has come to face?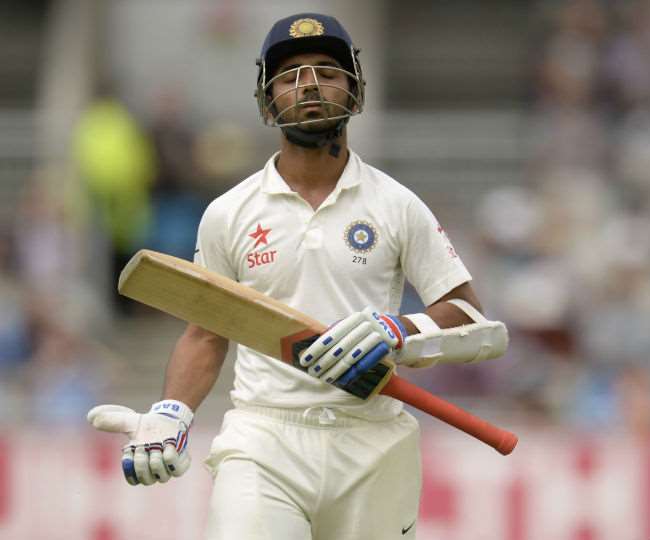 Well, it's none other than the great James Anderson, a pure and out-and-out English legend.
Some can even call the fierce competitior, famous for having breached the legendary status in Test match cricket as a national treasure in England.
Of course, there may be a lot many reasons why Ajinkya Rahane offered this glaring insight about none other than Anderson, after all, Anderson, the most successful English pacer in Test-match cricket has troubled a lot many talents and grandiose names from Rahane's own land in the course of the past.
We have all come to see Jimmy Anderson often taking the Mickey out of talented batters in the game's greatest format, the likes of which include none other than two epic names in the pantheon of Indian Cricket: Rahul Dravid and Sachin Tendulkar.
On top of that, we have also seen how dismal was the entire Indian team's performance back in 2014, an English outing, where at the back of his total failure to pick James Anderson, someone like Virat Kohli (of all names) had begun to have fresh doubts about his own batting.
Therefore, there can not be a flicker of doubt about what Rahane has had to confess about the man who can move the bowl both ways; a speedster who, at the back of his insane talent to strike the ball, has penetrated and thwarted several attacks of teams like South Africa, West Indies, New Zealand, among the other sides.
Meanwhile, in imparting some praise on Jimmy Anderson- who is just 16 shy from 600 Test wickets- here's what Ajinkya Rahane- 11 Test centuries, 22 fifties culminating into 4000-plus Test runs shared:
"Especially talking about one particular bowler – James Anderson in England is really challenging. He knows the conditions well. He (Anderson) is the one!"
Now, that being said, one cannot possibly disagree with the assessment made by the famous Test specialist of India, right, one who has against his name 3 ODI tons as well!