Some men just wish to see the world burn, said, Alfred to Bruce Wayne in Christopher Nolan's 2012 release The Dark Knight Rises. The response of Bruce Wayne to that catchy phrase was nothing but pure silence. In the end of Nolan's final part of the trilogy, of course, one go to see who saved Gotham when it was burning. When Faf du Plessis strolled to the crease with South Africa cruising along at 200 for the loss of two (in pursuit of SL's first inning 396), he might not have expected what did eventually happen within minutes of his arrival.
From 200 for two, the very team he was leading until last year receded to 200 for three before eventually finding itself on a rather troubled 220 for four.
At all these times, and these may surely have been very painful moments, given how well were Dean Elgar (95 off 130 deliveries, S/R of 73) and Quinton de Kock (18 off 11) set, Faf du Plessis may not have been the happiest man on god's mighty earth.
It's not only because the Proteas, at one stage, seemed as if they got the hang of this contest. With both Markram and Elgar firing fluent half-centuries, the team's most experienced batsman, one who's not getting any younger too, should never have found himself on the crease.
That he did and earlier than the team would've liked didn't cut a pretty sight, lest it is forgotten, not Gotham but Centurion witnessed that familiar effort of saving and rebuilding the Faf du Plessis way.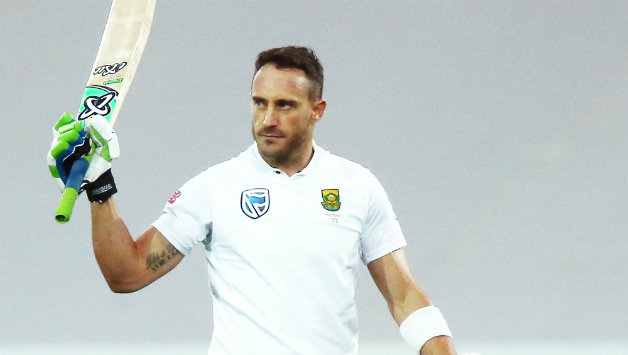 But being confronted by challenges is not something new to Francois 'Faf' du Plessis.

The first of his 112th outings in Test cricket (so far) was an example of moulding character amid adversity.

His maiden outing in whites saw the then 28-year-old Pretorian steer his side out of a batting muddle, which was never going to be easy given they were up against Hilfenhaus, Lyon, Siddle, and Pattinson.

But the 110 runs accumulated- not plundered by Faf du Plessis- at Adelaide (Nov, 2012) were anything unlike the upbeat – and not to mention characteristically gritty- 55* scored against the Sri Lankans.

Though, what binds both innings, separated by a gap of no fewer than almost a decade brings to light just why the Protean is so needed by a team that'd love him to fire.

Back in the day, requiring 380 to win, South Africa were saved the blues by a batsman who notched up his maiden century but not before digging in when it just wasn't easy.

Holding fort for a span of hugely-challenging 376 deliveries, Faf first played the broken inning repairer- South Africa, losing Jacques Rudolph at 3-for-45, going further downhill to 4 down for the same score as they'd lose Peterson- and later, the consolidator, who stayed unmoved until the innings reached the end.

Of the 248 painfully collected runs, Faf was responsible for 110 on his own.

In the same inning, the next-best was mighty King Kallis's 46. And make no mistake. The Test debutant had already darted 78 in the first inning.

As one looks back as one often does over a career that too could have faded away, but didn't- especially given Faf had an option to go the Kolpak way- one has nothing but respect for a man who was playing saviour for from day one in Test Cricket and is playing that very role, almost a decade after.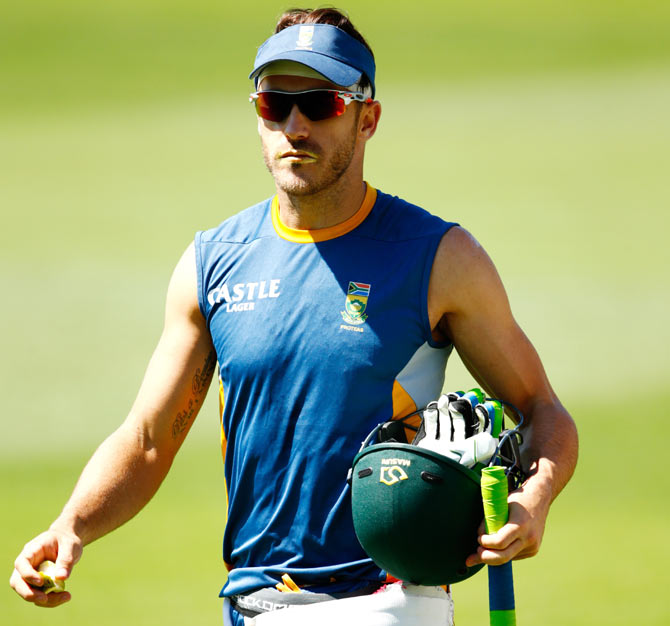 And this is when all his colleagues have departed. And don't forget – the team's strong standing and redoubtable foundation has withered in part, with the retirements of legends in Smith, Kallis, de Villiers, Steyn, and Amla, and in part, by playing a brand of cricket probably Faf knows deep within this heart is disappointing.

When you save a game against the Aussies in Australia you know you're doing something right.

But when you fail to pick spin and shudder against pace on home conditions and probably not against the deadliest of attacks- with all due respect to rising talents in Rajitha, Kumara and Shanka- you know all's not well.

Though, gladly for Faf du Plessis- there's the old guard in Dean Elgar still around, who would've so liked to bring up what would've been a very handy thirteenth Test century.

Truth be told, implicit in the Proteas' first inning total – 307 for 4- at the end of Day Two is Elgar's 95 and not to forget, Markram's 68.

None can (and mustn't) undermine the fact that when a team that's unarguably faced the worst cricketing year in 2020 could well have paced the inning rather carefully, Elgar and Markram's fifties were, on the contrary, fluent and resolute: both batsmen notching up milestones at 70+ strike rates.

Surely, Sri Lanka's first-inning tally of 396 cannot be considered a light-weight total.

But nor can the South African response, that saw the left-hand and right-hand combo register 141 for the opening wicket.

It's just that from the point where they so would love to have built, South Africa opted for a nosedive.

And at 220-4, while it may have been a painful sight to behold especially from the opposite end, one's glad that the man who was seeing the mini-collapse in the first-hand account was none other than Faf du Plessis.

As steady then in 2012- where he batted for a collective 535 deliveries- as he was for the entirety of a challenging Day Two at the SuperSport Park, Faf notched up his twenty-first Test fifty: a resolute demonstration of precisely what we've come to expect from the man who loves a good challenge.

Actually, in some ways, it's even interesting that not an awful lot has changed in the life of the man who, make no mistake, isn't exactly a trailblazer akin to a Tendulkar, Kohli, de Villiers, Smith or Lara.

But then what Faf is, is anything that any avid youngster, whether aiming to cement a career or hoping to blaze a trail would love to have- pure grit, and a keenness to fight.

Not once has the man who has against his name – 3,901 runs, the most in the current line up- exhibited arrogance or unbecoming attitude.

This is when such behaviour is not entirely uncommon in an age where wham-bam T20 style and prioritizing cash-rich freelancing duties over national duties have become the norm.


Surely, he wasn't up against a world-class bowling attack that would sway Dale Steyn or Zaheer Khan get behind the mic in sheer awe.

But what Faf encountered before overcoming were just the kind of run-ins an otherwise skilled and experienced line up (Dean Elgar- 63 Tests, 110 innings, de Kock- 47 Tests, 80 innings, 40 Tests, 67 innings, Keshav Maharaj- 55 bowling innings, 110 wickets) has frequently embraced, in the last twelve to eighteen months.

Not only has on big name after another walked into the sunset – de Villiers, Mornie, Tahir and Philander in that order- but so have the efforts to save results in the longest format on home soil.
If you were to rewind back to the 2018 series, with Faf as the leader, similar fate in Test results followed when South Africa toured Sri Lanka. But once again, the Proteas won the ODI series.
While as a leader, Faf could do little to inspire his team to lift themselves up in the Tests, make no mistake- runs flew from his bat in both red-ball and white-ball contests.
Take a look at this-
Sri Lanka in South Africa, 2019
ODIs: 1stat Jo'burg- 112 off 114
2ndat Centurion, Guateng- 57 off 66
3rdat Durban- 36 off 27
4that Port Elizabeth- 43 off 38
5that Cape Town- 24 off 42
Result: Proteas whitewashed Sri Lanka
Tests: 1stat Durban: 35 and 90
2ndTest at Port Elizabeth: 25 and 50
Result: SL whitewashed South Africa
South Africa in Sri Lanka, 2018
ODIs: 1st47 off 56, 2nd– 49 off 41, 3rd– 10 off 14
Result: SA won the ODI series
Tests: At Galle- 49 off 88 (team made 126)
At Colombo- 48 off 51 (team made 126)
Result: SA lost the Tests

It's not only down to the fact that beside Quinton de Kock- the now recently-appointed captain, Faf is the one with the experience and proven big-stage caliber and record that his team deserves him.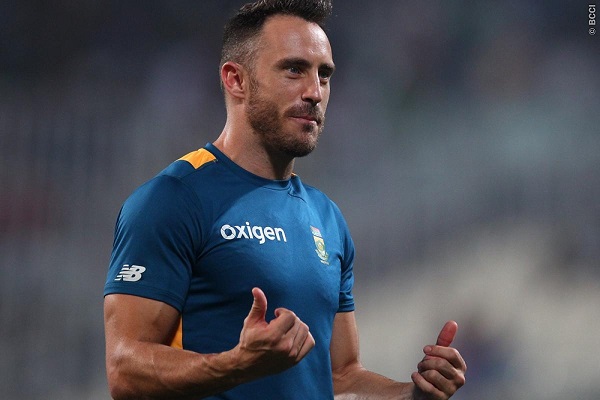 It's also largely down to the fact that when most recede to the pavilion to give importance to become one with the furniture, whether on home soil or in overseas situations, Faf du Plessis doesn't throw in the towel.
Usually, early to arrive at the crease, Faf, of late, has become among the last to leave the crease, occupying it with a sense of purpose and dignity as one would expect from a proud not showy Protea.
Perhaps that is why, the Proteas actually need this cool-headed grafter amid the playing eleven for another two years if not more.
Maybe what could motivate Faf himself is that while his white-ball form in the recent times has been unquestionably buffed with consistent musings of the bat- 814 runs, including 2 centuries, 6 fifties in 2019- it's the Tests that need attention.
Closing in on 4,000 Test runs, Faf hasn't in the last 12-18 months played a mega knock of a kind we've seen him habitually produce in white-ball cricket.
Also Read: What Must India Do To Bounce Back In The Boxing Day Test?
That's precisely what makes the imminent future concerning one of South Africa's most under-appreciated cricketer's so exciting.
Who was the only South African to hit a century in the 2019 World Cup?
Faf!
Who scored the most runs for South Africa in the same edition?
Faf, with 387 runs with 1 ton, 3 fifties, avg 64 and a s/r touching 90.
Who, from the current lot in ODIs, has the highest individual score, and as a matter of fact, the second-highest for the Proteas?
Faf!
Not to forget, who has managed a disappointing average of just 17 from 4 Tests in 2020?
It's that man who can save South Africa from many an embattled situation ahead: Faf!