Harsha said it right when he suggested that inviting the Australians- clearly among the best known limited-overs sides in the game- for no more than a 3-match series is like inviting a guest for dinner and serving only the starters.
It leaves the possibility of seeing a lot more that could've transpired but didn't.
While surely seeing India, of late, in a red hot form (even in red-ball cricket) and Australia lock horns in an ODI series offers the possibility of seeing something that's mouth-watering, but the way Virat Kohli's team went about handling the Australian challenge pretty much made it a one-sided encounter.
The team, in the end, came back strongly after the hammering given by the visitors at the Wankhede, which resulted in a surprising 10-wicket capitulation for Virat Kohli's men.
Garnering back-to-back successes at Rajkot and recently, as seen at Bangalore, India, spurred by a special knock by the "Hitman" Rohit Sharma, who reached his 29th ODI ton, overcame a dominant Aussie show with the bat where Smith fired a spirited century albeit in a losing cause.
But that said, what were the talking points from the Australian tour of India 2020?
1. Starc' ordinary spell in the series – Australia's tour of India
How often has one seen someone like Mitchell Starc bowling below usual high flying expectations? That's not the sort of thing that happens often, right?
But truth be told, after from an impressive 3-for in the opening game, there's nothing much that Australia's go-to pacer managed from what might be considered a rather insipid India outing.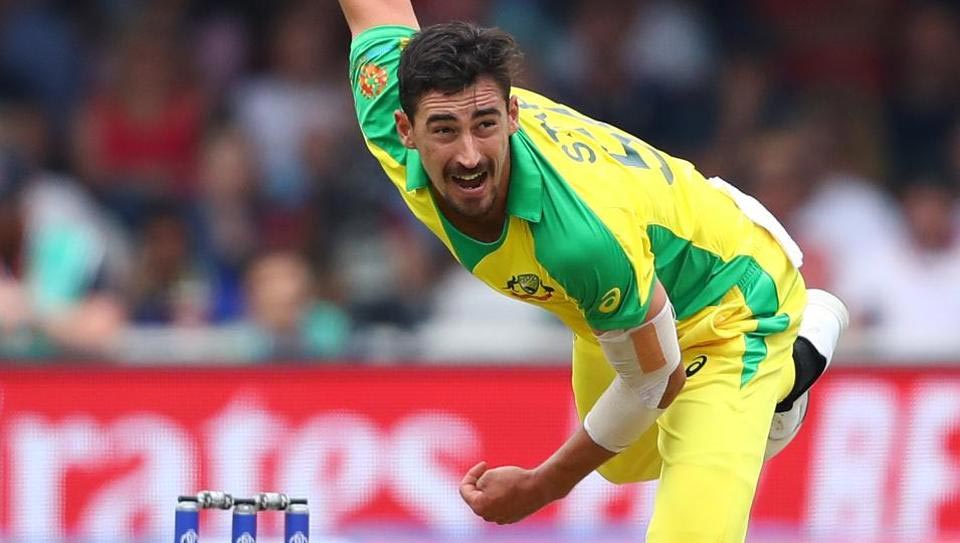 Starc, an express pace bowler who's renowned for bowling fiery, accurate spells marked by pace and line went for a rather expensive 66 off his 9 overs at Bangalore. He was wicketless in the decider at Chinnaswamy.
What's worse?
It didn't take much from the likes of young and rising figures like Shreyas Iyer to get the experienced Australian figurehead sorted, the right-hander going for extravagantly crafted strokes over cover toward the closing end of India's successful run chase.
What was worrying from an Australian perspective was that Starc going for one run too many also put an unrealistic pressure on his white-ball partner Pat Cummins who wasn't in the best of forms as well, despite bowling economically in the opening game.
2. Steve Smith vs India – Australia's tour of India
Among the biggest highlights or talking points from Australia's tour of India 2020 was the menacing form of Steve Smith.
Good batsmen play variety of strokes and do it well. But great batsmen do the same across formats, unhindered by whatever challenge the opposition might bring.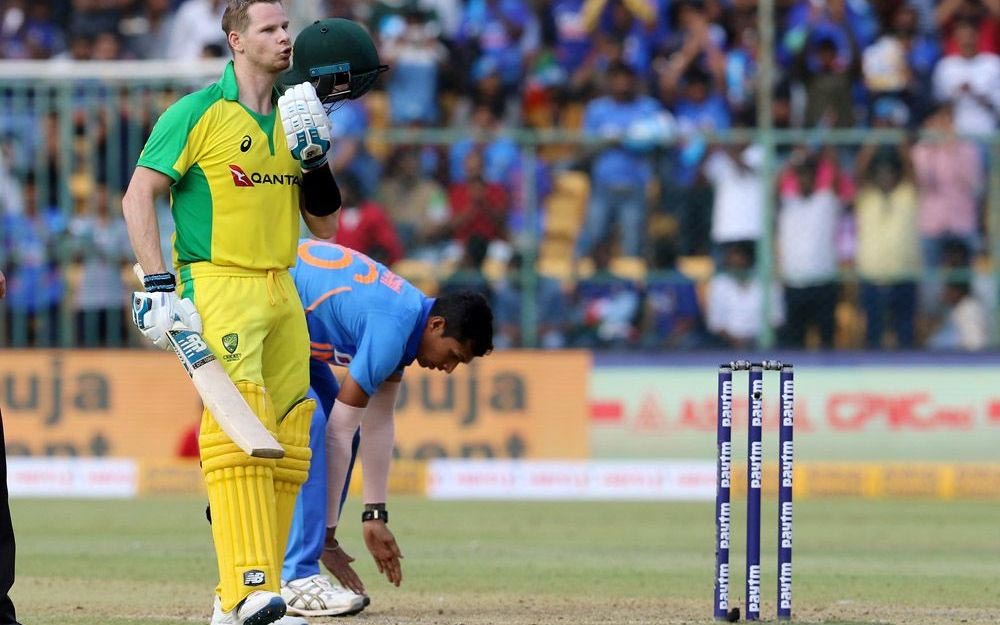 And that said, Steve Smith, who's known for his penchant for scoring big runs especially in Test Cricket demonstrated just why's he rated too highly and counted among the famous "Fab Four" quartet.
Scoring an emphatic 229 runs from just 2 outings for his Australian side- let's not forget that he didn't get an outing with the bat in the opening ODI- Smith made most of his valiant outing out here in Kohli- land.
The epitome of his great powers of concentration was the flamboyant century powered at Bangalore, a fine 131 that ultimately starred in a losing cause.
But the stupendous century prompted a question: how far would the Australian score have reached had it not been for Smith's timely effort?
After Warner and Finch departed early, it was once again, down to the experience former Australian captain to conjure vital runs and revive what had quickly deteriorated into seeming a lost cause. Just that it did turn out to be that, albeit not before Smith batted on to delay the inevitable whilst giving Australia an outside chance in the contest.
3. The Hitman makes it count
The Hitman may seem a rather fan-boyish biased quip but truth be told, there aren't too many captivating sights in ODI cricket when someone like Rohit Sharma gets going.
And the truth of the matter is the famous right-handed Hitman of a batsman usually tends to get going whenever he's confronted by the Australians. Which is what happened to Finch and team at B'lore a few hours back.
Want proof? Refer to his marvellous 57 off 70 recently against the Australians at The Oval, in London, during the 2019 World Cup!
What was impressive to the Hitman's brilliant run against Australia was his 29th ODI ton; an effort that yielded 119 winning and therefore, match-winning runs.
A familiar sight of destruction, one doesn't quite know how to control the meaning Sharma once he gets going. Among those gifted stroke makers who make batting look easy, Rohit carted few elegant strikes early into his inning at the very ground, batting on the very pitch where back in 2013, he plundered the Australians for his magnificent double century.
But severe to anything bowled short, Sharma brought up his century importantly at a time where India needed a strong hand up the order especially with Dhawan nursing an injury.
Sharma's big ton, a match-winning one in the end also starred in a decisive stand for the third wicket alongside the captain. That said the very sight that involved ODI Cricket's two great modern stroke makers was about every bit entertaining for home fans as it was troubling for Australia.
4. Rahul's starring in any and all-positions
KL Rahul shares more than just the famous name with his successful Karanataka predecessor Rahul Dravid.
At the peak of his powers, "The Wall," lent his versatility to aid India in different causes often keeping, opening and coming down the order; playing fully to the team's chase.
Ditto for KL who, ever since the return of Dhawan in the limited-overs camp, has had to settle with a shuffled batting position.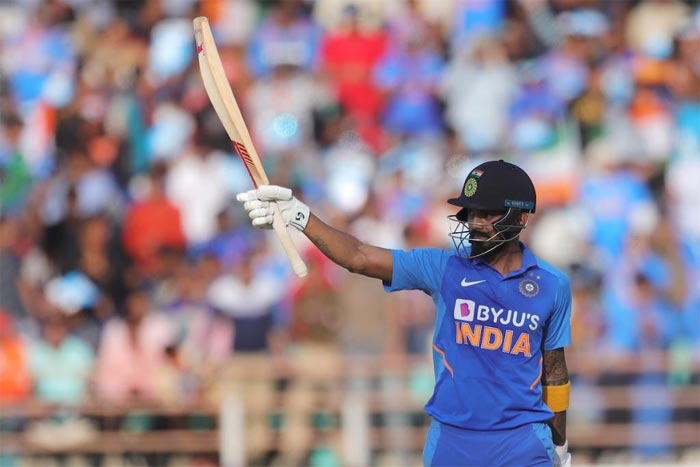 While Dhawan returned in the maiden game of the series, Rahul came down the order but contributed through a vital 47. The next game, wherein he came much lower down the order, only after Shreyas Iyer, Rahul plundered a blinder.
In contributing through a fantastic and rather unexpected 52-ball-80, Rahul not just steadied the Indian ship after opener Rohit Sharma made only an uncharacteristic lowly 42 but contributed through enough firepower to guide India to an ultimately hefty 340, a total Australia were never really comfortable chasing after losing Warner and Finch early.
Yet, what was most impressive from Rahul's point of view was his adaptation into the role whatever his team needed him for. He kept the wickets and produced runs and did both effectively with passion and vigor.
Ultimately, the team effort demonstrated by one of India's most elegant batsmen in the recent times was one of the talking points from Australia's tour of India 2020.
5. Run-machine Kohli crosses big milestone
Among the most important talking points from Australia's tour of India 2020 was captain Virat Kohli's belligerent form while chasing.
Well, here's the truth. He's not called the chase master for nothing.
While the Indian captain missed out scoring in the series opener at Wankhede, he made it count in the next two games scoring match-winning and consecutive fifties.
The much-needed 78 at Rajkot wasn't a flash in the pan for a batsman who relishes the challenge of responding to a team as potent as Australia; as another masterly fifty, this time, an 89 resulted in guiding the team batting second chase down a not so modest 287 in the end.
In both knocks, Kohli's key to success was the ability to steer the innings as highlighted by his undertaking minimal risk whilst resorting to rotating the strike in the initial stages of his knocks. The big shots and extravagant drives would come in, at a later stage, but only after the world's best batsman had guided the team to a position of safety with the target in close sight.
6. Zampa was in great touch
He may have only picked up 6 wickets in the series but one's got to ask are they a dainty measure of success when all one plays are 3 ODI games?
In removing Kohli habitually in limited over formats, Zampa first provided the key breakthrough to his side in the opening contest at Mumbai.
Tossing the ball whilst relying on the flight, a key ability of his craft, Zampa was unafraid of being picked for a few while he had something to offer regularly in the wickets column.
The most wickets for an Australian spinner, Zampa's 6 scalps were not only more than the trio of Cummins, Starc and Agar, but contributed to the key highlights from Australia's tour of India 2020.