Usually there aren't really any dampeners as such where cricketing result and outcomes related to Australian cricket stand. They are, after all, a behemoth in international cricket. A team you can't do without and cannot take away from spectacular scenes of high-adrenaline action. But it seems Australia have stamped on the gutter this time around in Protea land.
"A very sad day for Australian cricket"
In what was described by a senior official no other than Cricket Australia CEO James Sutherland, as a "really sad day in Australian cricket", Smith and Warner may no longer be participating in their usual leadership roles for the Australian team.

In a series no stranger to controversies, the South Africa versus Australia competition, rather saga has produced a latest development, which is in fact a sassy potboiler where the media pundits are concerned. Be sure, this is no ordinary news. It is a real shocker. It is bound to keep everyone interested in the outcome of the eventual competition to the tenterhooks.
Also Read: Famous Cricketers Who Were Involved In Ball Tampering
A new controversy erupts in the ongoing Test series
In a pleasant development for a change, the newest controversy that has rocketed the explosive ongoing series does not feature Kagiso Rabada in the midst. A pleasant change of sorts anyone?
Following the unwarranted and utterly unexpected ball-tampering episode, something that Cameron Bancroft in his relatively new career would've been better off without, Australian captain Steve Smith has decided to step down as the captain from the remainder of the series. But whether the ICC following the ball-tampering episode have handed Smith a one-match suspension, is yet to be confirmed, at least, as of now.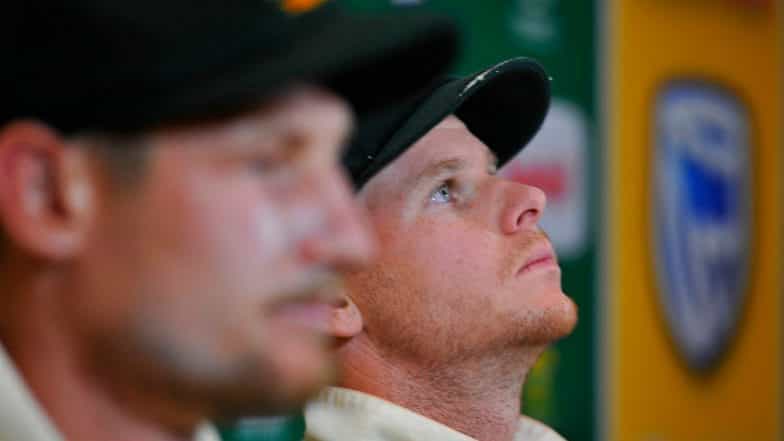 Something Australia would've been better off without
But this isn't just a singular blow that Australia are reeling with. It also appears that David Warner may no longer continue as the vice-captain of the Aussie side.
It isn't everyday that one gets to hear about such rancid double whammies where Australian cricket is concerned. This is a real dampener and assuredly puts their South African counterparts in a much better stage, truth be told. At least, where holding the mental edge stands.
So here's what exactly transpired from the Steve Smith episode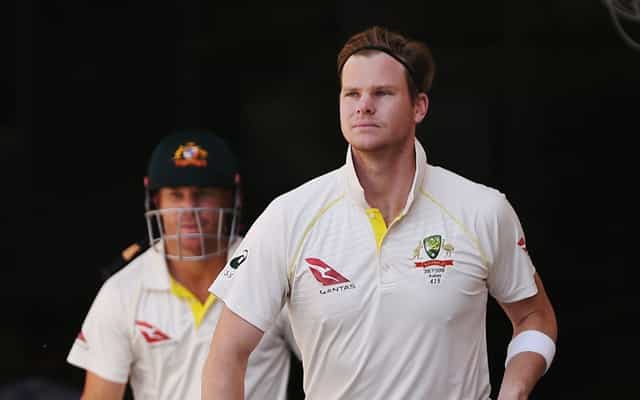 Despite not leading the team in official capacity, both Smith and Warner took to the field but sans their leadership roles. A huge surprise for anyone involved in the enormously arresting contest- fans and critics alike.
Certainly it isn't the best feeling in the world to be occupying unwarranted attention when one of your players is involved in ball tampering. It in some ways directs attention to an all-important facet. Can we be absolutely hundred per cent sure that Smith, the captain and player, wasn't aware of what Bancroft's plans were?
This is anyone's call and depending on individual prudence, perhaps a 4-year-old can submit an answer. That said, Smith and Warner, clearly red-faced with no place to hide would've surely thought of that abdicating captaincy from the rest of the series might be the only possible way to assuage an already aggrieved situation.
How else would one possibly explain their actions. So where does this leave Australia. Considering that Australia happen to lose this test- given the fact that both De Villiers is already batting like a god and Elgar is in fine knick- things are surely going to get tougher where the next Test stands.
Things to get tougher for Australia ahead?
Also factoring in the fact that there is just one more Test to go, which will be Morne Morkel's swansong, things could only get tougher for Australia from hereon. One could expect the gentle giant of South African cricket to come really hard at Australia. Moreover, if Steven Smith is indeed handed a one-match suspension, resulting from the unanticipated and shocking ball-tampering episode, the Australians will miss his wonderful talent in the middle.
In fact, it goes without saying. Problems, it appears, might only escalate for Australia. So far, the likes of Philander and Rabada have been potent enough to break the Aussies' backs on more than a few occasions this series where pace bowlers have often ruled the roost above the willowers.
But all that said, the ball-tampering episode hasn't really gone down well with former Australian cricketers and stars. Shane Warne has dubbed the incident as 'cheating' and being clearly 'un-Australian'. That is not all. Veteran cricket broadcaster, Jim Maxwell has gone on to said he was 'teary-eyed' and cannot possibly express how deeply the incident has impacted him.
In conclusion
In concluding thoughts, Smith and Warner might have learnt a lesson or two about how to stay within the permissible limits of the game. Incidents like ball tampering clearly hurt the incorruptible spirit of the game. There aren't school-grade cricketers, in fact, legends abroad and heroes at home. People need far better role model conduct than what was made available thanks to the needless theatrics.