On a pitch as perfect for batting as is a brand new Ferrari for speeding on a highway, it was hardly a surprise that the first T20 between South Africa Women's and India Women's produced a brilliant 14 sixes, with the Proteas women firing 8 alone.
Batting first on a wicket that seemingly offered moderate assistance to bowlers, South Africa got off to a steady start with Niekerk, captain and specialist leg-break exponent opening the batting surprisingly. While it proved to be a good decision where team's scoring was concerned, Niekerk's 38 fell short in impact where big-hitting lower order bat Tryon stood.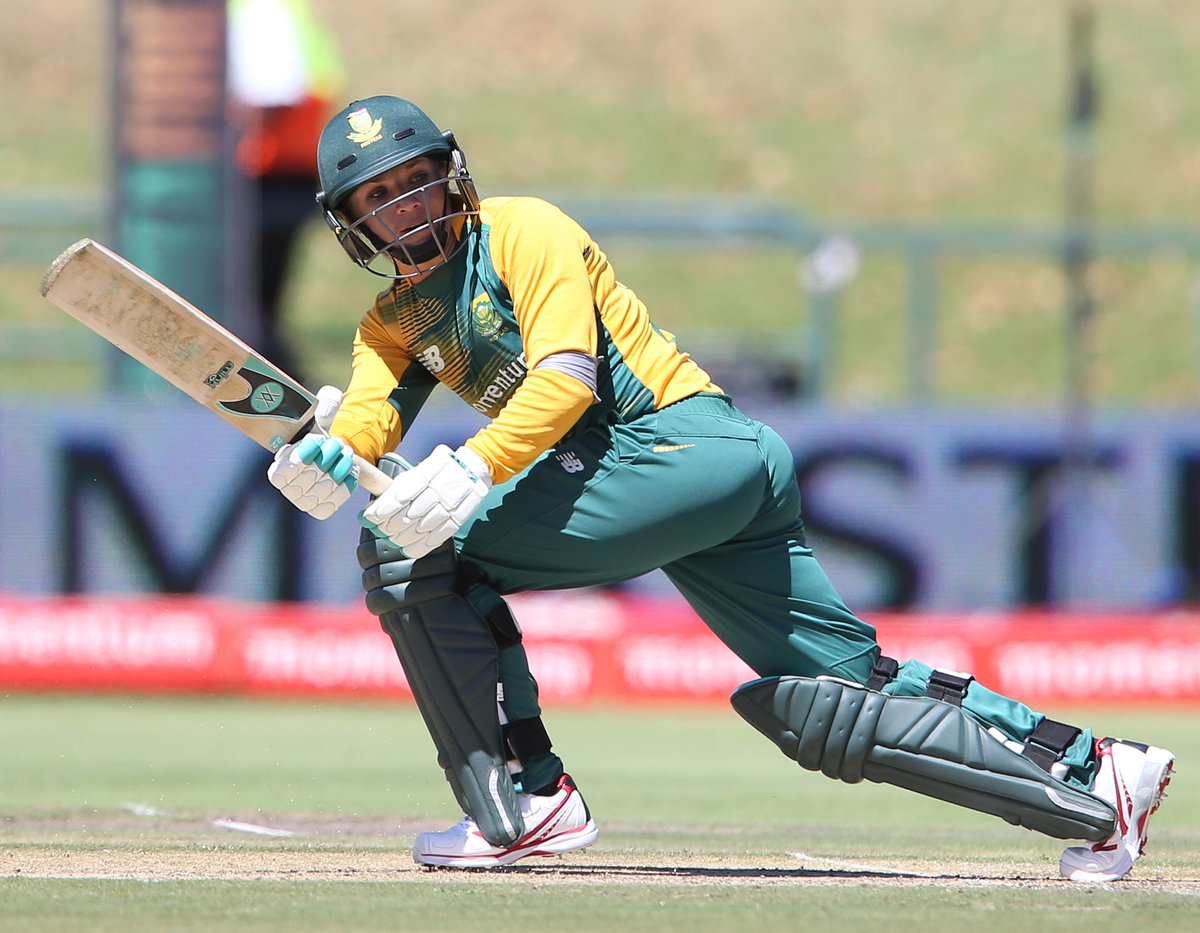 32 of South Africa's 164 runs came of the blazing willow of powerful very Chris Gayle-like Tryon who clubbed 4 massive sixes, taking apart Shikha Pandey in the final over of the Protean innings. But even as South Africa Women's collected 35 runs in their last two overs, you felt they were perhaps as many short. Had the top order- Niekerk, Du Preez, Sune Luu- gathered a bit more steam in their energetic starts, Harmanpreet's side would've had to mount a serious run-chase as in the end, 165- no paltry score- proved as easy a task as removing flies from one's path.
While none of the South African failed to get going, finding decent 20s and 30s from the blade, massive shots didn't come from the pulp of the blade. Toward the end to carry home a somewhat sizeable score to contest against a batting-heavy India, Tryon's last minute heroics- powerful that they might've been- didn't prove to be enough.
In reply, Smriti Mandhana unleashed the familiar whip of her blade on experienced Protea Marizanne Kapp who opened the attack and conceded 19 from the very first over. Finding the gaps on either sides of the ground, Mandhana's blade was brutal in punishing Kapp and Ismail, lofting both quickies for sixes on deep mid wicket and long on, opening her arms on fuller deliveries that lacked the bite.
A breakthrough moment came when Daniels removed Mandhana, comfortably caught inside the 30-yard circle. This brought, arguably the classiest Indian batswoman Harmanpreet into the middle. But without disturbing scorers, Harmanpreet, erroneously calling for a single (as a fuller delivery by Daniels pitched on her pads landed toward short mid wicket) found her stumps shattered by Luus who removed her stumps with the right-hander being nearly close to Raj at the non-strikers end.
But essentially, that was the last where South Africa Women's looked their strongest scalping two wickets in two balls. After Mandhana and Harmanpreet's departure, resolute old guard Mitali Raj and newbie debutant, fiery right handed Jemimah came together to sculpt the game's best partnership, notching a quickfire 50 off just 31.
By the time it was the sixth over of India's run-chase, the scorecard had already rocketed to 73.
Finding gaps regularly through cover and deep mid wicket region, the duo was helped by some ordinary lackadaisical fielding and a missed stumping chance in the 13th over as both batswomen continued to pile on South Africa's misery.
Perhaps what was baffling from South Africa Women's point of view was how late did Dane Van Niekerk introduce herself into the attack. The experienced big turner of the ball didn't turn to bowl until the seventh over of India's run chase. Even though Niekerk wasn't immediately effectively, she removed the set Jemimah Rodriguez- 37 off 27- in the 14th over, perhaps not on her best delivery, an overpitched, flighted ball going well down the leg side.
India needed 48 from their final 6 overs with Mitali looking set to scale another fifty which is when Ntozakhe, a weakling where the first T20 was concerned, came into bowl her final over. In the end, India needing 32 from the final rode on Ntozakhe's listless bowling, the offie conceding 34 off 4 overs.
One of the factors that South Africa Women's would want to desperately better heading into the next game would be the extras. At Potchefstroom, South Africa Women's leaked 5 wides, 2 no-balls among other byes. In their sterling run-chase, one of the sights that stood apart for India was Veda Krishnamurthy's ecstatic drive past point, struck on a near-perfect yorker length ball by a lacklustre Kapp. In the end, a 7-wicket victory earned India vital points and an early advantage in a long series.