In his heydays, Sourav Chandidas Ganguly was one of the most influential cricketers in India; second only to Sachin Tendulkar. Fondly called as 'Dada', he was a superlative left-handed batsman and an extraordinary captain who accomplished countless great feats for Indian cricket. There are several Sourav Ganguly records that were achieved by the maverick cricketer in his glittering career. Many that a lot of us are perhaps not even aware of.
Here is a look at some of the special Sourav Ganguly records that every Indian cricket fan must know of.
Sourav Ganguly Records- Most runs by an Indian left-handed batsman: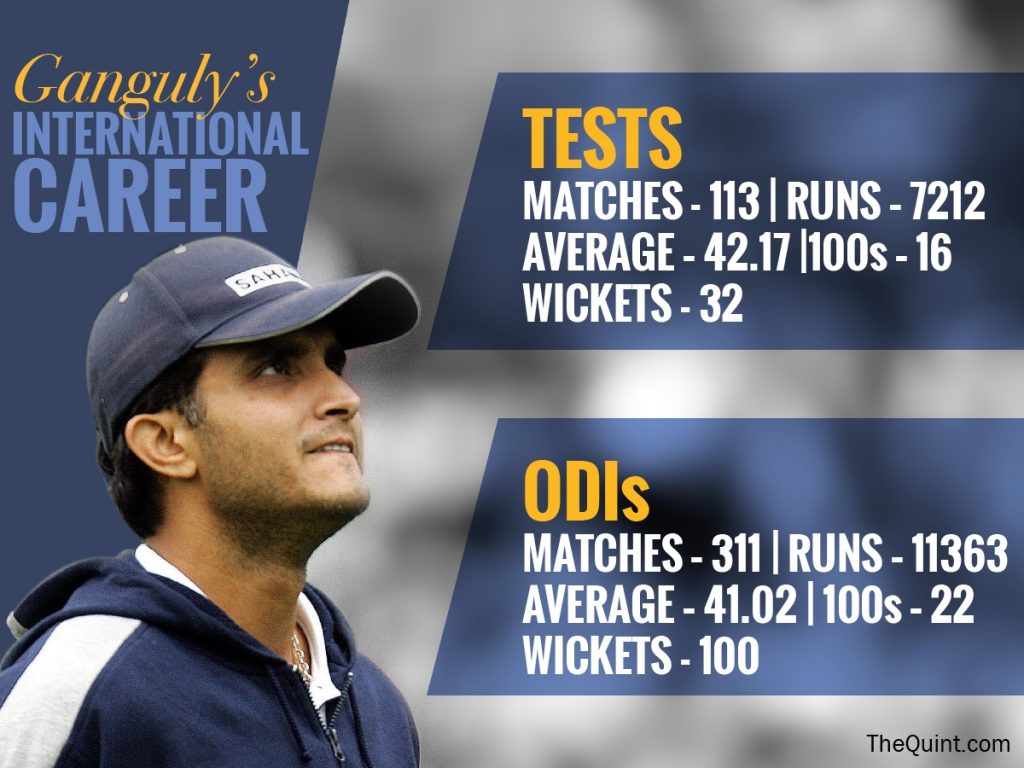 Ganguly was and still is Indian cricket's most successful left-handed batsman. In 388 international matches (Tests and ODIs combined), Ganguly compiled a mammoth 18,433 runs at a superb average of 41.42 with 38 hundreds and 106 fifties. Ganguly is above prominent Indian left-handed batsmen like Yuvraj Singh (11,686 runs) and Gautam Gambhir (10, 324 runs).
In fact, Ganguly is Indian cricket's fourth most successful batsman, after Sachin Tendulkar, Rahul Dravid and Virat Kohli. Speaks volumes about the impact he had on Indian cricket.
First Indian to score an ODI century against Australia in Australia:
Till January 12, 2000, India had played 44 ODIs in Australia; but surprisingly not a single Indian batsman had scored a century in the format there. It was Sourav Ganguly who did so first with a fluent 100 off 127 balls against Australia at Melbourne while chasing a score of 270. While India lost the match, Ganguly's hundred was the first one by an Indian batsman in Australia in ODI cricket.
Sourav Ganguly records – Only cricketer to win four consecutive man of the match awards in ODIs: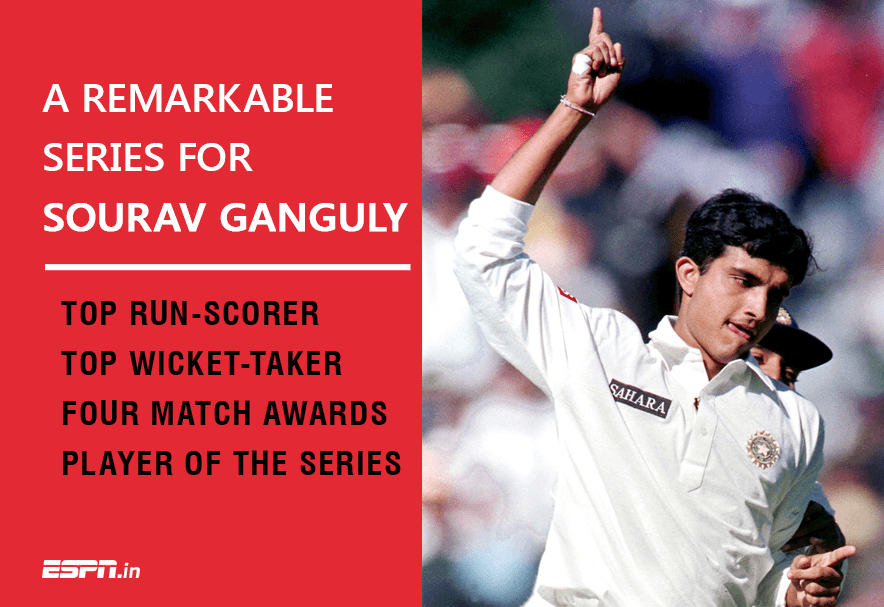 1997 was the year of Sourav Ganguly. During the 5-match ODI series between India and Pakistan at Toronto (also called the Sahara 'Friendship' Cup), he was especially incredible – dominating both with the bat and the ball. Ganguly scored 222 runs and took 15 wickets in the series to help India win by a handsome margin of 4-1. There was no one else even in contention for the Man of the Series award.
Ganguly performed in almost every match in the series and was also awarded the Man of the Match on four consecutive instances – the only cricketer to achieve this unique feat in ODI history.
These were the matches of the series for which Ganguly got the award along with his performances:
14th Sept 1997, 2nd ODI: Ganguly 2/16 in 9 overs and 32 runs off 86 balls.
18th Sept 1997, 3rd ODI: Ganguly 2 runs from 20 and 5 for 16 in 10 overs.
20th Sept 1997, 4th ODI: Ganguly 2/29 in 6 overs and 75 runs off 75 balls.
21st Sept 1997, 5th ODI: Ganguly 96 runs off 136 balls and 2/33 in 9 overs.
Was involved in the first ever 300-run partnership in ODI cricket:
26 May 1999 is an iconic day in Indian and international cricket. This was the day when ODI cricket's first ever 300-run partnership was formed. And at the center of it were India's Sourav Ganguly and Rahul Dravid.
During the 1999 World Cup encounter between India and Sri Lanka at Taunton, India batted first and courtesy a mammoth 318-run partnership between Sourav Ganguly (183) and Rahul Dravid (145), they posted a colossal 373-6. In 28 years of ODI cricket, it was the first instance of a 300-run partnership.
Sourav Ganguly records- Highest Individual score by an Indian in a World Cup:
In the record-breaking World Cup 1999 match between India and Sri Lanka at Taunton where Ganguly shared a 318-run stand with Rahul Dravid, he scored a career-best 183 in the match. It was and is the highest individual score by an Indian batsman in an ODI World Cup. Also, it was then the highest individual score by an Indian batsman ODI cricket. This will certainly remain one of the best Sourav Ganguly records to cherish forever.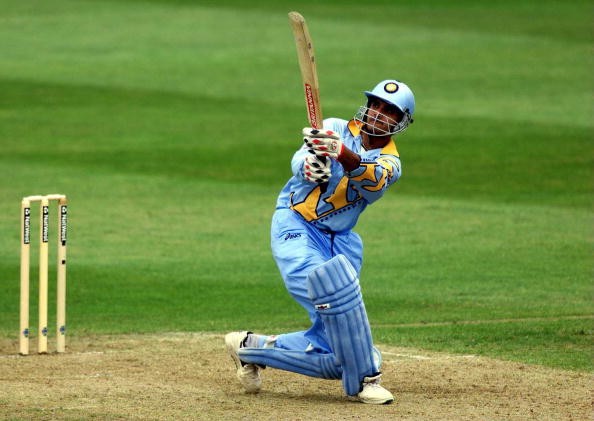 Before Ganguly, the record was held by the enigmatic Kapil Dev whose epic 175 against Zimbabwe in the 1983 World Cup in England is still the stuff of legends.
Leading run-scorer in a calendar year in ODIs for three years:
Ganguly was prolific in ODI cricket for a great part of his career. The phase from 1997 to 2000 went on to be imprinted for several Sourav Ganguly records as the elegant left-hander ended up as the leading run-scorer in the world in the years 1997, 1999 and 2000.
In 1997, Ganguly scored 1338 runs in ODIs at an average of 41.81 with 1 hundred and 10 fifties. In 1999, the Indian opener smashed a colossal 1767 runs in 41 ODIs at 46.50 with 4 hundreds and 10 fifties. He followed this up with another special year in 2000 where he amassed 1579 runs in 32 ODIs at an outstanding average of 56.39 with 7 hundreds and 6 fifties.
Highest opening partnership runs in a career with Sachin Tendulkar:
To say that Sourav Ganguly and Sachin Tendulkar were a great ODI opening pair would be an understatement. The two batsmen have gone on to become the most successful opening partners of all time in ODI cricket.
Ganguly and Sachin scored an incredible 6609 runs together as opener in 136 innings at a stunning average of 49.32 with 21 hundreds and 23 fifties between them. This is the most number of runs accumulated by an opening pair in ODI history.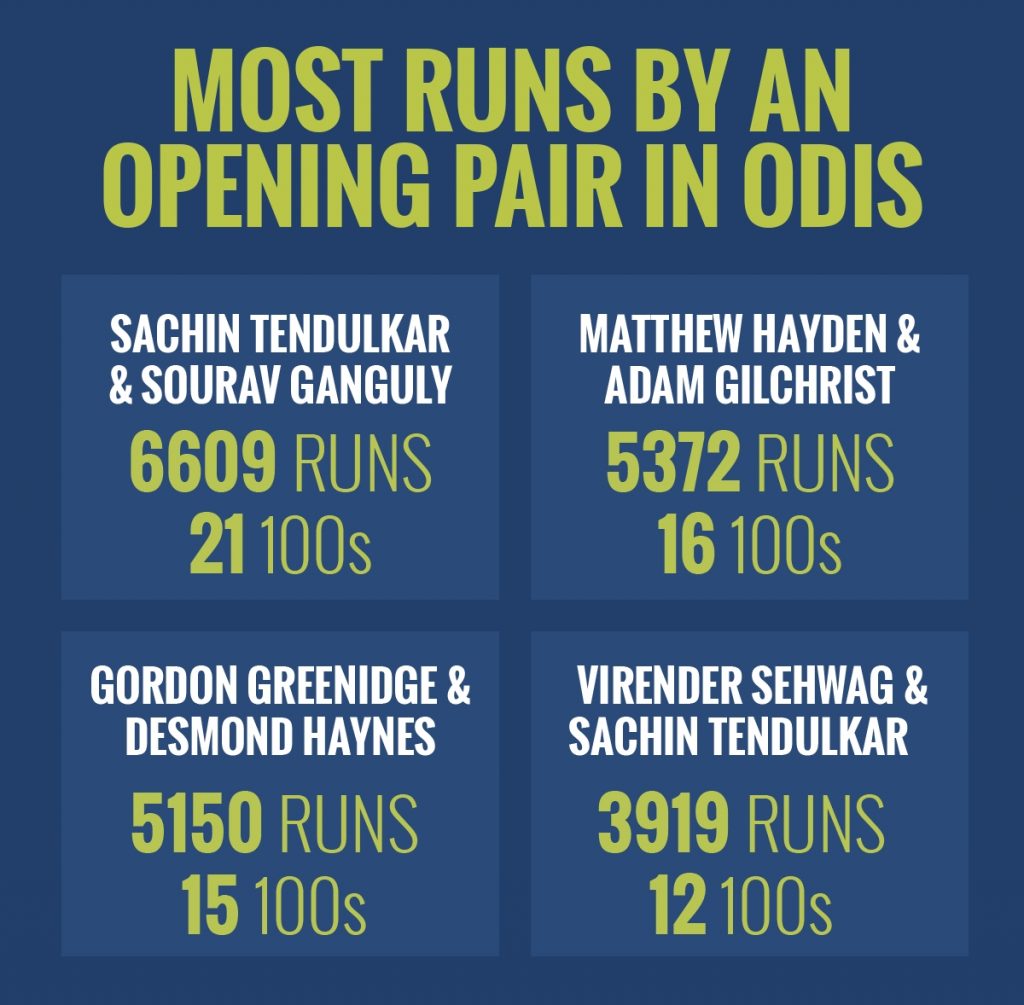 There was no one who came close to this amazing opening pair in their time and no one else has been able to surpass their records years after they have both retired from the game. Australia's Matthew Hayden and Adam Gilchrist (5372 runs) and West Indies' Gordon Greenidge and Desmond Haynes (5150 runs) are the next two pairs in this esteemed list.
Shared the record for the highest first wicket partnership in an ODI match:
While we are talking about the exploits of Sourav Ganguly and Sachin Tendulkar, the pair had another world record to their name during their time.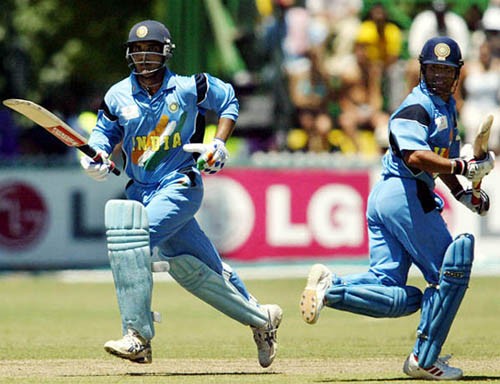 In an ODI match between India and Kenya at Paarl (Standard Bank Triangular Tournament) on October 24, 2001, India batted first and posted a huge 351-3 courtesy a gigantic 258-run opening partnership between captain Sourav Ganguly (111) and Sachin Tendulkar (126). It was then the highest opening partnership in ODI cricket. The record was previously held by the same pair when they had piled up 252 runs together against Sri Lanka at Colombo in July 1998.
The record was later broken by Upul Tharanga and Sanath Jayauriya of Sri Lanka (286 runs) in 2006 and is currently held by John Campbell and Shai Hope of West Indies who scored an astonishing 365 runs together against Ireland at Dublin in May 2019.
Sourav Ganguly Records – Third most successful Indian Test captain: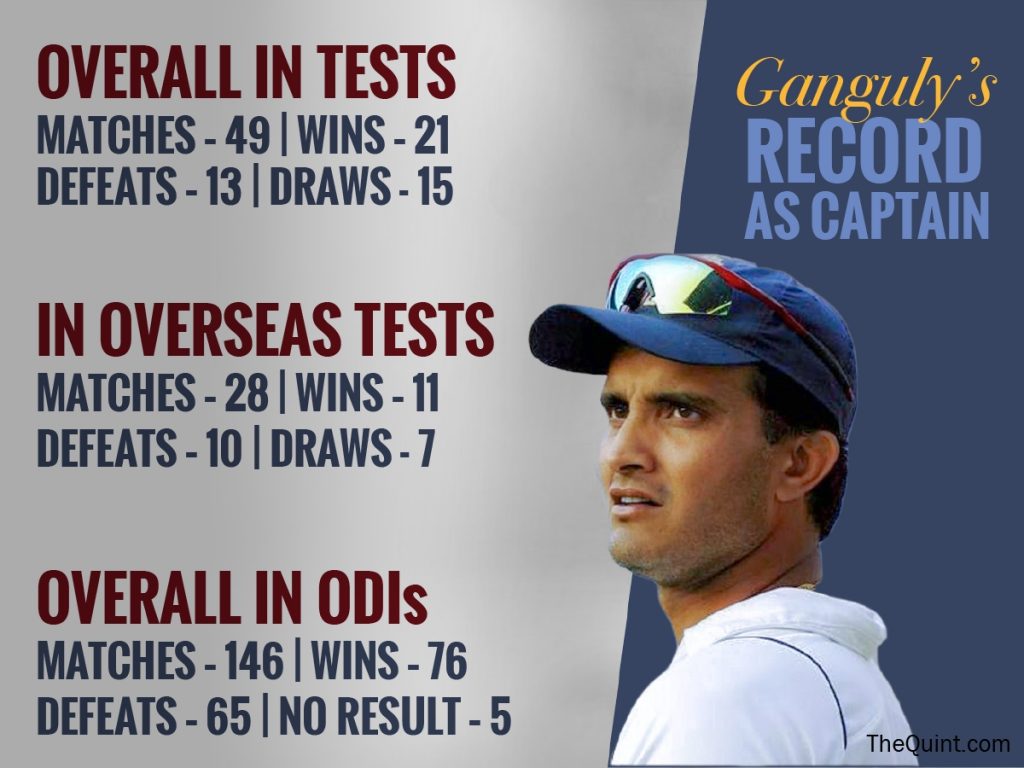 Among his many traits, Ganguly was also known for his excellent leadership qualities. He led India during the turbulent match-fixing episode and helped shape the future of the team by building an aggressive and match-winning team.
The Sourav Ganguly records as a Test captain are truly impressive – 21 wins and 13 losses at a win percentage of 42.86. Before MS Dhoni overtook him and now Virat Kohli, Ganguly was India's most successful Test captain.
Ganguly is also India's second-most successful Test skipper in terms of away wins. He had 11 wins from 28 Tests away from home. And until the recent West v India Test series where Kohli led the team to an emphatic 2-0 win, Ganguly was the most successful Indian captain away from home as well. That record now stands with Kohli who has 13 Test wins away from home in 27 matches.
An unusual Sourav Ganguly record – Test hundred on debut and golden duck in final innings:
Ganguly's Test debut has been a widely popular phenomenon – his 131 against England at Lord's on 20th June, 1996, in his maiden Test innings became the talk of popular cricket folklore during the time.
However, Ganguly's glorious career came to a rather tepid end as he was dismissed for a first-ball duck against Australia at Nagpur on 6 November, 2008.
To this day, Ganguly remains the only batsman to have scored a Test hundred on debut and being dismissed for a golden duck in their final innings.
Career Stats:
Batting:
| | | | | | | | |
| --- | --- | --- | --- | --- | --- | --- | --- |
| Format | Mat | Inns | Runs | HS | Avg. | 100s | 50s |
| Test | 113 | 188 | 7212 | 239 | 42.2 | 16 | 35 |
| ODI | 311 | 300 | 11363 | 183 | 41 | 22 | 72 |
| T20 | 77 | 73 | 1726 | 91 | 25 | 0 | 8 |
Bowling:
| | | | | | | | | | |
| --- | --- | --- | --- | --- | --- | --- | --- | --- | --- |
| Format | Mat | Inns | Balls | Runs | Wkts | BBI | Ave | Eco. | SR |
| Test | 113 | 99 | 3117 | 1681 | 32 | 3/28 | 52.5 | 3.23 | 97.4 |
| ODI | 311 | 171 | 4561 | 3849 | 100 | 5/16 | 38.5 | 5.06 | 45.6 |
| T20 | 77 | 37 | 573 | 756 | 29 | 3/27 | 26.1 | 7.91 | 19.8 |
So this was our list for the best and the most famous Sourav Ganguly records? Which was your favourite one from the featured list? If you have some Sourav Ganguly records to share, then comment below.