Regardless of whether you believe in analogies or are a believer or non-believer in ironies, it doesn't quite matter.
For none of us may ever be able to divulge if the benevolent creator of things was trying to hint at something when he birthed the phenomenon known as 'Dawn', a word that sounds nearly identical to another, one that sounds uniquely powerful, 'Don.'
In an age where things often fall apart; where cricketers run out of flavour with their boards, contracts run out of extensions, players fall out with their teams; there's this surreal pleasure to identify in one of cricket's long-standing bastions, also a unifying force.
And can there be a greater unifying force than Sir Don Bradman who finds respect and regard from even those nations that- for reasons beyond explanation- forge national rivalries with each other at the cost of cutting bi-lateral ties and fume in rage, going daggers drawn at each other in an insolvable quest of proving superiority whether it's an India versus a Pakistan or a New Zealand versus Australia.
Australia might have birthed cricket's quintessential adjective of greatness. But the name of Sir Don belongs to the fan who wields a bat outside Lahore's Gadaffi stadium, stays in the mind of the youngster practicing underneath a banyan-tree in India's hinterland, commands the attention of that groundsman nurturing the Lord's and rests in the beer-drinking Englishman's heart, one bemoaning empty stands at Sabina Park, arguably in midst of a Test.
Akin to a Bradmanesque itinerary, where the journey is spread in terms of hundreds and fifties, double hundreds and triple hundreds, ultimately covering a pilgrimage courtesy that super-human batting average, cricket's journey too is spread across shape-shifting decades.
Our great sport went from being a rising tradition discovered by the English into being a weapon, wielding which the sufferers of colonialism united themselves. Cricket emancipated and redeemed those in the Caribbean, rose to greater glories from the peaks of the white as well as the black, engineered the talent in the sub-continent and gave a voice of reason and conscience to an Apartheid-infested Africa.
Today, we witness Cricket spreading globally as if a mighty corporate brand had unveiled its glorious financial statement; there's more money than ever, sponsorships impact ticket sales, player performances give number-cruncher employment as cricket expands its mighty wings.
In midst of all this new-age mumbo-jumbo, Cricket's also birthed personalities bandaged with heaps of praise. It's seen the birth of the 'original' Little Master, found new boundaries in the deeds of the 'Matara Mauler'; lifted the dying spirit of a crowd through the exploits of 'The Prince of Trinidad', fostered team spirit over individual achievement through monikers like 'The Wall' and even indulged in idolatry through a cosmological expression, like "The God."
But no one since this Australian and none may ever galvanize any individual the way Sir Don Bradman did. In all these years of cricket institutionalising different formats, birthing new rules, dismissing dubious practices, no one has managed to institutionalise the sport itself, apart from Sir Donald Bradman.
Regardless of Cricket delivering a win or resulting in a loss, perhaps it may not be incorrect to suggest that when you pay homage to Sir Don, who was born on August 27, 1908- you end up saluting the great game itself.
For the game can never find a better or greater ambassador; devoted to the team yet profoundly in love with batting, winning hearts through his romance of playing long innings yet remaining a mild-mannered, soft-talking, believer in firm actions.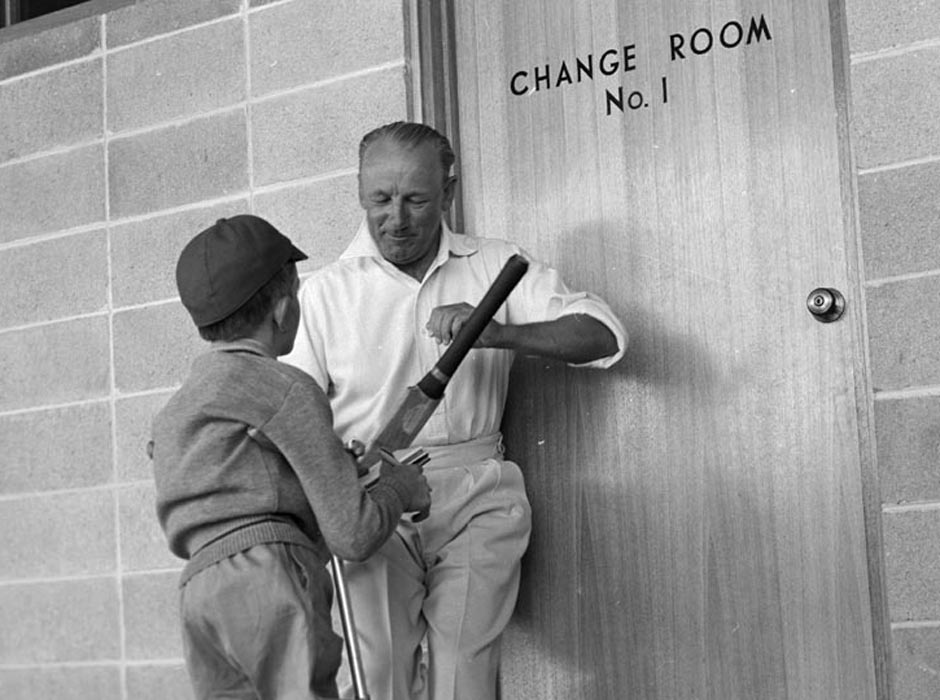 In an age where one cannot imagine a batsman or bowler not contemplating about one's "best achievement" and not reflecting on one's "stand-out moments"; where mind-games often decide strategy for an opponent and where lip-service from behind the stumps is about as common as a cosmetic lip-job in cinema, what can you possibly say about a man whose records would take longer introduction than his very name?
No one thinks of Sir Donald Bradman in terms of his favourite quotes. To this day, it isn't known, despite hundreds of his batting clips and endless citations on the Internet as to what he sounded like. Yet, the instances of people mimicking Tendulkar, emulating the walk of Gavaskar, those copying Lara's cover drive and, those speaking in the baritone of Michael Holding count endless.
Does that tell us something?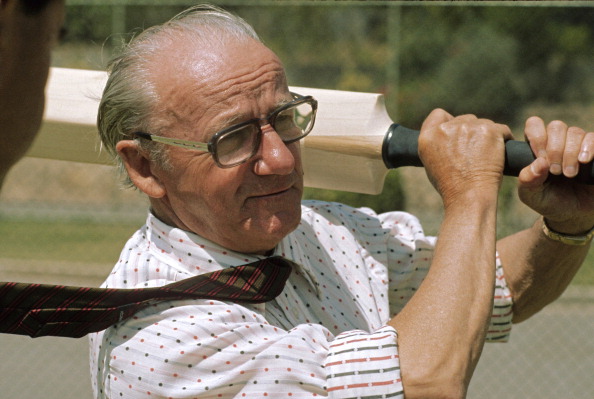 What you always find in relation to Sir Don are his great deeds on the 22 yards; for that is what he allowed to feature on his resume; a bible in terms of cricket's greatest achievements and a gospel truth that provokes hair-raising thunder that such a human walked on this earth as to have scored over 6900 Test runs at an average of 99.9.
Purely from a rather poetic stance of imagining Sir Don as a tireless advocate of batting, there may not have been a greater altruist than him; for every batting statistic of his seems to have found its true purpose, used as a yardstick for measuring the game's greats while at all times they are, for their sheer magnitude and volume of achievement, fairy-tales beyond the reach of any batsman loosely tagged 'immortal.'
And yet, if you shake your head in disbelief, pondering about how on earth did a man of mere flesh and bone, amass that wealth of runs and a subliminal batting average, you'd realise, that funny things happen on Earth when the almighty sculpts an epitome of perfection, throwing in there a hint at a ceaseless debate; whether such a thing called perfection exists?
What cricket ought to learn from Bradman is a thing about self-preservation. Cricket does not need to self-advocate its mighty reach just as Bradman never advertised the (great) Bradman Foundation, which he formed despite being in the waning years of health, circa 1987, in his grandiose attempts to use cricket as a unifier, bringing it to the collective conscience of the youth and the wider community in his home country.
What cricket ought to borrow from Sir Don's limitless graph of excellence is about using personal excellence to inspire generations, perhaps not so much as to bow heads in allowing famous names to rule one's conscience. For there's this law of nature that not even a Bradman could overturn.
You are never greater than the sport; that the game does go on without you.
But of course, it's quite something else that even as the game continues with Bradman it pauses every now and again to reflect on an icon that lifted the sport like no other.