Do not bowl short to him. Give him a full-toss and you've done the peril blunder you shouldn't have. Half-volleys? What are you- kidding? Don't even dream. Such remorseless have been his executions of poorly pitched deliveries, of late, that now it appears that bowlers have to think up a lot and really bowl to a plan when facing a certain Shreyas Iyer.
He's surely not a mild-mannered batsman. He's a fiery one. At the same time, he's not someone who can be pulled down by a barrage of bouncers and shorter ones, as what one may have noted especially in the case of New Zealand bowlers facing the bludgeoning blade of Shreyas Iyer.
The T20s, the ODIs were all ample examples of the coming of age of a decent cricketer who is well on the path of becoming a dangerous batsman down India's middle order. This was once a position from which mavericks and achievers of the class and caliber of Sachin and Laxman fired dozens of bullets into the rival camp, becoming timeless legends.
Now, the spot in the middle order, number 4 from to be precise, is where Shreyas Iyer's eyes lie transfixed. He wants to own the spot. The right-hander – so far, 748 runs, 1 ton, 8 fifties already- wants to make that position his own.
And that's the key if you are an Indian cricket fan. Shreyas Iyer also wants to play Test cricket. Well, what do the purists call Test cricket? Test cricket is real cricket to them. Isn't it? And who can doubt that?
In the same way, who can doubt the intensions and the caliber of a batsman who is already close to reaching the first big, no huge landmark that most ODI batsmen aim to reach.
Even crossing 1,000 ODI runs is special. That the belligerent hitter of the white ball has taken only 18 matches and to speak precisely, then just 16 innings to amass nearly 750 runs is indeed special.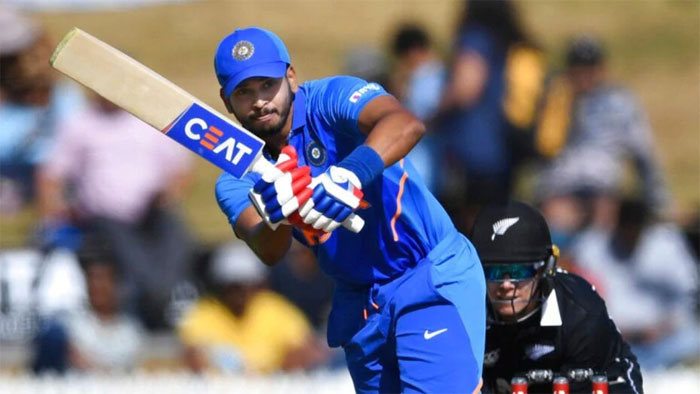 He was the young gun who was plundering runs in New Zealand's difficult conditions.
Yes, the Test matches turned to be anything that India would've liked but then Iyer wasn't in them. He's yet to breach into the famous, rather iconic five-day format for which he's trying desperately hard.
Here's what Shreyas Iyer himself had to say about his Test match plans:
"It is the ultimate test. It's every cricketer's dream to play Test cricket. I'm eagerly waiting for my opportunity to represent my country in whites also!"
That being said, Shreyas Iyer, also the captain of Delhi Capitals, reserves a lot of praise for the other senior stars, the big names in his team, basically his compatriots, in the Indian jersey.
In a recent interaction, he had this to say about the iconic Rohit Sharma:
"Rohit Sharma is a very good personality to be around. He's very motivating, caring towards his teammates."
Right now, while there's this strange uncertainty given the Coronavirus outbreak due to which one's not really sure whether the IPL will even happen, the famous T20 franchise having been delayed until further notice, one can't help but think that how special it'll be when finally live cricket will return to the ground and thus, on our TV screens.
Surely, Shreyas Iyer, the fiery batsman would be thinking about the same as well. And who can blame anyone for that matter? Let's hope for cricket to make a safe and quick return and for things to get normal again.