It's January 2009. The West Indies are in Napier. There are woollens everywhere you see in a picturesque ground. As the breeze flows over a lush green outfield, perhaps the beer tastes about as cool as the nip in the air.
The West Indies are flying. It's over number 42.
The Kiwis need to trim their opponents' wings. To that regard, Daniel Vettori comes into bowl.
A few seconds after bowling the second delivery of his over- the innings steadily progressing at 213 for 2- the left-arm orthodox bowler rubs his eye. He's visibly shaken. Behind the stumps, Brendon McCullum seems baffled.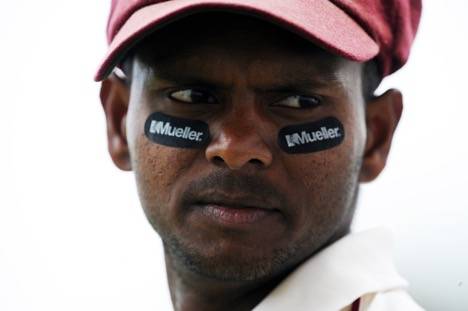 At the non-striker's end, Christopher Henry Gayle, not Universe Boss then, comes to thump a punch of the glove to the batter. Behind backward point, Guptill picks the ball from the ropes.
The umpire signals a six. Shivnarine Chanderpaul- at his best, an example of a master-class in defensive batting- has reverse swept the world's best off-spinner for a slog six.
The West Indies go on to compile 293 but end up losing the game by D/L method, such a slob. But the gritty Guyanese- who was 35 then- has struck 94 runs. What's more? He's taken only 91 balls to carve his 10 fours and that boisterous, rather surprising strike over the ropes for that massive six.
Those in attendance would likely not have remembered Chanderpaul's strike rate, that of a batsman who eight in ten would limit as having been a Test cricketer. Of course, it doesn't matter to Chanderpaul's critics, then, that this Test-specialist grabbed a wobbly strike rate of 103.
But they remember the rather extraordinary hit to a bowler of Vettori's class.
In another part of the world, Abraham Benjamin De Villiers hasn't yet explored his 360-degree range.
But that was 'Shiv' as he's often called in 2009.
Let's go further back in time. It's 2003. The Australians are back in the Caribbean to claim what they think is rightfully theirs: the Frank Worell Trophy. The last time they were there at the West Indies, one man came in their way, demonstrating stubbornness in the face of overwhelming odds.
Maybe one full moon night, perhaps a lot many decades later, some Cricket writer would get away saying that Brian Lara put an astonishing exhibition of Shivnarine Chanderpaul-ness then in 1998.
For I clearly lack the conviction to say that.
But anyways.
Australia are rampaging hard at the West Indies. It's the notoriously powerful Aussie line-up featuring the greats- Lee and Gillespie, this time aided by MacGill, a casualty of Lara's vengeance of 1998 series along with Bradley Hogg. Moreover, there's the prickly fast Andy Bichel.
West Indies bat first. Probably a stupid idea till the time one man gets going. It's not Brian. The top-five facing a Brett Lee onslaught and Jason Gillespie onslaught compile 39 runs. Lara perishes for a quickfire knock. In walks Shivnarine Chanderpaul.
The math of the Test match changes, thereafter.
Australia never thought that Test cricket's sixth-fastest hundred would come against the swollen faces of its beastly fast bowlers. Regardless, in his 69-ball 100, Chanderpaul flies to a century before lunch.
In comparison to Brian's 26, a drizzle, at best, Chanderpaul rains runs.
The crowds are stunned. Steven Waugh is biting his teeth. Ponting's probably chewed off what remained of his fingers. The stands are in party-mode as if being struck by a happy lightning bolt.
Back then in the West Indies, Shivnarine Chanderpaul brings up his famous landmark hundred in front of home crowds. For a man who's so often been at the receiving end of flak from the fan who likes fast-paced cricket and of the immensity of pressure that he's often borne single-handedly, Shivnarine Chanderpaul gets to celebrate a rare moment of joy amid home fans.
It's been over 3 years that Chanderpaul last wielded a bat for his team in national colours. His departure wasn't as fashionable as the fighting hundreds that blanketed his West Indies from a string of embarrassments. He wasn't picked up by the selectors for any series after Windies defeated England at Barbados, in 2015.
He wasn't allowed even a professional courtesy of being given a final opportunity to bat in a Test. But Shiv didn't mind that. Not one bit.
He carried on. He went on to bat for Lancashire with whom he's begun in his forties a love-affair with batting that already seems to have reached its peak of insatiable craving.
For a man that, for the most part of his career, turned lone warrior, becoming in the same vein of being a national hero- a dreadful figure inducing petulant cries by opponents who often failed to eradicate him from 22 yards- Shivnarine Chanderpaul wasn't treated well. How and why his cricket board did that to him is something none can answer.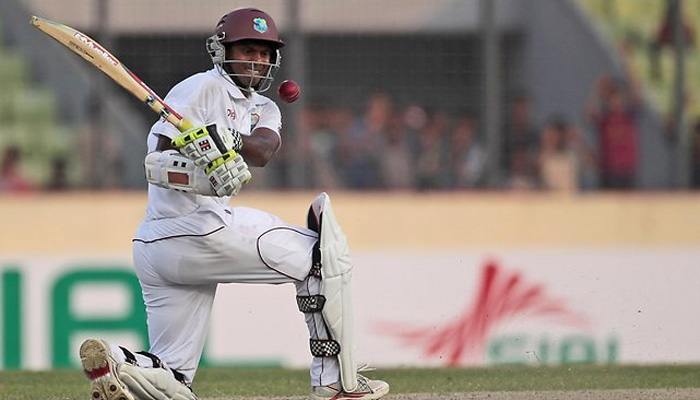 But Chanderpaul's unbecoming banishment from the side (agreed he was ageing) but perceptibly at the back of a string of no-shows (in a couple of series starting Australia) offers a vital lesson.
It beckons to be taught in management schools as a theory that often your own shut the door on you when you have been their saviour. What Kraigg Brathwaite, arguably the best West Indian stable head on current form is doing for his team is perhaps a few degrees of the magnanimous reach of Shivnarine Chanderpaul, who burst on the cricket turf through his gutsy 62.
This was, again a knock against a mighty opponent. It was again a knock at Guyana, in his debut Test.
In the summers of 1994, as England would find themselves hammered by Brian Lara's unstoppable assault, there was another frail-looking figure at the other end. He'd soon rise to be a West Indian pillar one whose sheer incorruptibility, piousness as a spirit, faultless character and resilience as a batsman would be measured in tough times.
In the famous Mission Impossible flick, Rogue Nation, Tom Cruise' Ethan Hunt says a remarkably simple but meaningful line: Desperate times- desperate measures.
What else can possibly summarise this grounded navigator of West Indian cricket, who both opened the innings as an upper of the run-rate as well as served as the defensive master in the middle order in Tests; someone who wore cool weathers amid hostile situations as a specialist in crunch games and also acted as a leader for boys that refused to grow into men?
Blessed were the West Indies that at least in the latter part of their 1990s journey, in the aftermath of their greats' departure, there was a trinity of Lara, Hooper and Chanderpaul. A few years later in the 2000s, Sarwan's addition made it a quartet.
Whether India toured the Windies during the beginning of their downward spiral or Pakistan or whether the West Indies went to England or South Africa, Shivnarine Chanderpaul continued digging a well of concentration on 22 yards. He was their journeyman. He was the saviour to Lara's rescuer. He was quite simply, "Do whatever the hell you want but I'll dig a well of concentration and pull you and yours bowlers into it."
With painstaking focus and that gift of pacing an inning, supported by the ability to play workman as often as the repairer of a broken inning, Chanderpaul crafted 30 Test match hundreds. Would you believe it, the worst that he's managed in Tests in terms of average is 35, against Zimbabwe.
He reserved his best for Sachin Tendulkar and Rahul Dravid's India, striking 7 of his 30 hundreds, often mostly to compel newspapers to report familiar headlines that are now a part of 90s nostalgia, "Lara and Chanderpaul rescue Windies." Often, it would be "Sarwan and Shiv revive West Indies."
Not just a player who hounded Australia or baffled Pakistan- remember his 153* at Bridgetown, the sight of him batting out with tailenders to frustrate the likes of Razaq, 2005- Chanderpaul was the epitome of good old-fashioned West Indian grit against the heat and animosity of unfriendly, unwelcoming foreign pitches.
We saw him exhibit his robustness against pace and spin in the summers of England, at Lord's in 2004 where again, at the backdrop of a Lara failure and brutal English batting, only Chanderpaul salvaged a lonely fight for his side. He first struck a 128, batting for 270 deliveries, frustrating Hoggard, Harmison and Jones for 383 minutes, only to remain not out but also came back in the second inning to score 97. He was once again not out.
You remember Sachin's ODI double hundred and Sehwag's knock that made the sultan capture Multan. But few reserve affectionate praise for Chanderpaul's epic Tour-de-Force at the home of World Cricket.
Probably, if you were to ask a Roston Chase or Carlos Brathwaite about their favourite Chanderpaul innings, this may not even feature up there. The same mid-inning repairer and solitary fighter thudded heaps of runs in ODI cricket, nearly 9000 of them.
Among them was a knock that perhaps serves the best example of why Shiv was both handy at home as also in away situations. Together with Hooper, Chanderpaul blasted a match-winning 150 for his West Indies, resulting in a 43-run win for South Africa's hosts. Lara made 3 in that game- just to draw some reference to Shiv's solo-heroics.
Yet, this remarkable batsman who was anything but gifted, someone whose best gifted wasn't inherent but manufactured- patience and focus as opposed to flair and flamboyance- is often only remembered for his unbeaten 203. It was a vital double hundred, his best Test score, that was part of the 5680 runs he scored batting overseas. His average outside the Windies? 45. At home, it rose significantly to 58.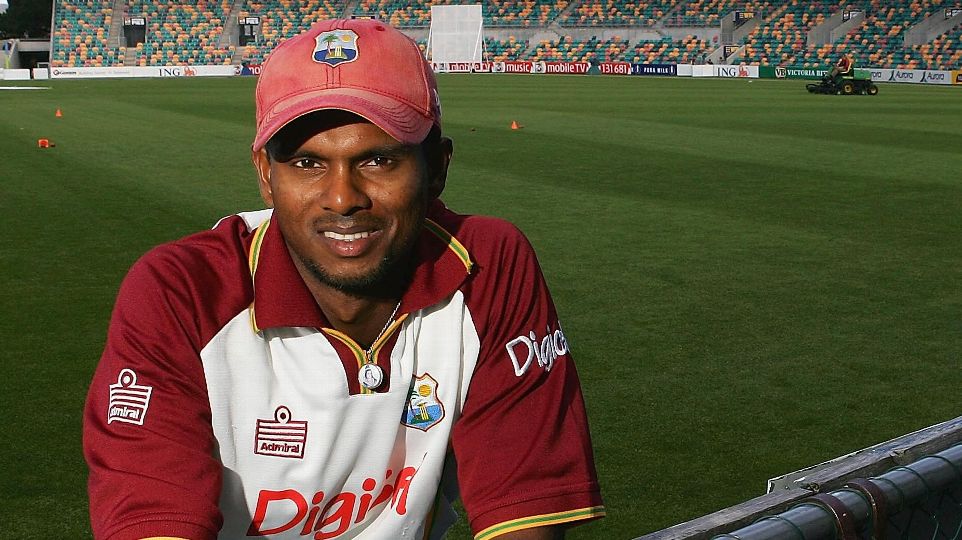 One honestly doesn't know the true standing of Chanderpaul in the game. Why he's not in the ICC's Hall of Fame is something that confronts the limitations he had perhaps against in-swing or the leg-break, a possible handy exponent of whom was Brian Charles Lara.
But can style alone fetch you regard and world-reaching laurels- we don't know? Shouldn't impact matter just as much as highest-individual scores in any format of the game? If you are an advocate of the former you already are doing justice to upholding the dignity of this great marksman of West Indian cricket.
Even decades later, Shivnarine Chanderpaul- it can be said with comfort- will never mind being remembered as the humble servant of West Indian cricket and maybe not as the man who elongated the Caribbean spectator's stay in the stadia, long after the team had begun to plummet.