Today, being a cricketer is not easy. In fact, it never was. In an age where fitness is the dominant theme and where injuries can be rather upsetting and deal a fatal blow to a career- it's all about being fit and keeping agile.
That being said, someone like a Virat Kohli is an outstanding example of being incredibly fit. Let the bulging biceps not take you for a ride. Ditto for someone like KL Rahul- the ever-chiselled cricketer.
It's not about the might of the muscles. It's about stamina, built on the painfully-correct tedium of hitting the gym and taking to the ground for long jogs and runs.
Cricketers- and there are countless examples of men with brains and brawn (who have raised the graph for modern day fitness standards)- who have elevated the mantle of the sport.
In the wider world there are the likes of David Warner and Mitchell Starc, Jimmy Neesham and Andre Russell, and even Sheldon Cottrell and Ben Stokes, who have inspired a fitness revolution of sorts.
And now, guess what? They aren't the only examples of men who like to keep themselves fit. It appears that there has been a recent addition to the famous list, one from Virat Kohli's camp.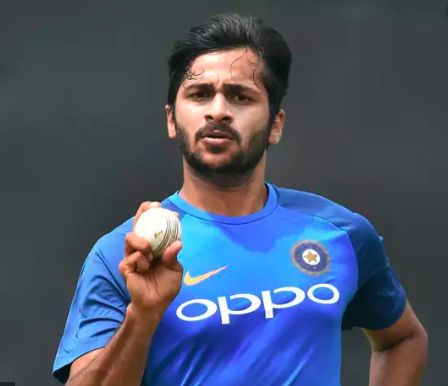 It appears that Shardul Thakur, one of the premier fast bowlers of the current national team has resumed his training, despite these being the days of an incessant lockdown, and where India is concerned, then the fourth stage of the national lockdown.
So a question arises!
What has Shardul Thakur- the 28 year old from Palghar- been upto exactly; where's he been training of late and what inspired him to resume his training and fitness regimen?
That being said, it's believed that in a recent interaction with the famous Press Trust of India, Shardul Thaukur- who has 12 ODI and 21 T20 wickets against his name- revealed the following:
Yes, we practised today. It was good and definitely pleasing to practice after two months.
That being said, here's what famous sporting publication Sportstar – a part of the Hindu newspaper group- had to say in the developing story:
An official said that that the Palghar Dahanu Taluka Sports Association started the net sessions around 110 kilometres away from Mumbai.
Strict safety protocols were followed, with each bowler getting his own set of disinfected balls.
"All the safety measures were followed. The bowlers got their own balls which were disinfected and temperatures of the players, who came for practice were also checked," the official said.
Mumbai batsman Hardik Tamore, who made his Ranji debut for the domestic giant last season, was also seen training at the same ground.
But it must be reiterated that just about anyone cannot go about and resume training. There are certain guidelines that need to be followed and a due process that must be considered by cricketers, on the matter of which a key member of the Mumbai Cricket Association's council member had the following to say:
"Once the guidelines from the Palghar District Collector was issued concerning sports, it was always the aim to begin training process."