A 19-run victory in a T20 IPL contest might seem like a comfortable, even cushy victory from the perspective of any team. But for a while when Mandeep Singh and Washington Sundar clobbered 82 runs between them, looking set to somehow edge Rajasthan from the precipice of a towering score, it seemed Royal Challengers would caste aside the Royals in what had the makings of a mighty thriller.
But then, somehow, their death over bowlers, Laughlin and Stokes bowling with lacklustre conviction conceding 46 off 4 and 32 of 3 respectively, did just enough to change the order of the day, and thus that of the match scalping a wicket apiece.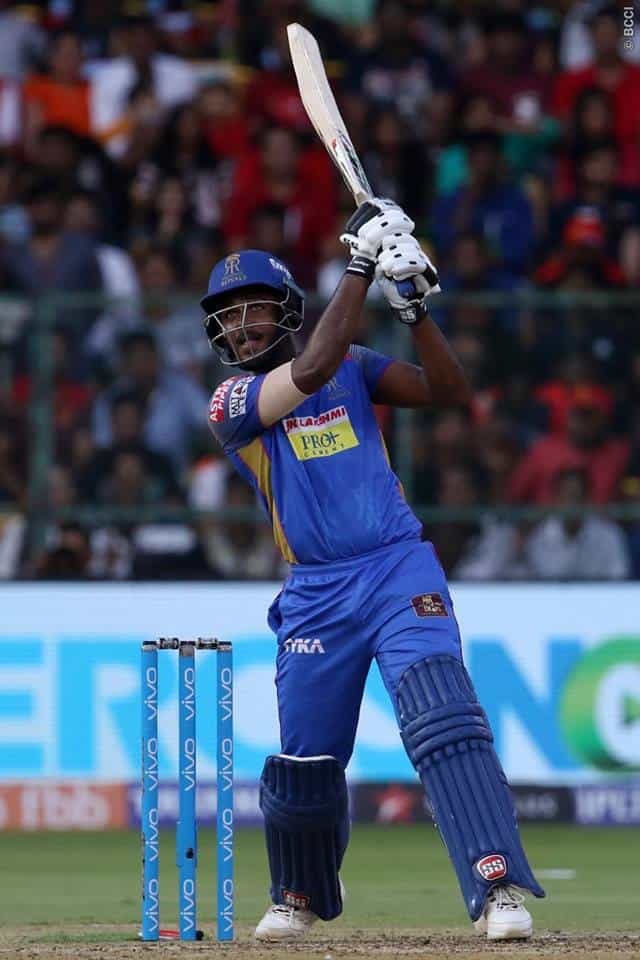 This saved Rajasthan Royals from the embarrassment of what could've nearly been a shock loss, having compiled 217 runs batting first on a pitch where the ball came well onto the bat to be delivered into the stands. Had that not been the case, we may not have seen possibly two of the finest IPL fifties this season- one from the bludgeoning blade of Sanju Samson who fired arguably his best IPL knock this season in his 45-ball-92 and Kohli, in his brute magnificence of that 30-ball-57.
Which inning was more beautiful and blazing in defining the contest eventually won't be the toughest IPL quiz you'd undertake. For in front of you is the scorecard that reads Rajasthan having bettered their Royal challengers in a fiery Bangalore evening. But it could be argued, both knocks carried the flair and firepower to rescue the fate of the Chinnaswamy belter from the quagmire of regular IPL transience; where brutal beatings from the bat fade away thanks to the brevity of public memory. And perhaps it's this apposite beautification served by the likes of Sanju Samson- 2 boundaries and 10 sixes- and Virat Kohli- 7 boundaries and 2 sixes- in short-lived cricketing sagas that files another 20-over contest in copious record books that can be re-looked at time and again.
All that said, it could be that Ajinkya Rahane would be a very satisfied man today who can be assured that Rajasthan are no more singularly dependant on his batting having had the best from his old-teammate Sanju Samson. If there were one singularly contributing factor to irk Kohli's white-ball specialists- Sundar, Woakes, Khejroliya- then it were the dainty Keralite who ended with a strike rate of 204, complementing his team's bulkiest team score thus far.
But what was more spectacular was that Royal Challengers Bangalore's star of their last outing against the Kings XI- Umesh Yadav- was made a forgone headline material by the whacking served by Rajasthan's right hander. When you go for anywhere between 7 or 11 an over, it can be called a tough day at the office. But when you go for 17 an over, you are called an amateur or school-grade cricketer, the kind that Umesh, a talented, burly tearaway was reduced on Sunday. Possibly, the last that one may have seen a bowler go for 59 from 4 would've come when one bats on a playstation mode.
Not that Sanju Samson- coming of at the back of scores like 37 and 49- was in midst of a video game but his lifting the green jerseys off the plush green Chinnaswamy outfield suggested that Virat's boys would have needed something special to undo the 23-year-old's spectacular batting effort. And it wouldn't be the case even as captain Kohli backed himself to produce the goods with some fluent hitting as he possibly missed an AB storm at the other end.
But the real game-changing highlight in the second inning of Rajasthan's Royal triumph away from the homely vibe of Jaipur came thanks to the leg-break prowess of another RR special. This time Shreyas Gopal, who Sir Sunny Gavaskar, ably described as a fitting reminder of Anil Kumble, delivered a special breakthrough in scalping both Kohli and De Villiers- both dangermen dismissed inside a space of 13 balls. There was little wonder as to why at the conclusion of a royal evening at the Chinnaswamy, Virat muttered, minus the enthusiasm that the game changed between overs 10 and 13.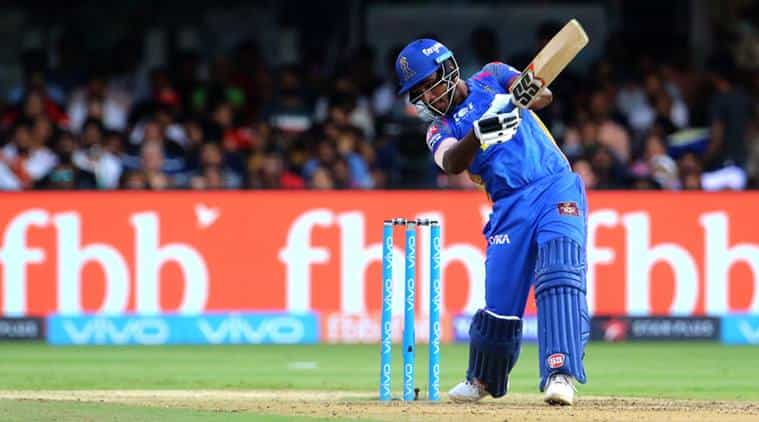 With Bangalore in a bit of a hapless situation right now having secured just a single win of their three games, it's up to De Villiers and McCullum to assist Kohli as they attempt to claw back in to a tournament where an early momentum accounts for great chances later on. But for now, the the momentum upon completion of their third game seems to be with Rajasthan Royals, who've struck their second back-to-back win having just thumped Delhi recently albeit in a rain-truncated outcome. What would matter, perhaps more than any other thing- is that their batting core; presumably lacking the thrust of other powerful batting forces; is plundering runs when most needed. And for that, they must surely thank their star(s); i.e., Sanju Samson for now.