"Only the god could've been trolled and taunted in God's own country, isn't it!?"
Cricket is a funny game as they say. On a day you can surprise the strongest that there is. And on another lackluster day, you can lose to the strangest, rather weakest of oppositions.
But that's alright. It's a sport. It happens.
Winning and losing is a constant here. But guess what's strange. Rather, guess what is a stranger? Perhaps it's to be trolled by the very legion of fans that made you a 'God' or a 'colossal deity' of sorts in the first place.
That brings us to the point of Sachin Tendulkar. Without a doubt, if there's a batsman who has epitomised the very best in batsmanship then it's Sachin Tendulkar, someone who reminded none other than Sir Don Bradman of himself, someone in front of whom even stalwarts like Lara, Kallis, and Ponting seemed as if they had plenty to improve on.
Since his retirement- circa October, 2013- Sachin Tendulkar has emerged as the phantom in those enormous stadia around India where even when there's no "Master Blaster" in the middle, it appears that the stands softly call out to him, pointing to a chant one commonly heard in the heydays of the 90s and 2000s…. Sachin… Sachin!
In the past half a decade or so, Sachin Tendulkar has lent his insights on several issues surrounding Indian cricket. For example, its captaincy, coaching and the everdayness with which one follows and consumes a sport that's gone on to become a parallel in religion in India. And therefore, when super-deity remarks on something, you take it seriously.
But not even the Mumbai batsman would've imagined that his recent comments on another legend of the game- MS Dhoni– would earn the wrath of fans, surprisingly, from India.
Here's what had happened. In the recent albeit memorable game against Afghanistan, where India failed to put on a 250 on the board, the standard expectation of a top performing side in ODI cricket, Sachin had pointed to the weaknesses in the middle order. He was of the simple and uncomplicated view that the batsmen in that somewhat capricious (not Sachin's words) middle order including Kedar Jadhav and MS Dhoni had lacked 'positive intent.'
And that's all that there was to it. Not that Sachin remarked something utterly unparliamentary or obscene or highly critical about Dhoni. Here are exactly the sequence of sentences that one of Dhoni's former contemporaries had said:
"I felt slightly disappointed, it could have been much better. I was also not happy with the partnership between Kedar and Dhoni, it was very slow. We batted 34 overs of spin bowling and scored 119 runs. This was one area where we didn't look comfortable at all. There was no positive intent."
And that's all.
He simply, said what any experienced participant in this great game called cricket would've suggested seeing the approach of what is otherwise, a highly-talented and accomplished cauldron of batsmen.
Yet, what followed were a string of strongly-felt critical appraisals of Sachin's observations of Dhoni. Hundreds of Dhoni supporters had suggested that Sachin's remarks were of imperialist banter.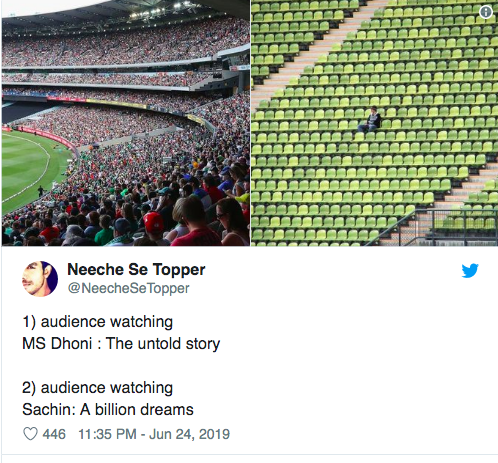 This sort of hate-campaign against Sachin spread quickly and reached Twitter where legions of MS Dhoni loyalists took out their frustration at hearing against Dhoni on Sachin.
This brings us to a series of some honest queries that beg an answer:
a) Have we become unaccepting of criticism levelled against our idols; is this, therefore, reflective of a deeply-routed complex that we mask behind easy bashing on platforms like Twitter and Facebook?
b) Is MS Dhoni incapable of failing? Has Dhoni not struggled previously, hence attracting all the scathing criticism (picture the 2018 ODI series in England) in the build-up to the World Cup of 2019?
c) Was our nearly suffocating love for Tendulkar- proven by the fact that we ourselves placed a mortal batsman of flesh and blood on the pedestal of endless greatness- merely a faulty assessment of a man who calls a spade a spade?
That told, will the Indian cricket fan please stand up?