In a must win game for Rajasthan Royals, the hosts of Delhi Daredevils at Jaipur made most of a rain-truncated outcome ahead of hundreds and hundreds of besotted home fans. In some ways, it could be said that cricket does have a heart for rewarding impassioned talents ideally.
And that it isn't always unfair.
This is particularly because what seemed a good start for Rajasthan Royals- the side reaching 153-5 of 17.5 overs, stood the risk of being spoilt at the behest of nearly two hours of non-stop rain. Thankfully, for Rajasthan Royals' fans, it eventually finished with the Rahane outfit emerging on top.
Even if that meant, that the Ajinkya Rahane-led side had to deal with a Delhi Daredevils attack led by the likes of mighty talents- Gambhir, the ever-powerful Colin Munro, the newly inducted Glenn Maxwell and, the dangerous Chris Morris.
But first up, how Rajasthan Royals' innings panned out
In a tournament that has so far been underlined by some impressive power hitting, by the likes of Bravo, Russell and, Billings saw Rajasthan once again lose quick top order wickets with none other than Sanju Samson and Ajinkya Rahane being in the thick of runs. There wouldn't be a single fifty, again, something that the team now hasn't managed in two games thus far.
And not that 153- what Rajasthan managed from the 17.5 overs- was a hugely overpowering score. But making most of an impressive scuttling by Shahbaz Nadeem, who removed both danger-men Rahane and Samson for 45 and 37 respectively, RR used the latter's fireworks to work up a total that eventually became an onerous task for Delhi to climb.
In some ways, the wet and slippery outfield of the Sawai Mansingh Stadium also ran into the assistance of the home team that was perhaps helped by an daunting target being set for Delhi.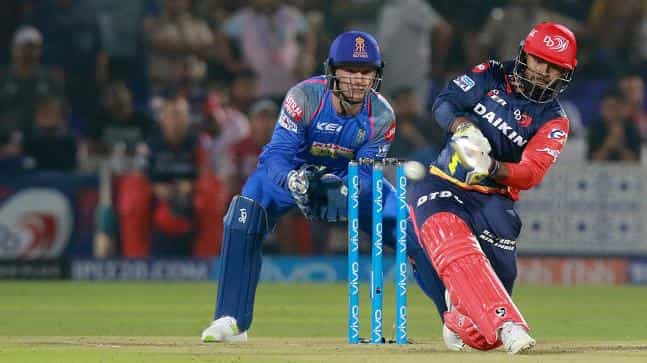 How often have we seen something on the lines of a 71 being chased down in 6 overs. This was Delhi, at the end. This time with Maxwell being inducted into a structure that needed most from captain and the powerful Aussie.
But who would've known that Munro would open with Maxwell with Gambhir not in the ranks? Who would've known that Maxwell would be the only saving grace courtesy his 17, that eventually lent some face-saving to Delhi's 60, a total that wasn't enough in the end?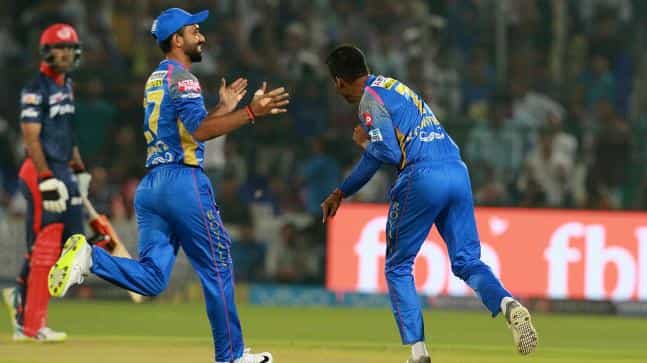 But then it ought to be asked, was there a great surprise in seeing Delhi lose in the end? How many times have we seen 25 being chased down final 6 balls? Unless, of course, one's a Dwayne Bravo or Russell- who despite their mighty form- would feel a bit disengaged when confronted with such an enormous ask of hitting 4 sixes in the final over of an inning.
Laughlin, thought, must be mentioned for dismissing the dangerous Maxwell off a slower ball just when it had seemed that he would take the game away.
Even as Chris Morris struck a striking six off the very last ball, the powerful blow , down to long on came a tad bit late. Pant, before him had made most of Unadkat's poor and listless line, eventually holding out to Gowtham at the bowling of the out of sorts left-armer.
It, in some ways was both, a sweet revenge and also a comfortable victory for Rajasthan Royals in the end. It's always a great feeling to emerge victorious when specially you haven't begun the IPL in the best way possible. The onus, for now, rests of Delhi to get their act together even as they would blame today's defeat to a poor run-in with luck.