Test Cricket is said to be the most demanding format of the game both physically and mentally, and whenever players get the slightest of opportunity to unravel the funny side of this story, they come up with some of the funniest on-field moments.
But to what extent could one go for a good laugh?
When it comes to cricket, the best example is MS Dhoni's behind the stumps remarks that have left us, as well as his teammates, in splits many times. However, during the India vs Sri Lanka 2nd Test, Rohit Sharma, who is playing his first Test match after more than a year, did something rather strange that caused a laughing-stir in the commentary box, on the field and also among those watching the match on their television sets.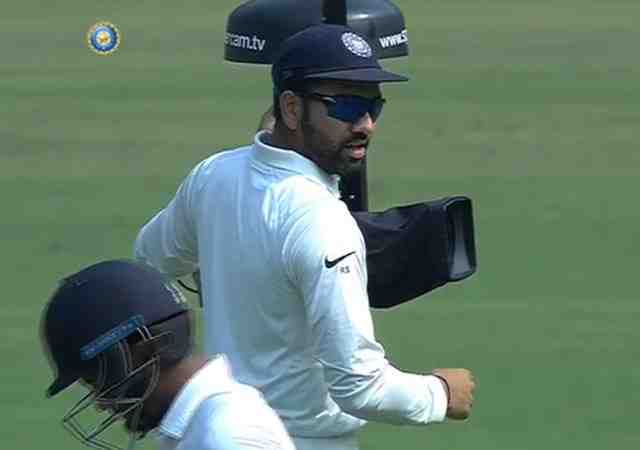 The incident happened during the break between 11th and the 12th over when Rohit Sharma was 'inspecting' the field in the 30-yard circle and the Spider Cam came way close to the player for a close-up.
Now for those who don't know what a Spider Cam is, it is a remotely controlled camera that hovers above the pitch on a wire-web of to record the live action. Now one can completely understand that there's not much to do for a batsmen in the bowling innings especially between the overs-break and while Virat Kohli might have been setting the field for the 12th over and Umesh Yadav might be getting ready for his next spell, Rohit Sharma decided to grab hold of the camera and give it way more than what it came down for.
Watch the video here
And this is what happens when you have nothing much to do on the field. Now we completely understood the kind of mental drain that players face in Test match cricket. (pun)
As for the India vs Sri Lanka 2nd Test, after the visitors elected to bat first, they were put under pressure after Ishant Sharma (14-37-3) struck twice in the morning session sending Sadeera Samarawickrama (13) and Sadeera Samarawickrama (51) back to the pavilion while Ravichandran Ashwin too had a great day with a tally of 28.1-67-4.
On the other hand, Ravindra Jadeja too had a grip on the Sri Lankan middle order, forcing them to take risks and gradually picking up three wickets by the end of 1st innings in which the visitors were bowled out for 205 runs in 79.1 overs.
In response, Virat Kohli & Co. hasn't had a great start as KL Rahul was sent back on 7 runs in the 4th over after he wrongly anticipated Lahiru Gamage's delivery.