Rohit Sharma Records- The upcoming limited overs series between India and the West Indies promises to be a cracking one with plenty of runs on offer. Batsmen will relish the flat wickets and the small boundaries in the 3 ODIs and 3 T20Is between the two sides.
One batsman who is likely to have the biggest impact in this limited overs leg of India's tour of the West Indies is Rohit Sharma. The opener has been in phenomenal form and been scoring runs by the bucketfuls of late. After a little break from the World Cup, Rohit would be eager to stamp his authority in the ODIs and T20Is – the formats where he thrives and has broken plenty of records.
Here is a look at some Rohit Sharma records that can be made in the India-West Indies series.
Fastest T20I hundred:
While Rohit starts a little sedately in ODIs, he has the knack of beginning in a hurry in T20 cricket. As an opener, Rohit has the ability and the shots to destroy any attack. The wickets for the T20I series in West Indies are likely to flat decks. Rohit would thrive on them and might go on to break some records in the three matches. Rohit already jointly holds the record for the fastest T20 hundred – off 35 balls against Sri Lanka in Indore – and the kind of form he has shown recently, he could well break his own record this time.
Most sixes in an ODI innings: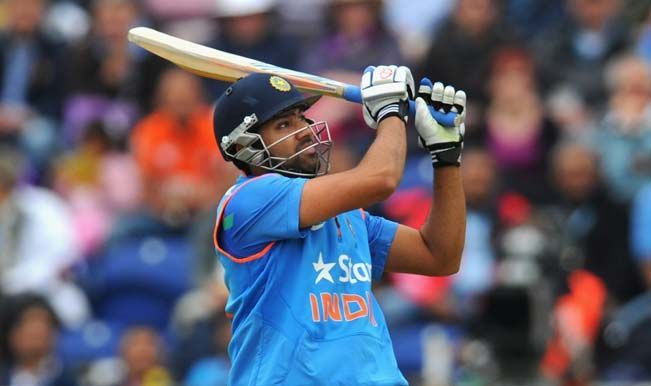 In November 2013, Rohit Sharma, during his epic knock of 209 against Australia at Bengaluru, struck 16 sixes – then the record for the most sixes by a batsman in an ODI innings. That record was equaled by AB De Villiers and Chris Gayle in 2015 and was broken by Eoin Morgan in the 2019 World Cup in England. Morgan struck a record 17 sixes in his knock of 148 against Afghanistan in the tournament. Now, it is time for Rohit, who loves creaming sixes, to take back that record. If any modern day batsman can achieve it, it is him – he has 232 sixes in 215 ODIs already; the most by an Indian batsman and the fourth highest overall. The ODI series against the West Indies would present the perfect opportunity for the opener to go one further than 17 sixes in an innings.
Most runs in a 3-match ODI series: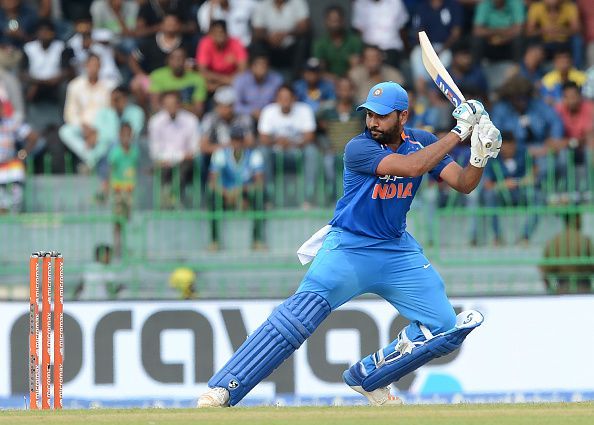 The record for most runs by a batsman in a 3-match ODI series is currently held by Pakistan's Babar Azam who scored 360 runs in 3 innings against West Indies in the 2016 series between the two sides. However, that record is under threat now with the batting form Rohit Sharma is in. Rohit was the leading run-getter of the recently concluded 2019 World Cup where he amassed 648 runs in 9 matches with a record-breaking 5 centuries. The pitches in ODIs in recent times in the West Indies have been increasingly batting friendly. It wouldn't be a big surprise, hence, if Rohit manages to go past Babar's 360-run tally in the upcoming ODI series.
Fourth ODI double hundred: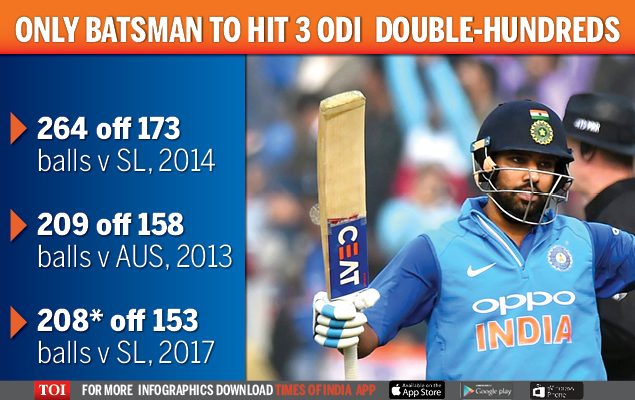 There have been eight ODI double hundreds scored in cricket history and Rohit Sharma has three of them, including the 264 against Sri Lanka . No other batsman has scored more than one ODI double hundred and it looks likely that Rohit will have that record for a while. However, Rohit is hungry and loves scoring daddy hundreds. In the World Cup 2019, he fell in his early 100s thrice and in that majestic knock of 140 against Pakistan looked set to get a double ton before being dismissed to a false stroke. Rohit would be itching to get a mammoth hundred in this series against the West Indies and go past 200 once again. The last time he scored an ODI double ton was in 2017 against Sri Lanka. The time is ripe for Rohit to do it again.
Are there any likely records that we missed? Tell us any other Rohit Sharma records that can be achieved in the forthcoming series.