A few hours back, the usually lush Rose Bowl appeared less of a rose and full of cactuses, where South Africa were concerned. Little wonder why. Rohit Sharma was the thorn in the Proteas' path, Faf's team not seeming certain in any way to succeed in the one-sided encounter.
After South Africa were bowled out for a 227, perhaps the best that they could've managed on a track that offered support to seam and spin, India made light work of Faf's side.
This was despite Kohli's team losing 4 wickets including that of the leader himself, the right-hander contributing an unusually low 18.
But then, stuff happens. Right?
It's cricket.
Remember it's a game of unpredictability and that jazz?
Isn't that what happened to South Africa too, with Amla- someone with 9200+ runs- seeming more of a character from the film "The Departed", given how the great batsman's made walking back a habit?
And isn't that what de Kock and Duminy, and the rest of the lot were expected to do?
But never mind. Good for India, right? That's life, South Africa.
You win some- you lose some. Hey, but where's your win?
Surely, you didn't expect to run into Rohit Sharma, did you? Perhaps it's here that we understand a thing about this elegant pounder of bowlers.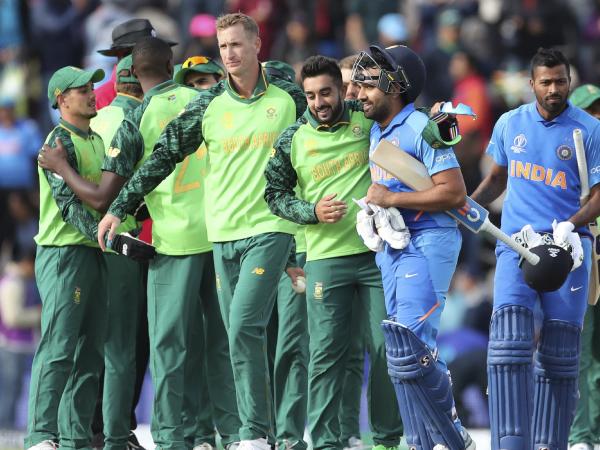 At a time where the game so avidly paints a Virat as the answer to everything that one seeks from a game of great batsman, one Rohit Sharma comes along.
A game that was as much about South Africa's weaknesses- given that there was no Steyn and Ngidi- as it was about India's batting might- Rohit Sharma's 122 seemed a knock that gave his compatriots a day off from the office.
Rohit's feat came in a game that marked something special for Virat Kohli albeit sans runs. He happened to win his first-ever duty for India in an ICC ODI World Cup contest.
No song or drama and nothing overly exciting.
Heck, there wasn't even anything narrowly close to the ostentatious takedown of bowlers, of the kinds we've seen from Rohit Sharma during those mesmerizing double-hundreds.
By the time, Rahul came along to partner his senior at the other end, Rohit had already begun toying with the bowlers. Shamsi wasn't allowed to settle. The 54 he conceded in 9 overs wasn't the best from 29-year-old Tabraiz Shamsi.
The experienced Imran Tahir was attacked from the word go, but not with the rambunctiousness one commonly finds in the way the West Indians go about scoring their runs.
Rohit conducts himself with some elegance, of the kinds you found in a bracket of batsmen who didn't have to yell to make their presence felt. Consider Mark Waugh and Laxman, Gower and Anwar, Hooper and Khwaja?
One wonders, had Rohit Sharma been a warrior, not that holding the bat he ain't one, he would've been a Samurai, not a Ninja.
Had he been operating an obscure business enterprise, he may have been found operating not a platinum mine in Jo'burg but running a para-gliding instructing school. Say, somewhere in the Himalayas.
Coming back to the sanctity that the 22 yards have to offer, Rohit's unbeaten 122 came when India wanted a frontline batsman to deliver. Heck, the Mumbai-born did just that when much of the game's focus would've been on India's spectacular number three.
India would've wanted no more than winning their maiden challenge.
But some thoughts. Beating South Africa, it could be argued, wasn't always going to be difficult, was it? Steyn returning back home without bowling delivery in what was to have been his final-ever World Cup was bitterly disappointing.
Moreover, the fan that claims to have moved on from his retirement but really hasn't, not having de Villiers 'alias' Mr. 360 degree, in a stage like this would've easily given the South Africans a lot of thinking to do.
Moving on, the firmness yet polish with which Francois du Plessis echoed his disenchantment with his team's weaknesses, not intimidating his own folks with temper whilst not avoiding criticism where it was due was as unforgettably sad (particularly for the Rainbow nation's fans) as was Rohit Sharma's opening salvo, his 23rd limited-overs ton.
The good news is- Rohit compiled big runs easily. The bad news is- the best bowlers in the world cup, Starc, Shakib, Rashid, Boult, Amir, Wahab, are all in the queue. Right, Rohit?