It's been a long proven fact that when it comes to getting the spotlight, a batsman will have an upper hand over the bowler and there are high chances of a handle bearer evolving into a brand or a legend, sooner than a bowler.
Since the introduction of T20 format, cricket has invariably become the game of batsman and bowlers are left with no choice but to take cover for huge maximums as the handle bearers now have a tendency to go for boundaries from the very first ball.
With the introduction of smaller grounds and bugger bats, the game has heavily tilted towards the batsmen which has resulted in many cricket records being made and broken, first innings total reaching to new heights and bowlers making a century of runs conceded in their spell.
As the matter of fact, in the last couple of years, we have seen Rohit Sharma registering a double ton twice, which once used to be a team's total in One Day Internationals.
However, while these cricket records have given these batsmen the title of run machines, it has also resulted in a huge rise in the number of sixes scored in a match, be it any of the three formats.
Since the T20 format is all about taking risks from the start, the same approach has also traveled to the ODI format taking first innings total close to the 400-mark while a total of 350 has become an easily chaseable one.
Scoring sixes has become an effortless show of brute force and timing by a batsman and it has in turn given us many new cricket records to remember and cherish. On that note, in order to give our readers a great idea of how scoring sixes has changed the face of this game forever, here are five players who hold the cricket records for scoring the most number of maximums in a calendar year, across all formats.
Most Sixes In A Calendar Year
| | | | |
| --- | --- | --- | --- |
| Updated Positions | Players | Year | Sixes |
| 1 | Rohit Sharma (IND) | 2019 | 78 |
| | Rohit Sharma (IND) | 2018 | 74 |
| | Rohit Sharma (IND) | 2017 | 64 |
| 2 | AB De Villiers (SA) | 2015 | 63 |
| 3 | Eoin Morgan (ENG) | 2019 | 60 |
| 4 | Chris Gayle (WI) | 2012 | 59 |
| | Chris Gayle (WI) | 2019 | 58 |
| 5 | Nicholas Pooran (WI) | 2022 | 58 |
| 6 | Shane Watson (AUS) | 2011 | 57 |
| 7 | Shahid Afridi (PAK) | 2005 | 56 |
5. Position #7 -Shahid Afridi (2005)
After arriving in the International circuit with the then-fastest ODI century of just 37 balls in 1996 against Sri Lanka, in his 18 years long career, he became 'Boom Boom Afridi' with his clean yet powerful hitting of the ball.
When it comes to hitting sixes, 2005 was his best year where he smashed 56 sixes in 31 matches, which was once the biggest cricket record for the number of sixes shot. Afridi also holds the cricket record of the most international sixes (476) in the history of the sport.
4.  Position #6 – Shane Watson (2011)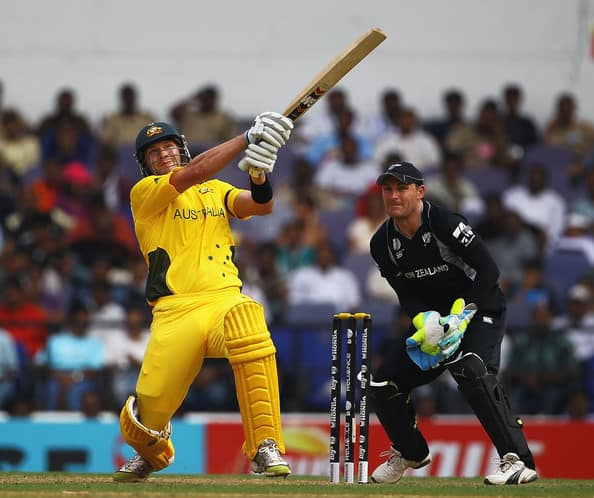 The renowned Australian all-rounder occupies the 4 position on the list of players who hold the cricket records for scoring the most number of maximums in a calendar year. At his best, Watson was a powerful hitter of the ball and he used to stand deep in the crease to punch the ball with raw power.
He remains one of Australia's most impactful players of the last decade with his best six-hitting year being 2011, when he cleared the fence 57 times in 34 international matches.
3. Position #4 – Chris Gayle (2012)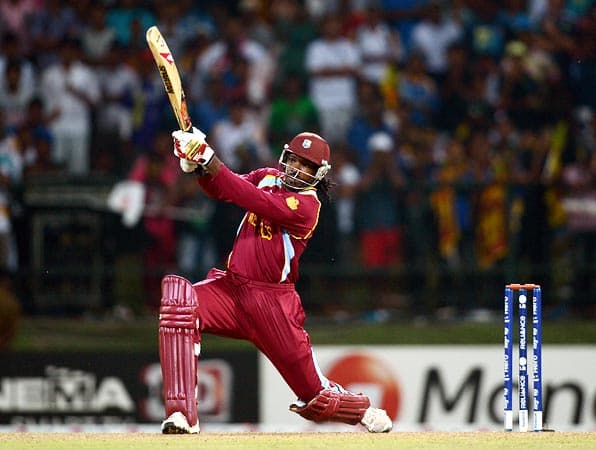 Also known as the universe boss, there can be no list of cricket records regarding sixes without Chris Gayle. Known as the best T20 player of the era, he, along with the likes of Virender Sehwag, McCullum and Dilshan revolutionized the opening batting approach with his great hand-eye coordination.
While he holds several cricket records, when it comes hitting sixes, 2012 was his best year where he hit the ball for 59 maximums just 26 matches. He is also the second highest all-time six-hitter with 454 maximums under his belt.
2. Position #2 – AB de Villiers (2015)
Known as the perfect asset for any of the formats aka Mr. 360, AB de Villiers has made several cricket records in his career including the fastest fifty, fastest ton and the fastest 150 in One Day cricket.
He occupies the number two spot on this list as he hit the ball for 63 sixes in 32 international matches in the year 2015.
1. Position #1 – Rohit Sharma (2017, 2018 & 2019) Most Sixes In A Calendar Year
His six hitting is effortless, he can clear any boundary with utmost ease and he is the only cricketer in the world with three double tons in ODIs. Such is the stature of Rohit Sharma in world cricket and by the time he finishes his career, he will surely be an ODI legend.
Rohit Sharma has been able to set the record of most sixes in a calendar year, 3 times in a row breaking his own records for the past two years. In 2017, Rohit had hit 65 Sixes to beat AB de Villiers record for most sixes in a calendar year. Then in 2018, he broke his own record by hitting 74 Sixes and creating a new world record. In 2019, Rohit has hit 78 Sixes breaking his record for the previous year. Rohit now holds the top 3 positions for most maximums in a year which is a record in itself. This shows the capabilities of this great player who has many other records in his name including the highest individual knock by any player in a One day International.
These were the five batsmen who hold the cricket record for the most sixes in a calendar year across all formats and the top three being active cricketers, we expect them to add several other records to their career, while giving their fans even better moments to cherish.
Who do you think is the most prolific batsman on this list? Share your thoughts in the comment section below.