It's called the cricket bonanza for all intents and purposes. It's mega than what most mega offerings are. Success here is akin to playing to the skin of one's teeth. Winning here is like winning a major hearing in a Supreme court. It's the lair of the wild beast. You try to throw a meatball inside and a wild, roaring lion will come out looking for you.
The Cricket's grandest spectacle- ICC ODI Cricket World Cup (50 over men's game) is only a few months away. Interestingly, it's going to be contested in England. And even more, interestingly, it seems, the host nation is in full gear and seems ready to take the bull by its horns and topple it to the ground.
If there was the one solitary all-encompassing proof that one needed to bat for England's chances at the 2019 Cricket World Cup, then merely visiting the scenes of Trent Bridge on June 19 would do. Earlier this week, in fact, going a couple of dates prior would've meant that this was arguably the greatest month for ODI cricket.
Need proof? Here's why.
From June 8-12, New Zealand women's cricket amassed a true wealth of honours. In clinching 3-back-to-back victories over their hosts, Ireland women's, the White Ferns registered three of the largest ODI win margins for their game. Among them, a win by 346 runs. It was ridiculous. It sounded like a showy joke uttered by a condescending garrulous talker. The Suzie Bates side amassed 490 runs. Nearly, 11 days later, the men's game bounced back and in fact, figuratively speaking, attempted a large jump. And they'd climb mount 481 off 300 balls.
Let's get loud and clear and serious about all that's happened. The world cricket got wide awakened by what England men's team did to their counterparts- Australia.
On June 19, 2018- we were back to Trent Bridge, where a mayhem transpired back in 2016. Then- Pakistan were fired by Scud missiles. They didn't see them coming; not even Md. Aamir as England pounded them with 444 runs on the board. It wasn't even needful to follow the run-chase. It was never going to be.
Current heroes of England- possible world cup lifters?
Now, a few hours earlier, the likes of Alex Hales, Jonny Bairstow, Eoin Morgan- perhaps the most sparking trinity alive next to a Kohli-Rohit-Shikhar and, Amla-Faf-Elgar adjoining- oversaw a storm. They were like members of a lot of miscreants who planted a bomb under Australia's ferry- for, in front of England's power, it may never have been a ship, let alone a jetty- and the floater exploded.
A state of massacring was administered at Trent Bridge again. 2 years back, the English team- with similar faces in Jason Roy, Alex Hales, Eoin Morgan and, Joe Root- piled on 444. This time, two years hence the raining at Trent Bridge, the team would be at it again. What changed, of course, was the opposition at the receiving end and the eventual skyscraper of runs. This time, England blasted 481 runs on the board. What only changed was that from Pakistan being battered a couple of English seasons ago, this time the punishment fell to the Australians.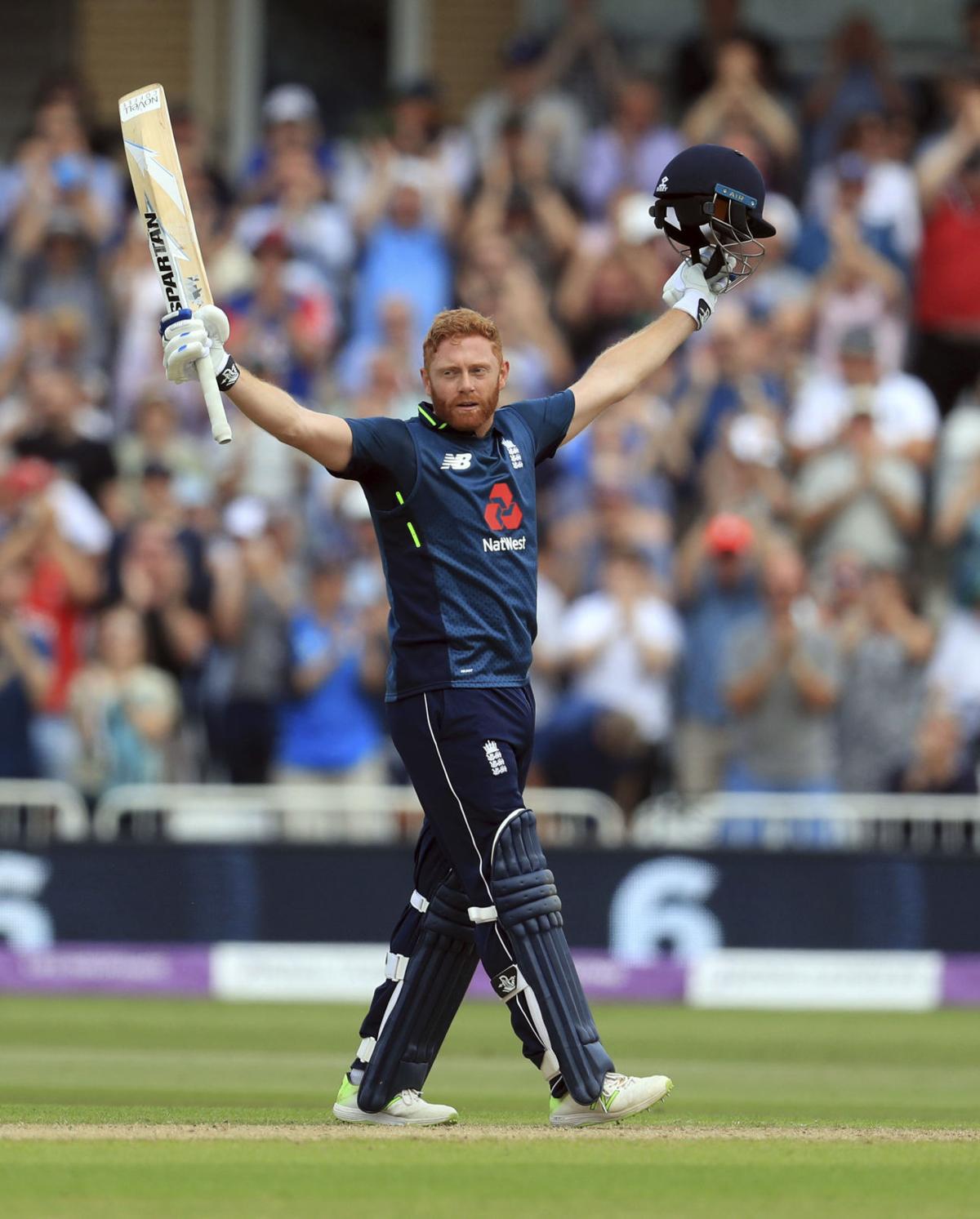 You felt for the Australians actually.
Being a true believer in the beauty that's ODI cricket, standing up to defend excess of cricket against rising narratives that habitually undermine it, you felt like shielding the fury Australian bowlers were against.
It wasn't Stanlake's fault- he was born in the era or Jonny Bairstow and Alex Hales. It wasn't Ashton Agar's fault either- he wasn't told a year ago that his current Australian unit would be devoid of the premier, gusto presence of a Steven Smith and David Warner.
It wasn't Andrew Tye's fault either- that he came against the bludgeoning of Jonny Bairstow. But then you thought, shouldn't it have been someone's respoinsibility- at least on human grounds-to inform Tye to not bowl wide or shorter to Bairstow. Or was the quiet right-armer still basking in the glory of his IPL heroics for King's XI?
But, make no mistake, this time there was no chance that Australia stood. It was carnage all the way down for the team from Down Under.
Just who fires 481 runs on the board?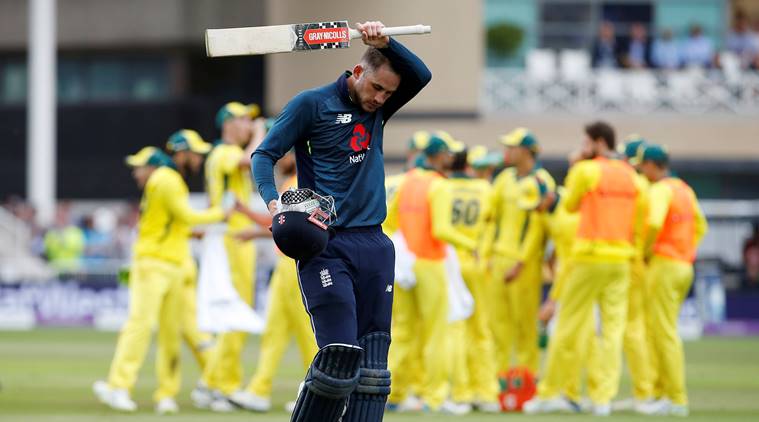 That's almost like ordering oneself a strong-lager beer in a mammoth pitcher, in a traditional American brewery and finding yourself being the only one who's able to tank it all down.
Here are some outstanding achievements bagged by the English team that butchered Australia's at Trent Bridge on its way to an epic 481 run collection on the board:
Bairstow clubbed the sixth-fastest ODI century over, and reached an incredible 92-ball-135
Alex Hales, his other partner in crime, would score his first ever ton against the Aussies- at a strike rate of 159, he bludgeoned 16 hours and 5 sixes
Bairstow's golden run of patch-forget purple, it's a cliched expression, isn't it- meant that he would register his 4th hundred in past 6 innings
England, thanks to Hales and Bairstow, pounded a totally unsuspecting Australia and made 481- the highest ODI score in men's cricket ever.
Importantly, Eoin Morgan, a man, who's in the last 2 years, made giant improvements for his game and, thus England would club the fastest-fifty ever for England. He's impregnable fifty would mean that Morgan would notch up a fifty off just 21 balls. Interestingly, Morgan would now also become the highest-ever ODI run scorer for the English side.
Cool and calm, unmoved or unfazed by all happening around him- is Eoin Morgan the Kimi Raikkonen of cricket? Who knows?
Back, hundreds and thousands of miles in the auspicious and spiritually bright wonderland of India- they hold the Kumbh maha-mela, a fantastical congregation of millions bathing in the holy river Ganges. The significance is to get rid of the impurities of the body as also of the mind.
Similarly, at Trent Bridge, England cricketers unravelled a spiritual exercise in pulling the Aussies down in waters to pay a sort of obeisance to unarguably, their greatest and oldest cricketing rivals. It was like Australia had succumbed and genuflected on their knees to admire England batting virtuosity.
There would be no other way to put to words such lethal batting carnage.
The interesting statistical breakdown doesn't end here.
The 400th run was completed in just the 43rd over. The scoring was sound, going at 9.1 an over.
Furthermore, 14 sixes had been struck by the time the 41st over was completed. In all, 20 sixes were struck in all.
You ran out of adjectives, not only for Bairstow, or Hales, or even the princely captain serenaded in an invisible aura of cool- Morgan.
Was this even regular, first-class, internationally-competitive cricket or a contest of bat versus the ball with a ping-pong ball in focus? Just what was going on.
Soon, Australia were humbled- did you think there would be another way. And in causing a total decapitation of a formerly mighty side, this time, with names like Short, Stanlake, Marsh around and no- Smith and Warner- you felt glad at seeing the curtains falling down.
At least, the Aussie misery was over. But hasn't this titanic force in England truly picked up an ace?
Just consider- what might happen when Chris Woakes and Steven Finn return to the side?
Also, whilst the bulk of their 481 was compiled by the flashy troika of Morgan, Hales, Bairstow- just where would this team be when stars like Stokes, Ali, and importantly- Joe Root contribute? Will there be double- mayhem than what Australia endured.