Last night's match between Royal Challengers Bangalore and Mumbai Indians was another exciting match in this exciting season of IPL. Both the teams are not in the best of their forms which is why, seeing them come face to face to fight it out was not only interesting but too exciting to miss out on, too.
The two locked horns last night at Bangalore's M Chinnaswamy Stadium and RCB won the match. It was not only a win, Virat Kohli was in a very good form, which has turned out to be a rare sight in this season of IPL.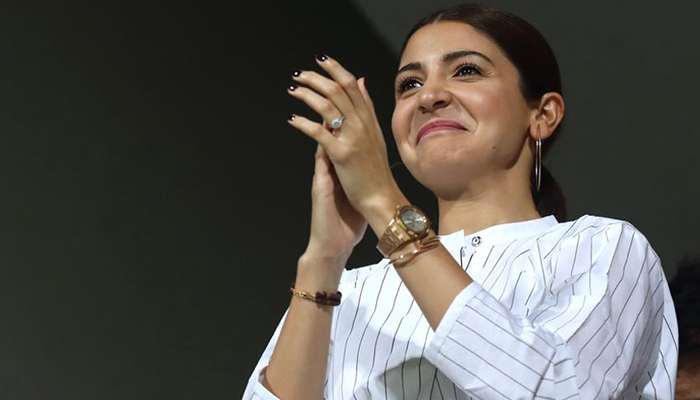 However, that is not the news. Post-match, during the presentation ceremony Virat Kohli dedicated his win to Anushka Sharma, his wife, as a birthday gift. While talking to Harsha Bhogle, Kohli said, "My wife is here and it's her birthday. This was a little gift for her. It was very important to achieve this two points in front of her."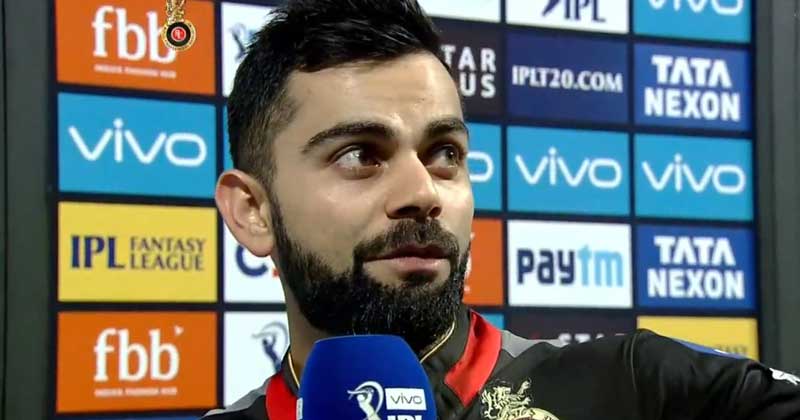 Hearing these sweet words come out of Virat Kohli's mouth, Twitter lost its cool and immediately the entire match was no more about RCB and MI clash, but about Anushka Sharma's gift. People couldn't stop gushing about the statement, here are some of the reactions to the Virat Kohli's statement.
Vah bhai vah aaj sharmaji ke damad ne sharmaji ke bete ko harakar sharmaji ki beti ko winning birthday present🎁 diya vah re ipl vah lajwab..

— Vikas Desai (@VikasDe43364608) May 1, 2018
#RCB Beat #MumbaiIndians By 14 Runs. Perfect Birthday Gift For Anushka Sharma. 😇💪#RCBvMI #RCBvsMI pic.twitter.com/oEM2BfzhEn

— Sir Jadeja fan (@SirJadeja) May 1, 2018
https://twitter.com/Aarushiiiiiiiii/status/991383594915463168
And The Much Awaited Smiles All Around After A Long Long Time. Couldn't Have Been A Better Gift For Anushka Sharma On Her Birthday. Well Played #RCB. 😇💪#RCBvMI #RCBvsMI #Virushka pic.twitter.com/Y0lqheNHQJ

— Sir Jadeja fan (@SirJadeja) May 1, 2018
Happiness Can Neither Be Created Nor Destroyed. It Can Only Be Transferred From One Sharma To Another.

Sir Jadeja's Law Of #IPL. 😇💪🙈#RCBvMI #RCBvsMI #MumbaiIndians pic.twitter.com/T0lId5yPea

— Sir Jadeja fan (@SirJadeja) May 1, 2018
https://twitter.com/hankypanty/status/991375311852879872
https://twitter.com/TroluKejri/status/991367929093541888
Pollard in the MI team like that curd packet in your fridge which is 2 months past its expiry date #RCBvMI pic.twitter.com/yxdjdWSMfx

— Gabbbar (@GabbbarSingh) May 1, 2018
"My wife is here and it's her birthday it was very special winning it in front of her."

And just look at the way Virat looks at Anushka while going away jdjdhshfjs 😭😭💞#RCBvMI pic.twitter.com/avTSGhldrO

— 𝙧𝙚𝙚。†.。゚ (@IaaIishq) May 1, 2018
Rohit Sharma to play-offs chances. #RCBvMI pic.twitter.com/GVvW6X12i9

— Karan Talwar (@BollywoodGandu) May 1, 2018
https://twitter.com/loyallarents/status/991378072443142144
As for Mumbai Indian, post-match Rohit Sharma who got out on a duck, said, "It is disappointing to be on the losing side. We got ourselves to blame though. Didn't play smart cricket, losing wickets in the powerplay didn't help. We wanted to keep ticking with the scoreboard. Credit to RCB, they bowled really well, it was a tough wicket and they kept us guessing."
Coming back to the Virushka moment, the couple is not at all shy of showing their love and affection towards each other to the world.
Jyotsna Amla