'The pain of dealing with a Monday'As India vs Australia 2017 series began on Sunday at Chennai's MA Chidambaram stadium, the holler for a battle between two of the biggest Cricket teams was also sounded. While we witnessed the expected fireworks as Indian came back from down under and registered a total of 281 runs on the board which never seemed possible after the team was on 11 runs for the loss of three wickets.
However, Hardik Pandya produced a scintillating all-rounded performance while MS Dhoni too continued his form while slamming a patient half-century. In the second innings, India's wrist spinners were too hot to handle for the visitors as Steve Smith & Co. didn't manage to chase the target of 164 runs during the match which was reduced to 21 overs due to DLS.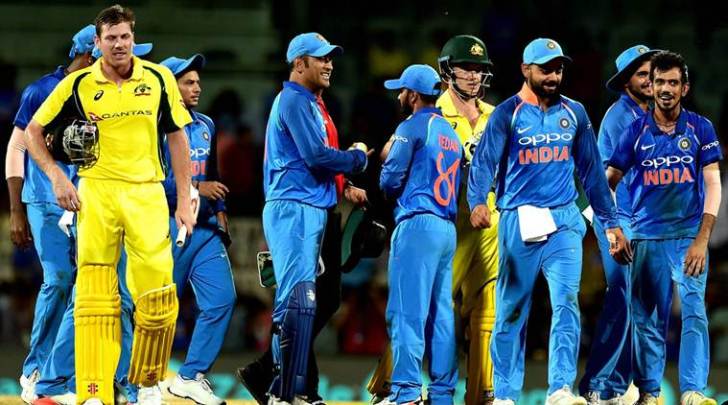 When it comes to entertaining and heart-wrenching action, India's match against Australia was nothing but an enthralling event, to say the least. Bowlers were smashed for hat-tricks of sixes twice, fast bowling spells became the highlight of the clash, top players were seen getting dismissed on ducks or on a single run, and then there was the dominating territory of Indian wrist-spinning as well as a possibility of washout.
That being said, it's hard to even fathom that in between all this someone at the stadium would even want to twink his eye and especially if that someone is a member of the playing teams.
If you are wondering who, then the answer is no other than Indian team's head coach Ravi Shastri. A fan shared a screen grab of Ravi Shastri looking at the match from the dressing room at the MA Chidambaram stadium in Chennai and the picture has gone viral.
Ravi Shastri looks grouchy, tired as well as least interested in the happenings on the field and many seem to have observed the same on the Internet.
Quantum Physics teacher : samajh mein aa raha hai na?

Me : pic.twitter.com/fTDB5fxqB9

— Pakchikpak Raja Babu (@HaramiParindey) September 18, 2017
While most of those present in the stadium, be it fans or the players themselves, seemed happy as well as ecstatic when Team India's bowling attack took control of the match Ravi Shastri, had the most frustrated expression ever seem which was grim, serious and cold.
Twitterati, as expected, found a new potential meme material and what happened next can be termed as the perfect flow of creativity in the most hilarious way possible.
Here is how Twitter shaped this picture into a side-splitting mene.
When your parents make you watch Aastha channel at early morning. pic.twitter.com/Oho77d8qKD

— Silly Point (@FarziCricketer) September 17, 2017
https://twitter.com/TheAlteria/status/909473867541880832
https://twitter.com/PUNchayati/status/909475920712368128
https://twitter.com/RowdyTalks/status/909673309217873920
When your parents shift summer vacation plan from Manali to Nani ka ghar. pic.twitter.com/8AZbyCsadT

— Amby Says (@ambyism) September 17, 2017
Me: please Monday be good to me

Monday: pic.twitter.com/0dh0ks2FLu

— 🌻; (@soundhumor) September 18, 2017
https://twitter.com/firkiii/status/909487788692611072
If "Monday" had a face. pic.twitter.com/1XJbpI9Fso

— Mask 🎭 (@Mr_LoLwa) September 17, 2017
Waiting for Uber Pool be like… pic.twitter.com/mR0RU3WY9H

— Akshay Kanitkar (@akshaykanitkar) September 18, 2017
Jab foreign tour ke naam pe sirf srilanka aur bangladesh leke jaate hai #INDvAUS pic.twitter.com/qxxkHKZjWO

— निशाचर (@nishacharr) September 17, 2017
Yaar puri daru khatam hogai ye abi tak chakna kyu nahi ayya. pic.twitter.com/WbThzfRiYF

— Mask 🎭 (@Mr_LoLwa) September 17, 2017
Attending the Monday morning review meeting with a terrible hangover pic.twitter.com/nkrPDwhH4h

— chacha monk (@oldschoolmonk) September 18, 2017
India now leads the ODI series by 1-0 and both the teams will now meet at Eden Gardens on Thursday for the 2nd ODI. Indore, Bengaluru, and Nagpur will host the remaining India vs Australia 2017 ODIs.