The quiet smile. The gentle glare; not probing, not doubting, but merely observing. And let's not forget- the quiet simplicity. To top it all up, the puppy-faced innocence. The backlift balancing the rhythm of the body, as if giving a compliment to the shot in the making is just the most obvious thing to expect. In comes the ball. And a beautiful follow-through completes the rhythm that the batsman in motion was standing to execute. It all seems a gentle, it seems all 'technique' when Prithvi Shaw is at the crease. But make no mistake. Prithvi Shaw in 2019 has grown into being hopefully more mature than he was perhaps, prior to the events of July 2019.
That's simply because Prithvi Shaw in 2019 has also got his first-ever take of the sting, the difficulty that comes as a part and parcel of being an international cricketer. Earlier, nearly half a year back in the day, Shaw was banned from all forms of cricket for a period of six months. He had failed a doping test. Consuming, unknowingly a syrup for medical treatment left him wanting. It really wasn't his fault.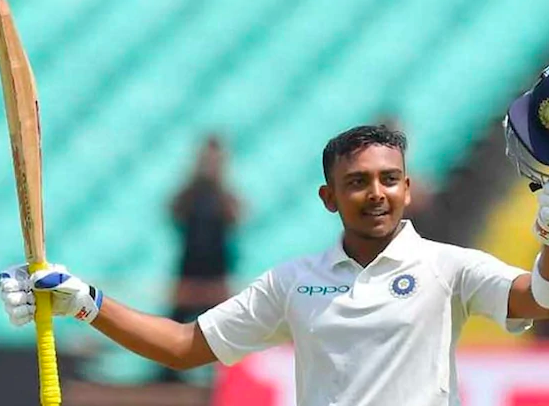 But he was up against a tough period of absolute cricketing inactivity that lay ahead of him. How could a batsman, one considered to be the next great thing in the making, after Virat, one on whom the hope of perhaps the entire country rests in being something special, a bit like Sachin, have stayed away from professional cricket until November?
But he had to bat his time, just like he does so well on the crease during the difficult moments of play.
Now, the Prithvi Shaw in 2019, a man who happens to have already gotten over the past and the difficulty that was involved in staying away from the very sport owing to an incident he will do well to learn from, seems to have emerged well.
He is back among scoring runs. And guess what? He is doing it in quite some style.
In making a spectacular return to first-class cricket, Prithvi Shaw smashed a brilliant double century against Baroda to put his Mumbai team back in the hunt and in command at the Ranji Trophy.
The fantastic double-ton in Ranji- not the easiest thing to do, and it won't have come any easier for a man who just hadn't played cricket at all for a while, got its fair share of attention in the press, as per normal.
Mumbai, who had made 431 in their first essay, got the crucial first-innings lead after bundling out Baroda for 307 as they could add only six runs to their overnight total. For Baroda, opener Kedar Devdhar remained unbeaten on 160. And courtesy Shaw's 202 off just 179 balls and skipper Suryakumar Yadav's quick-fire unbeaten 102, Mumbai declared their second innings at 409/4, setting Baroda a mammoth target of 534. 
But that said, the second innings of Mumbai was just about Shaw. The Prithvi Shaw of 2019; the boy who has only grown in promise, has perhaps learned the fine art of patience, something that his mentor-Rahul Dravid so wonderfully epitomized.
But while patience may have been his great friend during the time he spent away from the wicket, whilst batting on the 22 yards, Shaw, the dogged-right-hander was all about fluency. His double hundred saw the pint-sized batsman race to his first century of just 84 balls.
There were wickets that fell constantly at the other end, but it just did not bother Shaw.
The youngster from Virar, they say, has been the big thing on the horizon. Of course, how can he not when on Test debut he struck a crafty century- that 134 off just 154 balls?
And now it seems, the youngster who's all of 20, is about to strike it big come 2020. Let's hope to see the young Shaw sooner in the national colors.