The much-awaited Pink Ball Test between hosts India and Bangladesh finally got underway at the Eden Gardens in Kolkata yesterday. It was a historic moment as India got to play its maiden Day-Night Test and in front of a packed Eden crowd.
There was plenty of action and non-stop entertainment on the very first day of India's first ever Day-Night Test. Here is a look at some of the highlights from the historic first day of the Pink Ball Test.
Pink Ball Test – A true spectacle at the Eden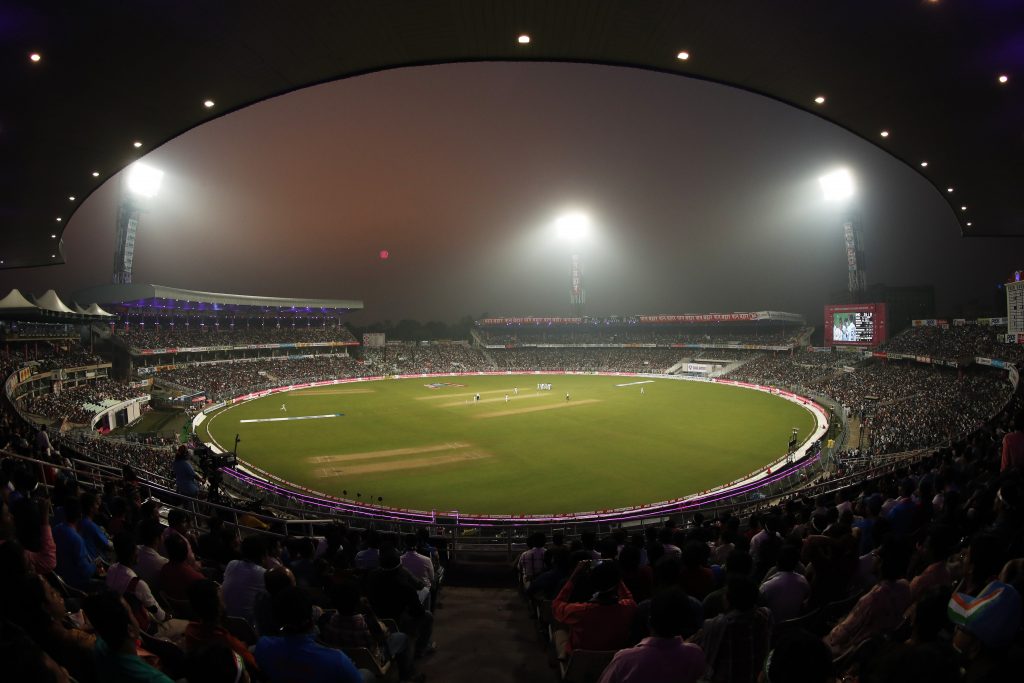 Only the Eden Gardens in Kolkata could have made the occasion of India's first Pink Ball Test into such a spectacle. The crowds turned out in massive numbers from the beginning of the match itself. Within the first couple of hours, the crowd count at the Eden was more than 40,000. The entire stadium was bathed in pink colors and crowd cheered vociferously after literally each ball. It turned out to be an eventful day with plenty of action from both the bat and the ball. What was more the ground looked absolutely spectacular under lights with shades of pink. The Eden crowd couldn't have asked for more for the first day of India's first ever Pink Ball Test.
India's pacers blow Bangladesh away:
The Indian fast bowling trio of Ishant Sharma, Umesh Yadav and Mohammad Shami took all the 10 wickets to fall in the first innings of the Pink Ball Test as they blew away Bangladesh for only 106 runs in 30.3 overs. Forget taking a wicket, an Indian spinner – Ravindra Jadeja – bowled just a solitary over in a completed innings of a Test in India. And that was to enable Shami to change ends. This is unheard of and unprecedented.
To elucidate on the impact India's pacers had in the innings: this is the fewest number of overs India have bowled to dismiss their opposition in the first innings of a Test. And this is only the fourth instance of India's fast bowlers taking all 10 wickets in a Test innings.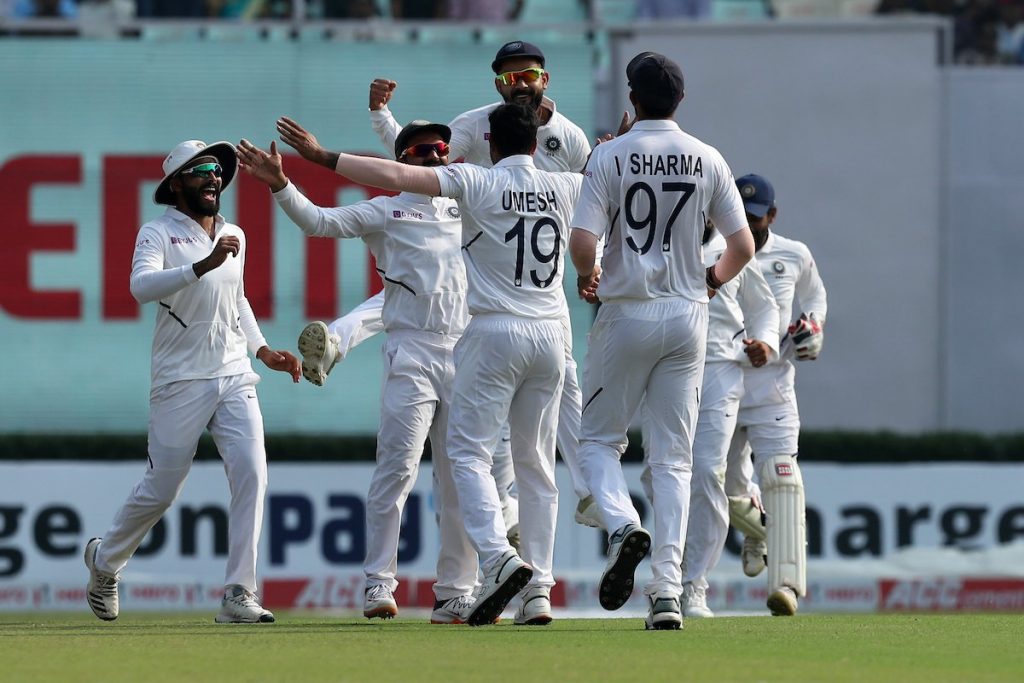 This is the new reality of Indian cricket. They aren't dependent on their spinners anymore. They aren't dependent on dust bowls anymore. Now, this team has their fast bowlers to bank on. At home. Yes! Fast, lethal, nasty and exciting. What a time to be alive for an Indian cricket fan! The team has certainly come a long way from the time when Sourav Ganguly bowled the 2nd over of a Test match in India.
Pink Ball Test – Bangladesh's abysmal batting performance:
While the pink ball was certainly moving more than the red one, there wasn't anything untoward or dangerous in the pitch that the batsmen couldn't counter. The Bangladeshi batsmen were simply not good enough. It was an abysmal show of Test batting as most of them were either late on the ball or couldn't counter the movement that the Indian seamers generated off the pitch.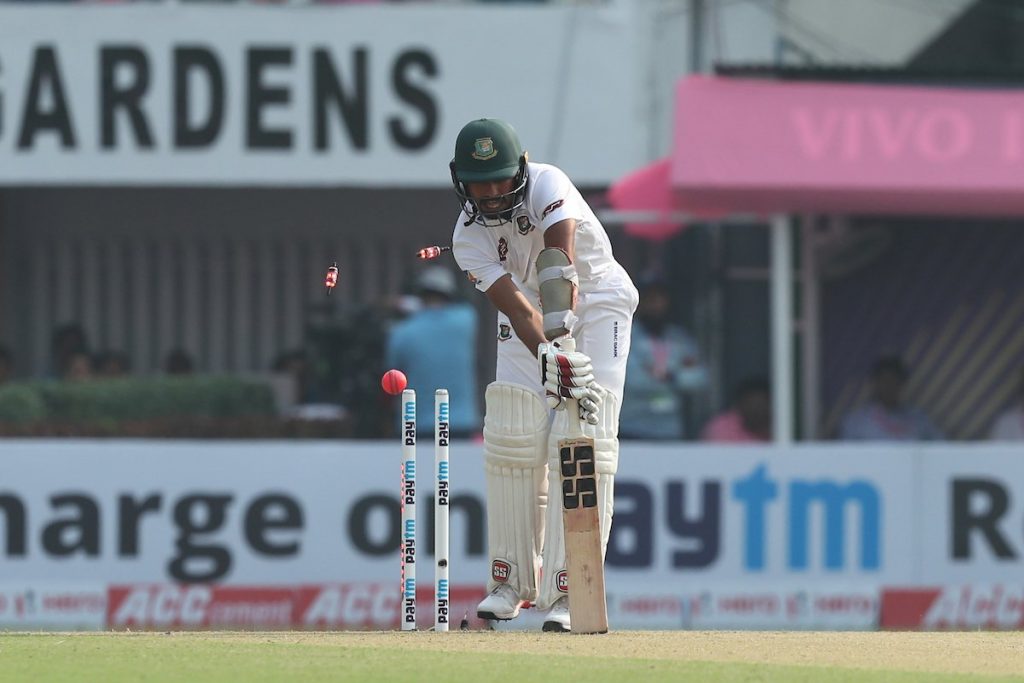 Bangladesh's coach Russell Domingo was obviously frustrated and disappointed with the team's batting performance and underlined the importance of the difference between the two sides.
"There's lack of confidence. There's lack of experience against this type of attack week in, week out. It is a bit of mental, technical and confidence," Domingo was quoted as saying to the press at the end of the day. "It was not a 30-over all out wicket. There's no doubt that we didn't bat well enough. We are facing some really world-class bowlers and coming short. We have to deal with a whole host of issues at the moment," he added.
It is disappointing that India's first ever Pink Ball Test got to see such poor quality of cricket. Bangladesh really needs to look within and sort out their issues if they hope to progress as a Test side.
The Saha masterclass on wicket keeping against a moving pink ball:
Wriddhiman Saha showed why he is the best wicket-keeper in India and perhaps the world at the moment on the first day of the ongoing Pink Ball Test. The pink ball swung prodigiously after leaving the stumps and Saha had to continuously dive to his left and right to grab the ball. Nimble on his feet and swift with his hands, Saha displayed a wicket-keeping masterclass against a moving pink ball yesterday. The ball's behaviour in the air was fine, but the moment it left the batsman it kept swerving viciously in either direction. Thankfully, Saha was there to pouch it.
Barring a couple of misses, Saha was absolutely exceptional behind the stumps and even grabbed a sensational catch – the best of the day – to dismiss Mahamdullah by diving and gliding to his right. In the course of his performance, Saha also reached a personal landmark – completing 100 Test dismissals.
Throughout the 30.3 overs that India bowled, the pink ball kept jagging in both directions but Saha was up to the task. Saha's stance to counter the exaggerated movement in the air of the pink ball will now be a case study for young wicket-keepers of the future. He was that good.
Pink Ball Test -Ishant Sharma's wonderful spell:
While all of India's fast bowlers were impressive on the first day of the Pink Ball Test, it was Ishant Sharma who did the most damage. Ishant's 5-22 was a wonderful display of seam bowling where he bowled tight channels and allowed the pink ball to move off the pitch. He was controlled and never let the big situation get to him. The senior Indian seamer is finally finding consistency and taking wickets regularly rather than only bowling a few good overs. He has now added a few variations to his armory – the ball coming in to the left-handers being one of them – and is looking in peak form.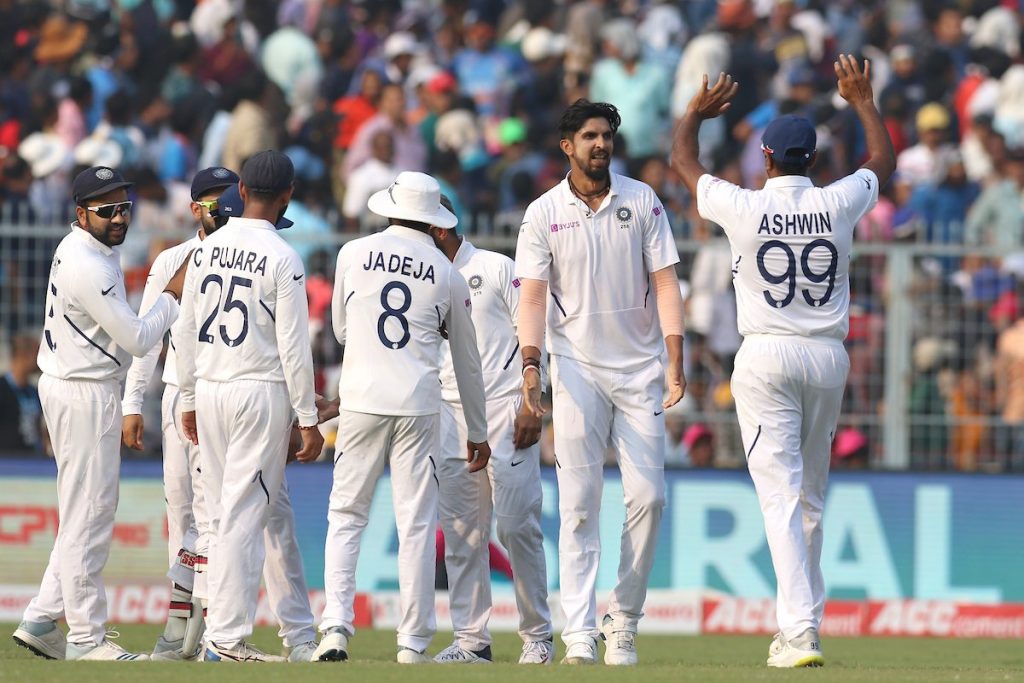 Finally finding his groove
This was Ishant's second five-wicket haul at home after 12 years – the last one being his 5-118 against Pakistan in 2007. It has been a long journey for Ishant who now has 288 wickets in 96 Tests. But he appears o be relishing his bowling more than he ever has. "I think I'm enjoying my cricket now," Ishant said to the press at the end of the first day. "Earlier I used to put pressure on myself about performing – that I need to take wickets, that I'm only beating the batsman…a lot of things used to run on my mind. Now I don't think too much about those things, just how to take wickets. Obviously I'm experienced so I can assess conditions and adjust my lengths quickly, that makes it easy."
Virat Kohli leaves his mark with the bat: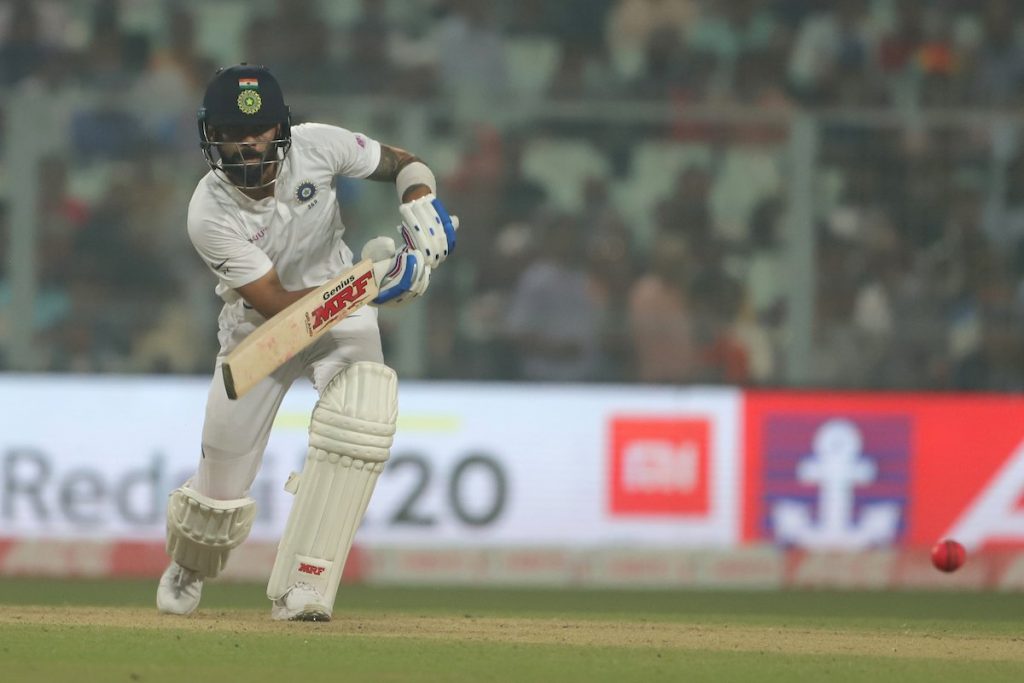 Trust Virat Kohli to leave his classy imprint on India's first Pink Ball Test. The Indian captain showed that there were no demons in the pitch and the pink ball could be countered easily under lights with solid technique and good concentration. Kohli remained unbeaten on a composed 59 at stumps on the first day and, along with Cheteshwar Pujara (55) had ensured that India had taken a decent lead of 68 runs already.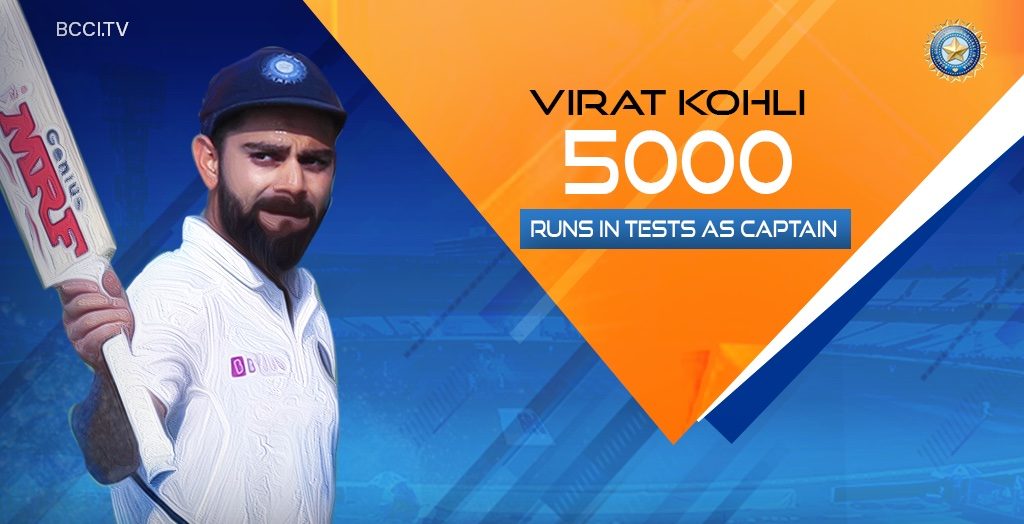 In the course of his knock, Kohli also reached a special landmark. He completed 5000 Test runs as a captain – only the sixth captain to reach the milestone. Kohli reached the feat in 86 innings – becoming the fastest captain in history to do so. Australia's Ricky Ponting, who reached the 5,000-run mark in 97 innings, held this record previously. Clive Lloyd (106 innings), Graeme Smith (110), Allan Border (116) and Stephen Fleming (130) are the other four Test captains in history with more than 5000 runs as batsmen.
Eden legends make Pink Ball Test more memorable:
During the first break of India's first Pink Ball Test, the host broadcaster Star Sports organized a special show by inviting some of India's previous Eden legends on the ground for a memorable discussion. VVS Laxman, Sachin Tendulkar, Anil Kumble and Harbhajan Singh were engaged in a fascinating round of conversation where they shared their anecdotes from their exploits at the Eden. Laxman is of course known for his epic knock of 281 against Australia in 2001 and 'Bhajji' took a sensational hat-trick and 13 wickets in the same Test. Sachin has produced many an unforgettable performance at the Eden while Anil Kumble's 6-12 in the Hero Cup Final is forever registered in Indian cricket folklore. All of this and more was amiably discussed by the former legends in the captivating conversation.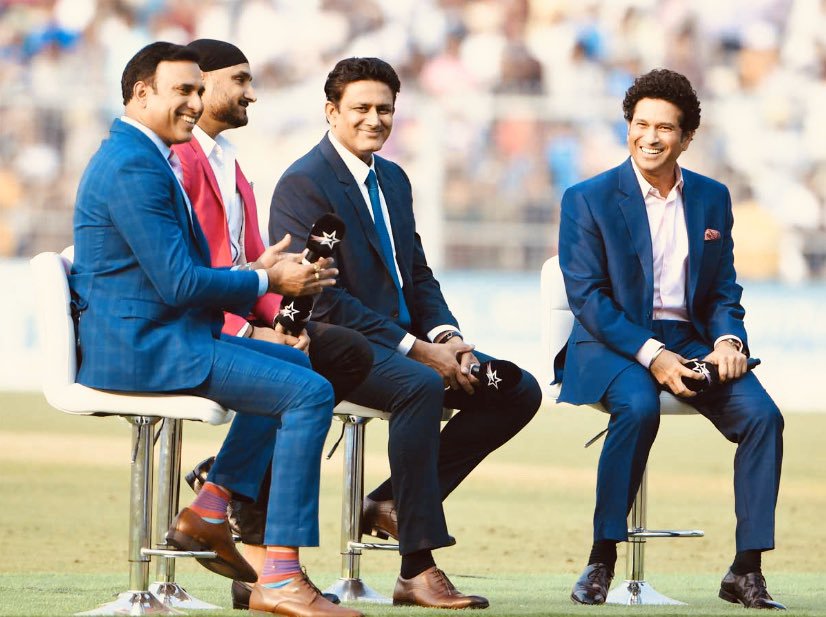 "We made memories as teammates in whites, to relive them as buddies many years later was very very special. Historic day at my favourite venue, made more memorable and nostalgic."- Laxman wrote on his Twitter handle.
The Pink Ball Test has hence got off to a rollicking and action-filled start. What was your favourite moment from the first day of this historic Test.
Images: BCCI.tv