He might not have been a very well known or widely known entity in the firmament of Indian cricket until now. But given what he did and just a few hours ago in an important match in the ongoing Under-23 Punjab State Inter-district tournament, Nehal Wadhera is surely a name that won't be forgotten anytime soon.
And this is no random speak; there is a mighty fine reason for that. The noted left-hander, famous for his batting exploits in the Punjab cricketing circuit, went on to strike 578 runs in a contest against Bhatinda.
Nehal Wadhera, all of 21 years of age, was representing Ludhiana in the Punjab-bound Inter-District tournament in a contest held at the GRD cricket ground in Ludhiana.
But all said and done, let that number and its size sink in. 578 runs from the bat in a single inning. Most fail to conjure and quite commonly, 300 odd runs in an inter-district domestic tournament.
And then here was a determined young man who pounded bowlers on his way to scoring a mammoth 578 from the bat. Probably not wrong to say that the kind of explosive inning that the Bhatinda bowlers would've gone on to see just a few hours go is bound to disturb them in their sleep and will not leave them with an iota of peace, at least, in the days to come.
What else can one possibly say, right?
Moreover, that Nehal Wadhera notced up his massive knock during the semi final stage of the widely watched Punjab state Inter-District tournament was even more applaud-worthy as a feat.
But you cannot fathom the true significance of the achievement unless and until you were to take cognisance of the fact that just how destructive an example of batting did Nehal Wadhera set this Thursday!
The fiery batsman notched up 37 sixes -read that again- and not only that, 42 fours during his long stay at the crease. So what does that tell us?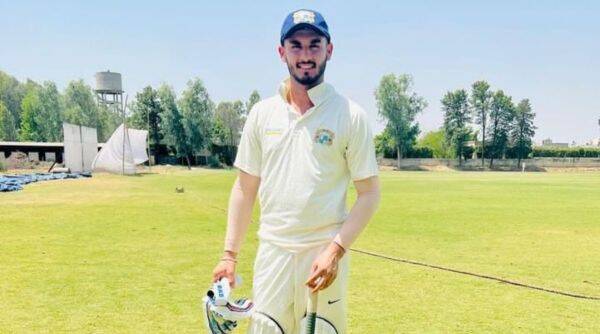 Well, quite clearly that 390 of his 578 runs came by way of just fours and sixes. Now if that is not destructive, then what could count as being so?
Among the many reactions post the rip-roaring batting effort by the Punjab batsman was that whether his ferocious knock was a world record already or not. And to that end, here is what Nehal Wadhera, clearly the man of the moment, had to say:
"I am yet to check whether I made a world record or not, but I am happy with my performance… We are striving hard to win the tournament as my contribution is for the team."
In some ways, it's quite befitting that Nehal Wadhera modeled his career on a true son of the soil from Punjab, the smashing Yuvraj Singh, the famous former India all rounder noted for his heroics in the ODI world cup of 2011.
Meanwhile, here is what Nehal's coach had to say given his pupil raked up mightily impressive runs:
"I can't remember exactly the date but in one of the matches against Ludhiana, Yuvi had smashed around 400 runs for Chandigarh. I was the wicketkeeper in that match for Ludhiana," recalls an elated Bhangu. "Nehal started coming to me in middle school and I saw a spark in him since childhood."
(the above excerpt was taken from a report published in the New Indian Express).