She wasn't introduced to the game at the tender age of 12. Nor did she break into international cricket while she was just a teenager, as one sees with many precocious talents. Natalie Sciver was already 21 when she stroked her way to the covers at the lush green Loughborough when she collected a handy 19 runs from as many balls against Pakistan.
She had arrived in T20 cricket.
Back in 2013, part of a successful series for England against Sana Mir's Pakistan, Natalie Sciver cut her teeth in international cricket against a formidable coterie of opponents including- the Bismah Maroof, Sana Mir, Nain Abidi. But often, the feeling of playing versus a competitive side isn't the only pressure playing on a youngster's mind.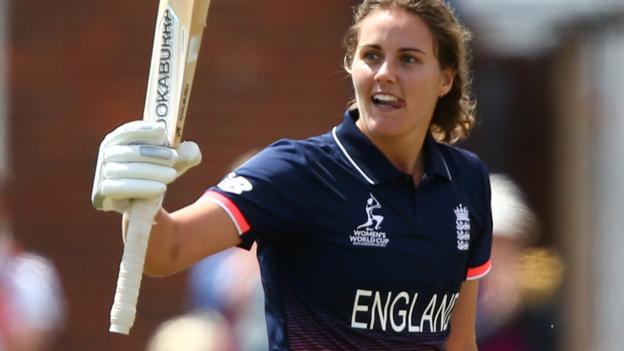 The mere thought of competing amid a fantastic group of names is often a less-visited challenge on the part of viewers of this great game. Natalie Sciver was birthed into an English side whose top names were Charlotte Edwards, Heather Knight, Sarah Taylor, Katherine Brunt among the few.
Today, those familiar names have only grown stronger where their international standing in the game is concerned. While Charlotte Edwards was on her way out in 2016 and has since then, risen as a sparkling legend in her retirement, her status as among England's greats unchallenged, Natalie Sciver's prominence in the middle-order has lent her side an unrelenting spark.
It probably boils down to the fact that Natalie Sciver has manifested her full talent. Today you cannot imagine the England Women's unit minus this tall charismatic wicket-taking batswoman who can gently change gears in the middle and exhibit flair with the bat to make up for a lull with the ball.
All-rounders, there are many. But only a few have been able to consistently plot an opponent's downfall. You know where to put Sciver, who has risen as an irreplaceable member of the 2017 World Cup winning side.
It was also in 2013, that Natalie made her ODI debut. Once again, against Pakistan, she'd embrace the go-to format for the women's game. And even as her bat ran dry in its maiden outing, Natalie Sciver quickly gave a glimpse of her all-round potential. Perhaps, there may not be many youngsters in the sport who happen to have dismissed the very same bowler who breached past their defences.
When the legendary Asmavia Iqbal clean bowled Sciver for 3, the right-arm fast medium had no idea what was to come. Well, Karma often comes unannounced like a natural order of things.
In a matter of few overs half-way into Pakistan's unsuccessful run chase of England's ask of 228, with Sciver holding the white ball, Asmavia found her stumps shattered. From 6 overs, Natalie Sciver had taken a wicket and had conceded only 16 runs.
A genuine all-round talent was something England were looking for. And that is what they got from Natalie Sciver. Having already played 53 ODIs and 50 T20s, Natalie's proven her arrival, five years back, was no flash in the pan.
The Tokyo-born right-hander, who learnt the tricks of the trade at The Netherlands and returned to England to realise her full potential has quickly emerged as a feisty match-maker of her flamboyance and grit with the bat and the nagging accuracy of her right-arm medium pacers.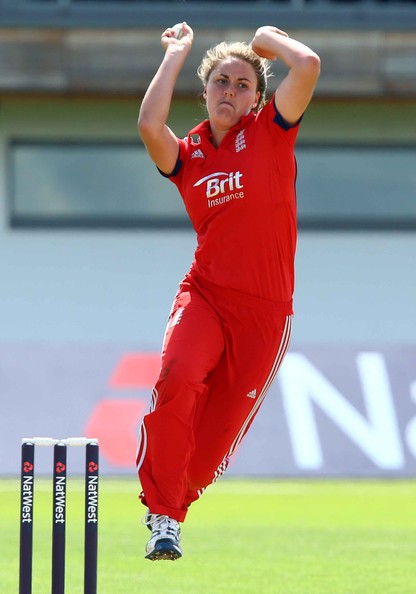 In a lighter vein, Natalie's hitherto-enthralling cricketing journey bears relevance to why they adjudge the women's game as a rising juggernaut today; part of the globetrotting fan's sporting itinerary.
Statistically speaking, Natalie Sciver's ODI and T20 compilation is exactly the same as that of prodigious run-machine from South Africa, Mignon du Preez. Both have the same number of ODI centuries and T20 batting averages, 2 hundreds and 23, respectively. But that's just one example of where Sciver stands in the testing waters of international cricket.
Challenges, they say, bring the best out of some individuals. But some, it seems, like it if they are overwhelming. Few talents justify this moniker as well as Natalie does. In the widely-followed 2017 Women's World Cup, faced with onerous challenges from all corners- the likes of Mithali Raj and Jhulan Goswami challenging from one end as the likes of van Niekerk and Kapp, Mir and Asmavia, Stafanie and Anisa confronted England from the other- Natalie Sciver managed to compile sixth-highest aggregate of runs.
This was, regardless to say, was a tournament of imposing challenges with far-reaching consequences. Even consecutive failings from the bat or the ball would've resulted in a great predicament. Ultimately, in a grand series aced by England with the run-charts topped by Tamsin Beaumont, one of Natalie's compatriots, the English batswoman went on to strike 369 runs from just 343 deliveries. She also managed to score 2 hundreds, including her best knock of 137, at a marvellous average of 46.
How often do you see a cricketer strike all her hundreds at the big daddy of the women's game? A rampant Sciver in 2017 has only gone on to further up the ante of her T20 performances. At the famous Brabourne in Mumbai, during the 2nd T20 game of the closely-followed Women's tri-series, also featuring Australia, Sciver turned into a sorcerer with the ball and the destructor with the bat.
In what could be called easily among her best T20 performances, especially away from England, Natalie pushed Australia into despair, erasing the top order first- removing the dangerous batswomen Gardner and Healy- before she went all guns blazing in her ballsy 43-ball-68.
In the next match, she'd be at the other end, guiding England home to a comfortable win alongside her captain- Heather Knight- in a T20 where England's Danielle Wyatt made a T20 a literal 10-over outing of sorts, seeming in an incredible hurry, on her way to 124 off just 64 balls.
If you merely place Sciver amongst two very-uniquely talented groups of English cricketers, starting with Sarah Taylor, Heather Knight, Tammy Beaumont or Katherine Brunt or among Katherine Brunt and Anya Shrubsole, Sciver can naturally make these sterling quartets or excellent troika for her team.
At 26, she's only just nearing her peak or probably her greatest moments in the game lie ahead of her, having already collected 2 ODI centuries and several fighting fifties. But it could be said if Cricket is a gentleman's game, then it's girls with impassioned spirits, of the kinds like Sciver demonstrates that are equalising the sport and giving the women's game a new perspective.