MS Dhoni and Rishabh Pant. These aren't merely names in the firmament of Indian Cricket. These are two powerful and driving forcs that warrant different reactions and different feelings from the fan-dom. While the one hand, there's a legendary captain, batsman, and wicketkeeper, someone in whose ebb rest several outstanding records, on the other, there's a bright force geared up to create a name in the future.
Yet, it must also be said that while on the one hand, there is a glorious have-been; a master who is about to walk into the sunset, on the other, there is a rising force that has all the time on the world with all the talent in his capacity.
But there's something more to Rishabh Pant that has been making the news, of late.
Of late, he has copped up a lot of criticism regarding his batting consistency. Considered a strong talent, someone in whose blistering stroke-making lies the ability to plod any bowling attack and score many a run in quick succession, the future, it seems, certainly belongs to Rishabh Pant. But all's not been well with him suffering from bouts of inconsistency in shorter formats, where he has often been seen getting off to a flying start and then, throwing it all away.
But that told if there's an area that should also automatically draw our attention about the fiery Rishabh then it's his wicketkeeping skills, an aspect of his game that primarily justifies his position in the illustrious circuit of Indian Cricket. And it appears that there is something in that domain of his skill-set using which he may be able to break through into some meaningful performances against the West Indies.
In a few hours from now, India will take on the West Indies, who it will play hosts to in what will hopefully be a closely-contested limited-overs series. In the first of the 3 T20s that the sides will lock horns in, it appears that there is a major MS Dhoni record that Pant may have sights on.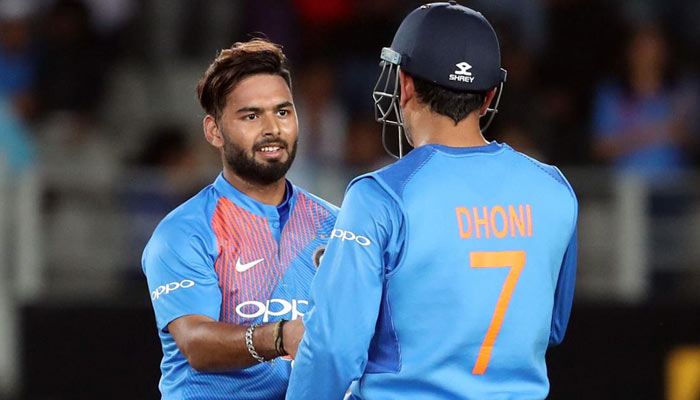 So, the question is simple- which MS Dhoni record can Rishabh Pant break in the imminent future? Of all the wicketkeepers to have faced the West Indies, MS Dhoni currently stands on top with 5 (the maximum number) dismissals in the T20 games.
And therefore, with there being three new opportunities up at his alley, the record for being the Indian wicketkeeper with most dismissals versus the West Indies in T20i could definitely go Rishabh Pant's way.
But how does Pant hold a chance to go past Dhoni's dismissal record against the West Indies? Well, it's really simple. The former Indian captain's name wasn't mentioned in the enlistment that featured the various talents who formed part of the T20 squad.
All of that said, depending on who you are- whether a West Indian fan or a fan of the Indian Cricket team- the brand new series will offer varying propositions to cricket lovers.
India Today noted the following context in lines with the 3-match T20 and ODI series:
India would be looking to put the rare blemishes in T20Is behind them when they take on the West Indies, who had lost the Tests, T20Is and ODIs when India toured the Caribbean in August-September this year.
The West Indies, on the other hand, will be looking to exact revenge on this limited-overs leg in India under skipper Kieron Pollard. The limited-overs series will be Pollard's first as captain against India and the second overall after the Afghanistan series in Lucknow.
But what will be interesting to see will be how Rishabh Pant fares in what will be an opportunity to shut his critics and get on with his batting.