For fans, he is a messiah and nothing less than any immortal spirit. For critics, he's an exceedingly difficult subject to pin down. For most others, he's a special kind of celebrity; for he's as much loved as he is respected. For Indian cricket, he is the one and only Mahendra Singh Dhoni. For his fans we have compile some top 10 MS Dhoni quotes…  
If there's a cricketer from India, apart from Tendulkar in the modern generation, who has only grown in stature on both the pitch as well as off it, it has to be Mahendra Singh Dhoni.
The wry smile, the piercing eyes, the icy cool exterior and the sagely calm interior- you can wax lyrical all day about MS Dhoni and not get bored. His commanding influences on the cricket pitch flavoured through characteristic big-hitting, agile fielding and, pyrotechnics from behind the stumps have enthralled fans and given them new reasons to fall in love with cricket.
And when he did a repeat of his 2007 World Cup winning effort, by lofting Sri Lanka out of the Wankhede (in 2011) to bring up arguably India's greatest triumph in modern cricket after the shape-shifting scenes at Kolkata, 2001-02, Dhoni wrote a new chapter of Indian cricket. In fact, he gave rise to a revolution of sorts. A charismatic run-getter from the bat and an unputdownable persona around cricketing circles, it's good to be on Dhoni's side and utterly painful being an opponent. For you don't know where's the next big shot coming from.
But away from the glamour and boisterousness of competitive cricket, which Dhoni has challenged himself to be a part of- all year round- he's also the force behind some interesting quotes. Not much of a talker and certainly someone who values economy in words, what are the best MS Dhoni quotes that he's known to have delivered?
Let's have a look on top 10 MS Dhoni Quotes:
#1
Dhoni is known to be taking his cricket very seriously indeed. For him, the world comes to a halt when he is in the midst of a cricketing challenge or contest. There's little wonder that he's birthed some of the most important knocks for his side in T20 and ODI international cricket.
#2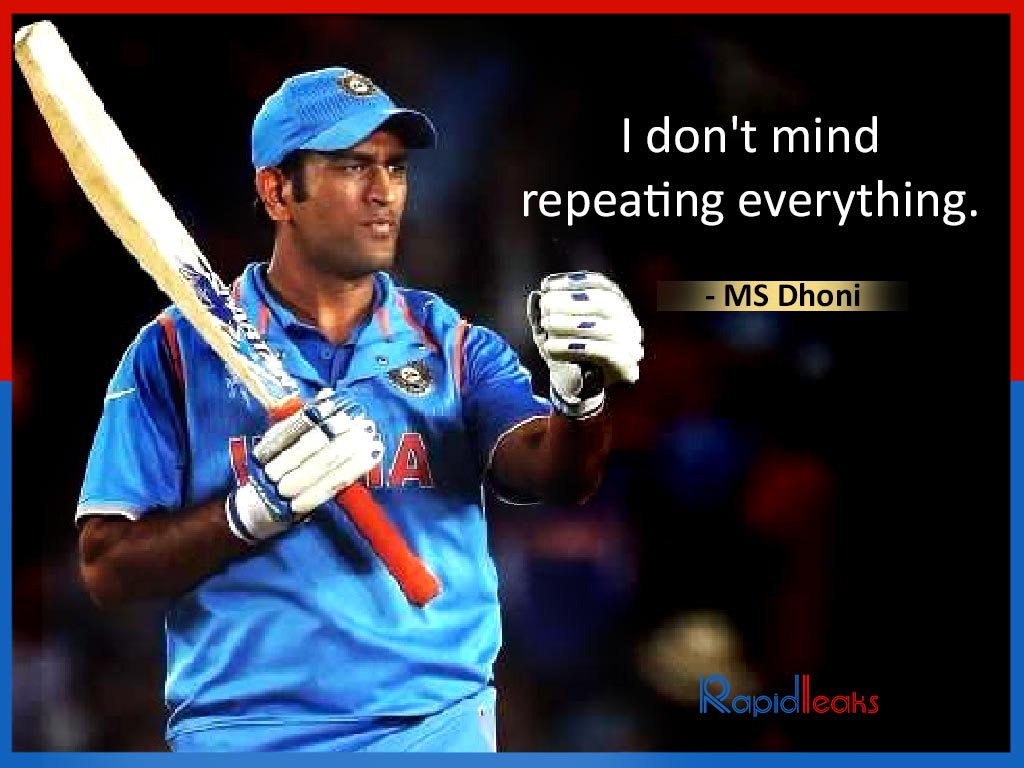 A simple MS Dhoni quote that holds enormous depth to understand the man behind it. Specifically, in the latter part of his ongoing cricket journey, MS Dhoni has often been accused of taking his own sweet time to settle in the pitch. While this is true, it has also led to Dhoni playing some characteristically important knocks later on upon settling down. It tells us that patience is a big part of his life. And there's little doubt about it too, considering as a leader he's had to nourish and groom several young players who are part of the current enlistment of Team India.
#3
It's reported that one of Dhoni's more important and no non-sense quotes came along during the much-watched 2013 Champion's Trophy, which India won under his captaincy. The advice, through this MS Dhoni's quote, was for the team to take matters in their own hands and feel accountable for their actions- be it with the bat or the ball.
#4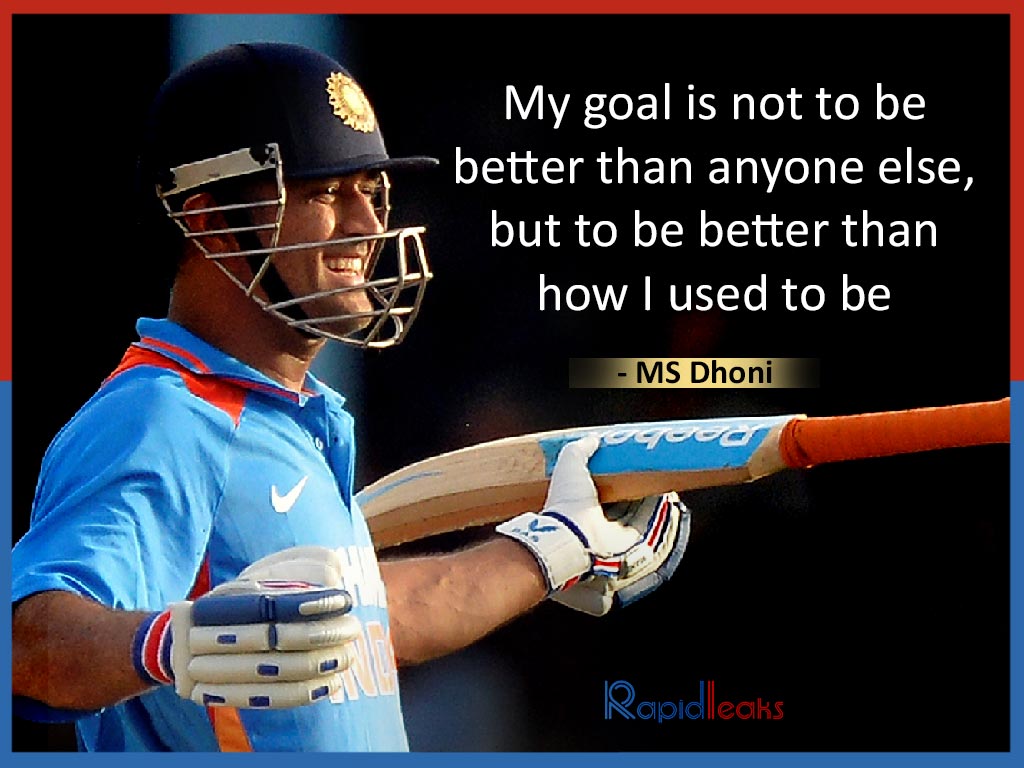 Again an interesting MS Dhoni quote and another reminder of the intellectual depth of the man from Ranchi, Jharkhand. They say the competition is actually with the self. And yet, we remain focused on competing with everyone else around. One hardly cares to look within and self-introspect.
#5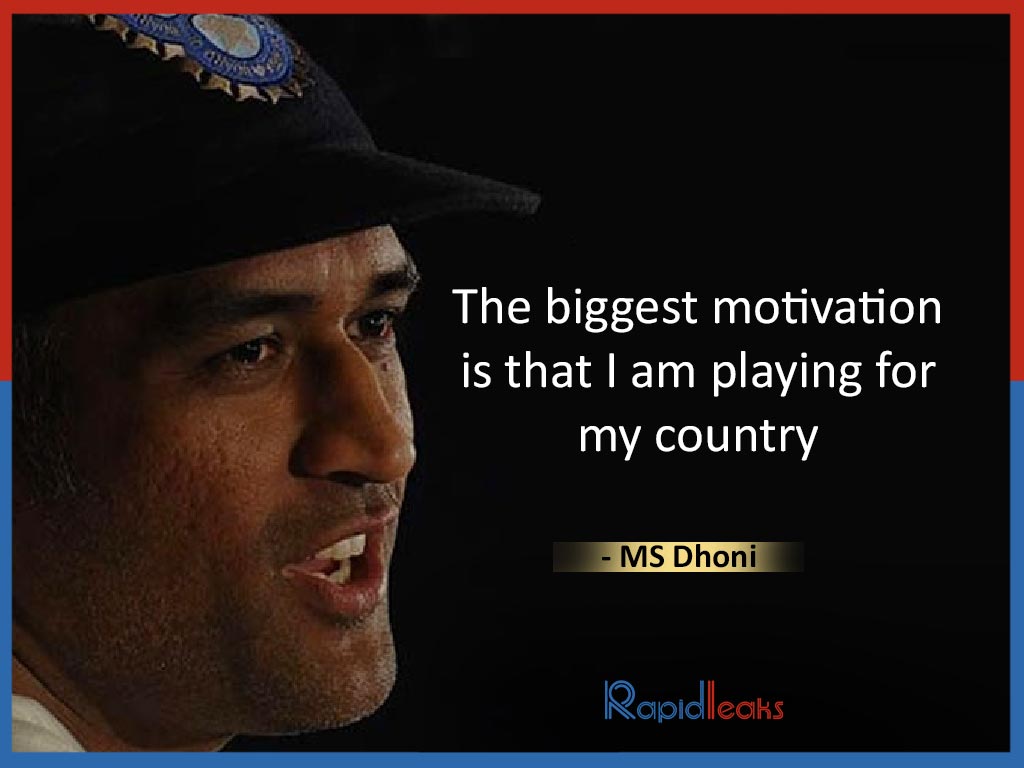 Dhoni is to India what a Steven Waugh is to Australia and what a Jack Kallis is to South Africa. The greatest motivation for a true athlete is not the perks that the game affords. Rather, it is the drive to represent one's country.
#6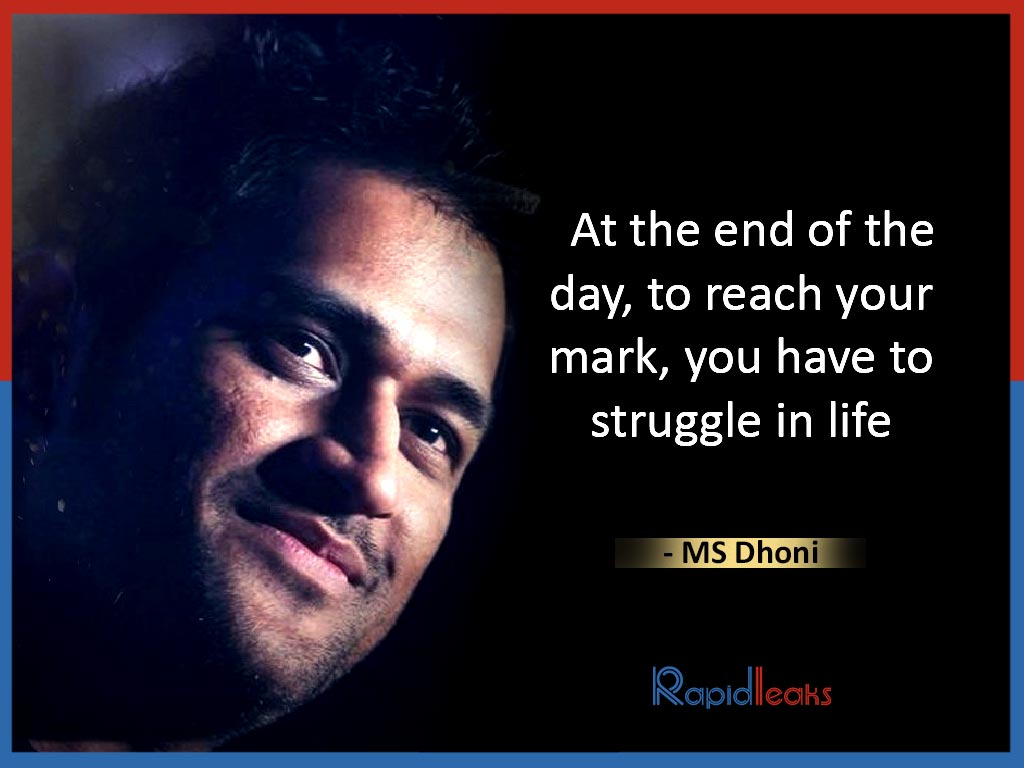 Well said there MS Dhoni! Not the most gifted or dazzling batsman in the game, quite like Jayasuriya, Hayden, Sachin, Sangakkara, Lara or the likes- Dhoni's worked hard at improving his game over the course of the many years he's played for India. It's not hard to see Dhoni's penchant for hard-work and fitness since he's backed himself to bow out strong but only after playing the 2019 World Cup.
#7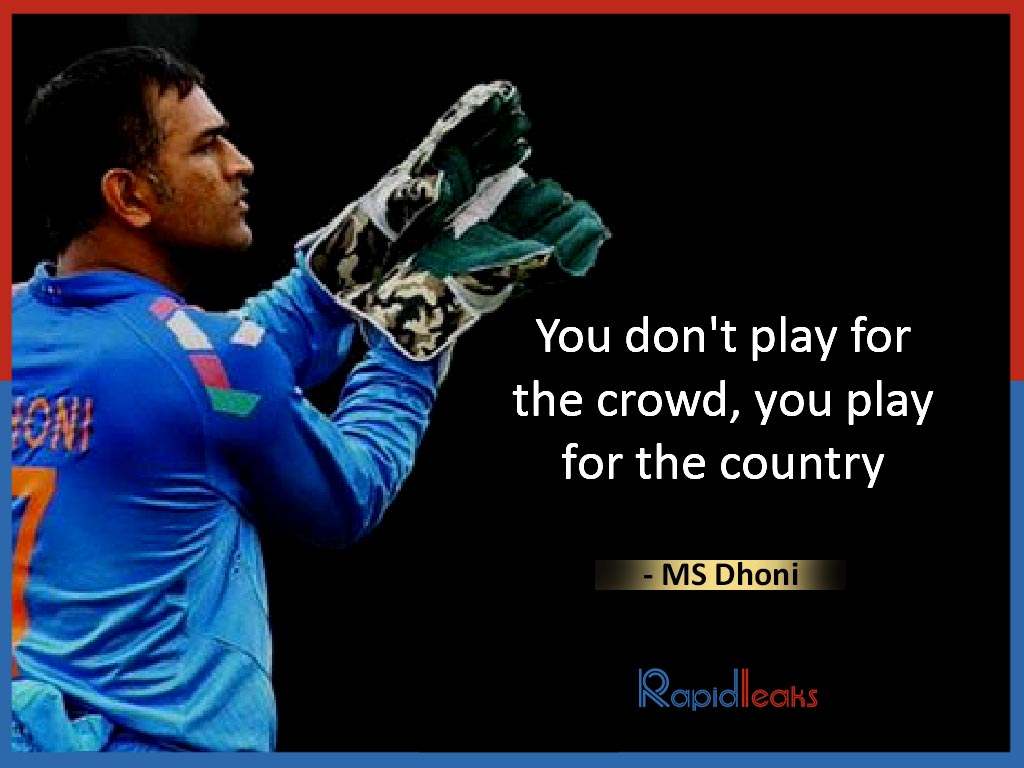 MS Dhoni in the most simplistic ways has said something truly passionate and absorbing, true to the life of devoted cricketers who's effort at the end of the day is to bring pride for their country.
#8
Did anyone ever tell you that MS went to a law school and was an excellent lawyer? But none of that is true. In fact, what's true is that throughout the course of his glittery career, Dhoni has been put into rather uncomfortable positions and been made to ask questions he'd rather not answer. But he's always had the solid objectivity and rationale to handle things in decorum such as he did through this quote.
#9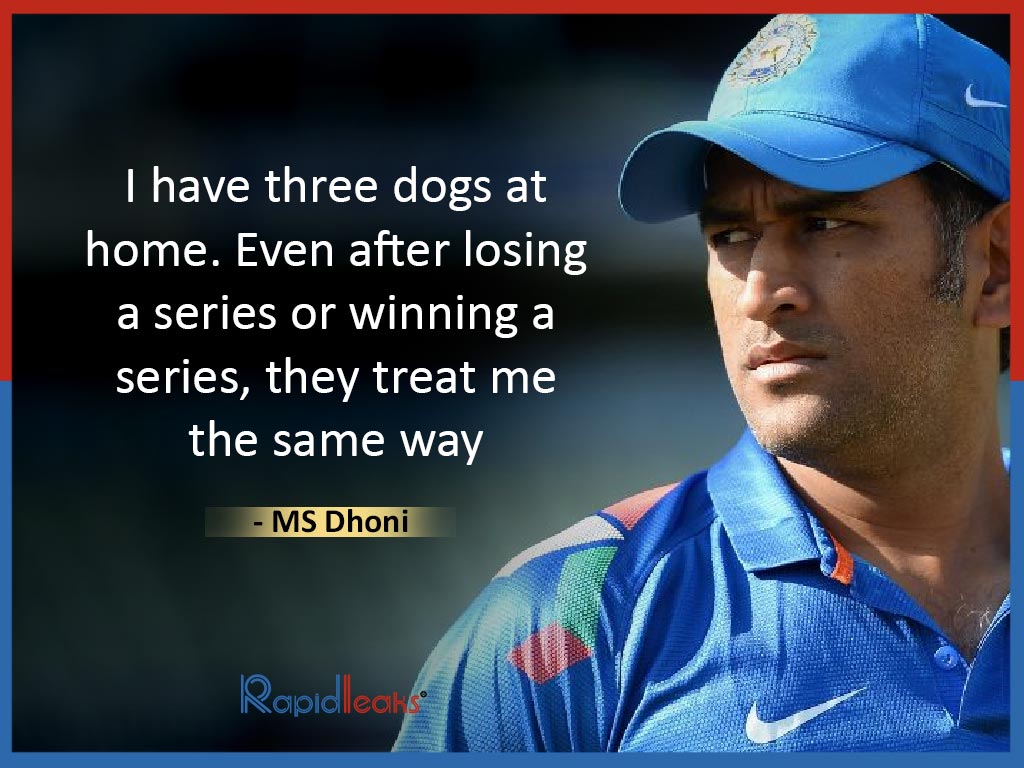 In a country where cricket is literally obsessed over and cricketers looked up to as Demi-gods, some fans perhaps crossing the line of sanity in constructing temples for cricketers- it's not hard to know that Dhoni has been criticised many a time. And on many occasions, has he been extended unwarranted treatment, even by fans. Through this quote, Dhoni emphasizes on the importance of treating people well. And also points to how he's treated simple and just as he is; not as the 'MS Dhoni'.
#10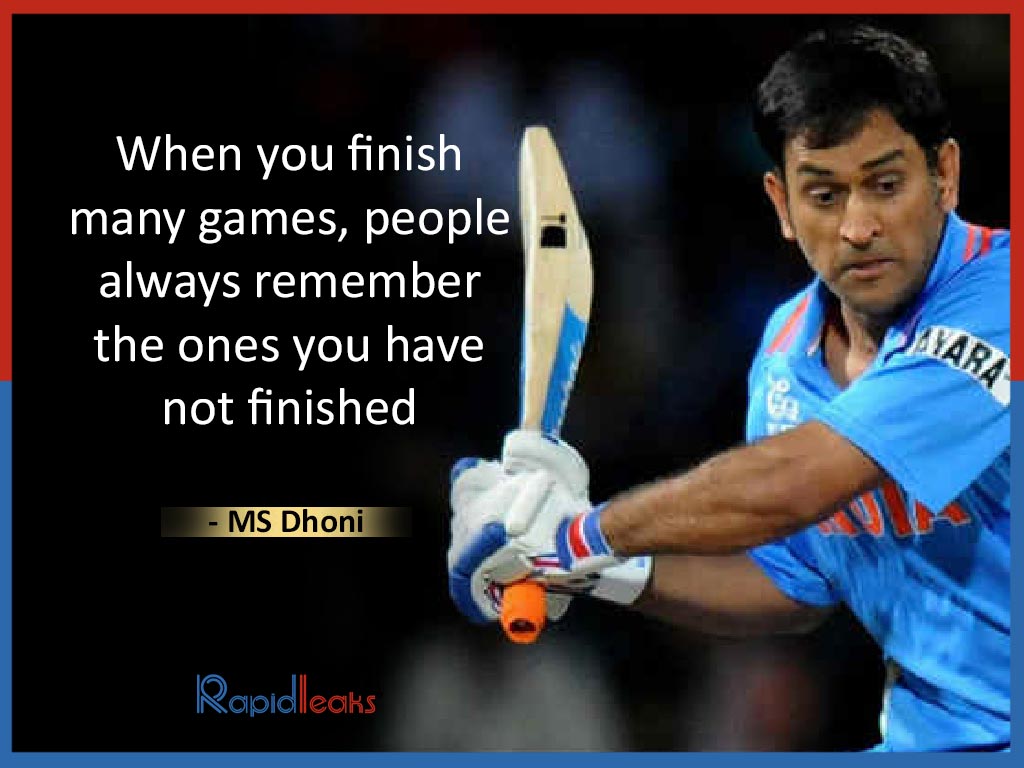 The life of a sports-star, especially here in India can never be easy. It's quite normal here for people to make gods out of mortal athletes. And as much as fans adore some, they're quick to revile and berate their favourite cricketers. The expectations out of them are humungous. So even as you may have won your side many a game, the public will come for you or hound you in the event of your failures or when you had an off day at office. So, these were 10 best MS Dhoni quotes for all his fans to enlighten the hopes and confidence.
Dhoni- it has to be said is truly a thinking cricketer and someone who understands the complexities of being an icon in India, a culture that perhaps permits scathing polarisation of it's own heroes and stars.