During the India vs Sri Lanka 2017, 2nd ODI, MS Dhoni might have gotten away despite breaking the fake fielding law, which was recently introduced in the ICC code of conduct.
For a player of such stature, the allegation might seem a bit out of proportion but in the 11th over of the Sri Lankan innings, MS Dhoni did seem to have opted for fake fielding when Angelo Mathews was going for a double.
It was the fifth ball of Hardik Pandya's over on which Mathews had a thick edge to third man. Yuzvendra Chahal was quick to grab the ball and fired it with a flat throw towards MS Dhoni who took his hand out of the way after realizing that the trow was already going for the bails.
As the bails were dismantled, the off-side umpire went for the review and in the heat of the moment, MS Dhoni's actions went unnoticed.
One thing we all know is the fact that unless a throw isn't in Dhoni's grab, it will go towards the bails and all a fielder has to to do is, target the wicket-keeper if hitting the stumps seems impossible.
This is what Chahal did and MS Dhoni was quick to come in position, however, when he realized that it was going to be a direct hit, he moved away.
Well, there seems nothing wrong in his actions but ICC has recently introduced a new set of rules, one of which is the Clause 41.5.1, which deals with , "deliberate distraction, obstruction or deception or of batsman" and states that it is unfair for any fielder to wilfully attempt, by words or by actions, to distract, deceive or obstruct a batsman after the striker has received the ball."
In simple words, if a fielder tries to fool a batsman in order to prevent him from running for more runs, than the said fielder is considered to have breached the Fake Feilding Law.
However, in this particular case from the India vs Sri Lanka 2017, 2nd ODI, MS Dhoni was neither trying to act nor he teased the batsman by pretending that the ball was in his grabs and moreover, he wasn't seen throwing it to stop a run. Hence, Dhoni escaped the punishment of breaching the Fake Feilding law.
Here is how it happened.
Frame 1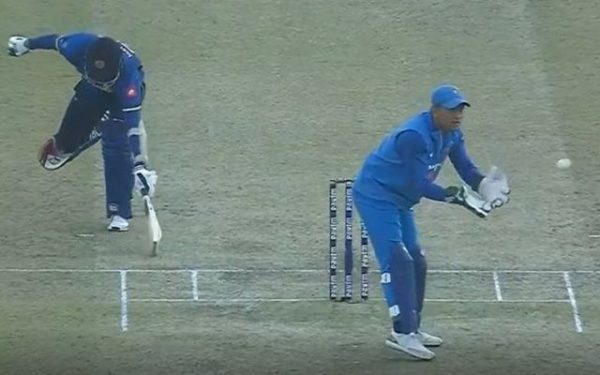 Frame 2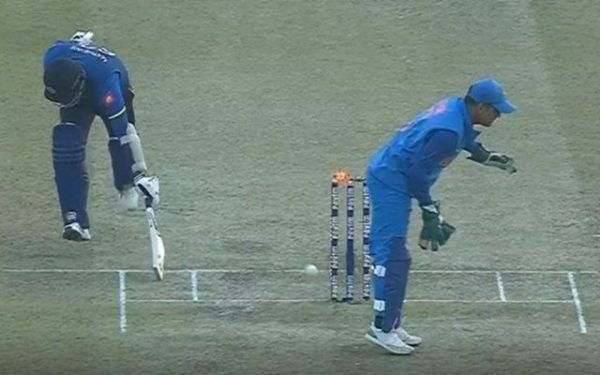 Frame 3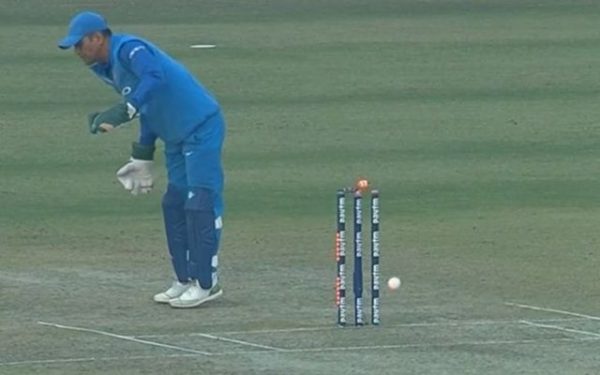 But there was an occasion when a player was indeed found guilty of breaching the Fake Feilding Law and incident happened during a JLT One-Day Cup which is a domestic limited overs series in Australia. Marnus Labuschagne became the first ever fielder to do so during a match between Queensland Bulls and Cricket Australia XI. As a penalty, Cricket Australia XI was awarded 5 extra runs.
Watch the video here
( Source: Sai Kishore )
As for the India vs Sri Lanka 2017, 2nd ODI, it was a comfortable victory for the hosts as they leveled the series by 1-1 on back of Rohit Sharma 3rd double ton in the format and a complete performance from the bowlers.