MS Dhoni's announcement of stepping down as captain of the ODI and T20 Indian team on 4th January, came as a shock to every cricket lover and it's going to take a long time for acknowledging the fact that the next time we see Indian Cricket team playing, it won't be led by the effervescent and ever so cool MS Dhoni.
Dhoni captained India in 199 ODIs and won 110 matches and lost 74. Four ties and 11 no-results games constitute the rest of the tally with a winning percentage of 59.57. When it comes to T20Is, the greatest Indian captain led his team to 41 wins out of the 72 played, 28 defeats, one tie and two no result games. One more, just one more ODI and MS Dhoni could have completed a double-hundred of matches played as a Captain in 50-over Cricket. But it's his decision and all we can do is respect his choices because he is the same person who is known for his presence of mind and doing what's right for his team and himself.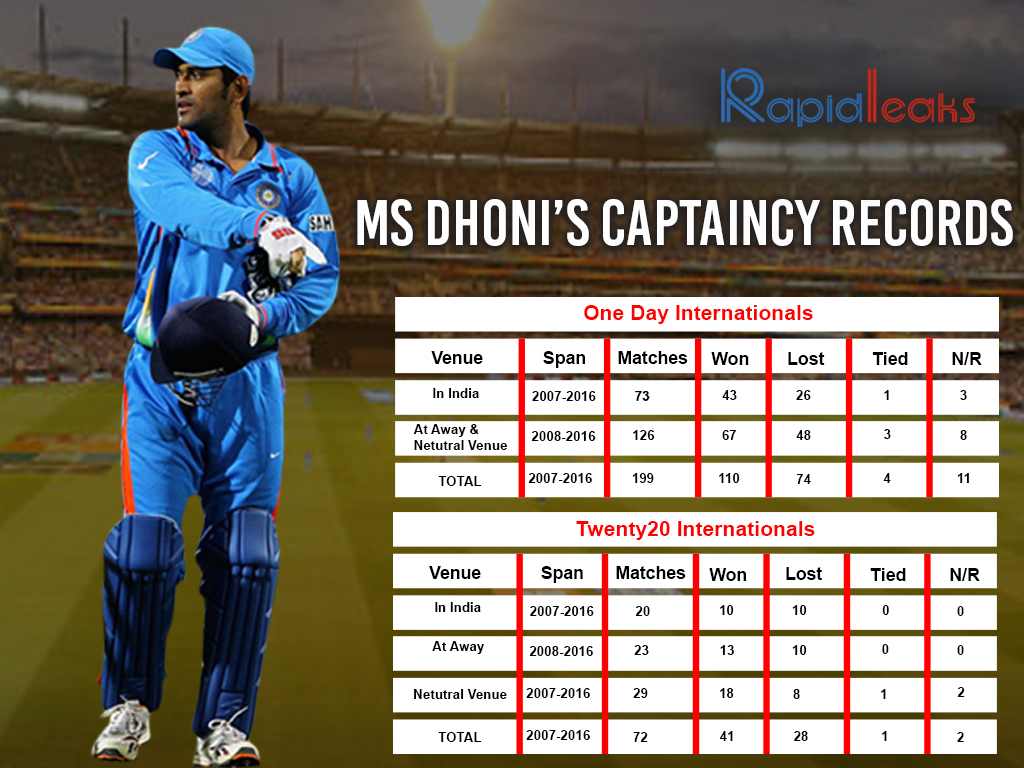 There is a thin difference between a captain and a leader, and captains who keep the team intact and lead from the front, go on to become leaders. MS Dhoni has never let his fans, selectors or himself down and his presence is the best thing that happened in Indian Cricket. He has hit the most number of sixes as a captain in International Cricket and has lead his team in 331 matches (Test, ODIs, and T20Is), leaving behind, the all time great, Ricky Ponting who has captained his team in 324 games.
MS Dhoni's career as a captain was nothing short of a bumpy ride due to highs and lows that Indian Team saw under his Leadership.
It all started in 2007, when India entered the first ever ICC T20 World Cup as the underdogs but won the tournament after defeating arch-rivals Pakistan in the Finals. The victory opened the gates of fame and success of this young side and what we saw next was all out dominance.
MS Dhoni grabbed the Commonwealth tri-series trophy played between India, Sri-Lanka, and Australia in 2007-08 and showed the world that what a bunch of rookies can achieve, if lead effectively. The 2011 ICC World Cup was the next big thing that MS Dhoni was eying and after hammering Pakistan in the Semi Finals, all it took was the 'famous six' to bring the trophy back to India after 28 years. Cricket fraternity started marking MS Dhoni as the best captain that India have had in decades but it's difficult to tell what is going on in his funny little brain. When the whole nation was celebrating the World Cup Victory, there was another record that MS Dhoni wanted to achieve, in order to make India the most dominant force in International cricket, and then came ICC Champions Trophy 2013. No other captain had ever won all the three ICC tournaments and claiming ICC Champions Trophy made MS Dhoni, the lone and most feared wolf in International Cricket.
India managed a modest 129 runs with a loss of seven wickets in a rain-truncated 20 overs final against England at Edgbaston. Captain cool had the responsibility of making his team realize that the match was still in their hands and they just needed an aggressive approach. MS Dhoni's quick work behind the stumps and use of Ravindra Jadeja's left-arm spin to great effect, took India to a 5 runs win in the finals.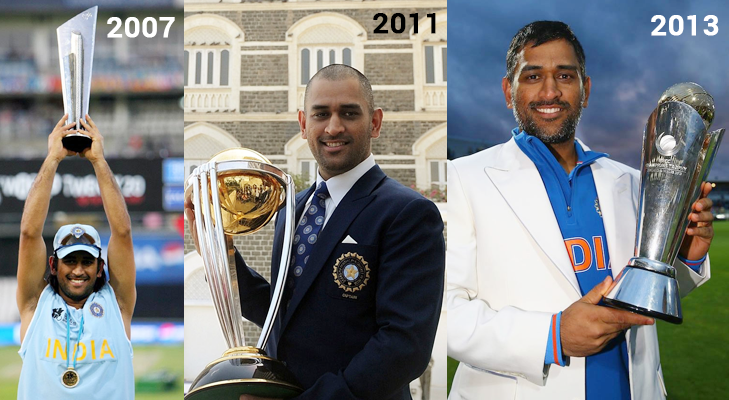 And India Became an Unstoppable Force Under MS Dhoni's Leadership!!
However, it hasn't been just an 'all good journey, for MS Dhoni his arsenal and he himself were highly criticized for the failures in 2009 and 2014 T20 World Cups and for letting the Australians take the 2015 ICC World Cup.
From thereon, critiques started saying that it was MS Dhoni's luck that's making the team survive in International cricket and his personal performance also started coming under their radar.
And the one who made India the No.1 team in either of the formats and captained the likes of Sachin Tendulkar, Rahul Dravid, Virender Sehwag, VVS Laxman, Sourav Ganguly, Virat Kohli, Ravindra Jadeja and Ravichandran Ashwin, to name a few, has stepped down from for captaincy of Indian Team and have further made way for a new era.
Virat Kohli, on the other hand, is only 27, and already has a grey beard. Most probably, we will see him leading the Indian side in all formats now after his unquestionable captaincy in Test cricket.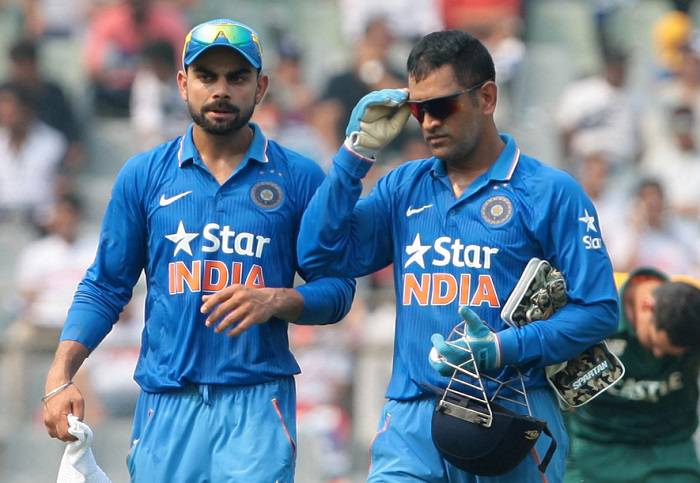 This is Indian cricket!! One Steps down and another rises but there are only some who are remembered forever.
Cricket is a religion in India and a captain carries the huge burden of the country's ever growing population, over a billion of them. One day you are a hero to them and the next day, the biggest villain. This is Indian cricket for you, for that matter.
However, MS Dhoni is not done with cricket yet and has one last fight left in him as he has not announced his retirement and will be available for the selection process for the ODI and T20 series against England starting from 15 January 2017.
What's Next?

MS Dhoni would want to concentrate on his performance and is most likely to play under Virat Kohli in the coming series. There is still a couple of years worth of cricket left in him and we want him to retire in the same fashion as he entered the fraternity, With a Bang!!
We will further like to see him in ICC World Cup 2019 and this time Kohli may lift MS Dhoni on his shoulders just like he did with Sachin Tendulkar. Who knows, we may see another 'famous six' from MS Dhoni and he may finish things off In Style!!
Just Like Sh. Shahrukh Khan has said: 'Picture Abhi Baki Hai Mere Dost'
Before concluding , we would like to share some quotes on MS Dhoni's Captaincy by Legendary Cricketers acknowledging his greatness.
1. Sachin Tendulkar: 'Dhoni is the best captain I have played under.'
2. Gary Kirsten: 'I would go to war with MS Dhoni by my side.'
3. Steve Waugh: 'If I am supposed to select a team Sachin will be the opener and Dhoni will be the Captain.'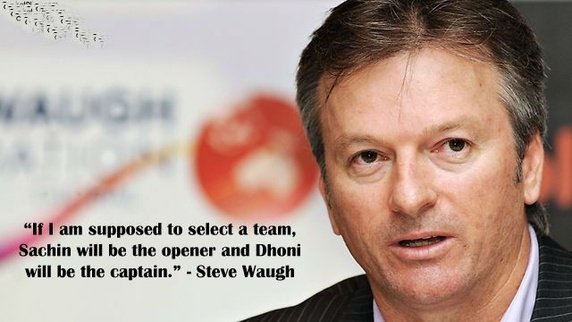 4. Ian Bishop: 'If 15 runs are needed of the last 6 balls, pressure is on the bowler and not MS Dhoni.'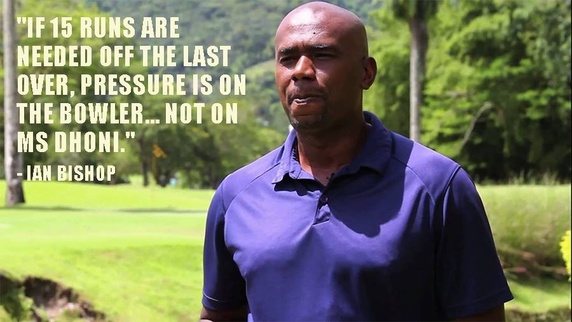 5. Adam Gilchrist: 'The best compliment for me is when someone says they will pay to watch me play, And I can say that I will pay to watch MS Dhoni bat. MS is not the next Gilchrist. He is the first MS Dhoni.'
Follow us on Facebook, Twitter and Instagram for more updates. Don't forget to like and share. Do tell us your views in the comment box below.
5 January 2017
Rohan Jaitly