Fast bowlers can never be at ease. They seem to lead a life of pronounced anxiety. A batsman can have an off day on the field or maybe an inning or two more. So what about the bowler?
He's expected to carry hopes of a contingent the same way a provider for a family is expected to feed it at all times. You cannot go wrong if you're a bowler, can you? There can be no off day even as your aching limbs are pleading you for one.
However, in dramatic contrast, it can be marginally relaxing for batsmen, who, after all, not only rotate strikes, thus coming to rest aching bones and muscles, without mentioning finding convenient pauses when sweating excessively.
The bowler, however, braves heat, withstands a barrage of big scoring when a batsman is on song and at all these times of running in hard to dissuade the batsman's attention, is also tasked with safeguarding the red cherry or the shining the white goblet. Let's not mention, the attempt at all times, being to ensure that the goblet oozes fire.
So at his peak, when Mitchell Johnson, came running in hard with his lithe frame, the batsmen in front- regardless of runs accumulated thus far or numbers of overs remaining, fretted; if only for duration of six balls at a go.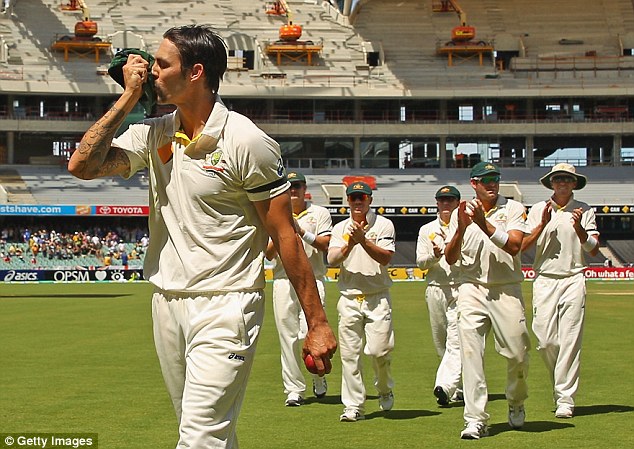 At times you felt, if not an Amla or a Kohli- masters of their craft, Johnson could rile up any batsman and terrorize him at the same time. It took him, just 6 balls and sometimes less. A short-pitched scorcher would present itself first up. Next up would be a sharply delivered in-swinger that one nearly lost his off stump to. He would then cunningly disguise a slower one delivered at a pitch perfect 114-120 k/hr., still somehow managing to move it away from the off; was it an off cutter, they thought? Right then, before the batsman could even make his mind on what would be up next, Johnson, who had turned into a sorcerer of a devious nature would simply york the batsman out.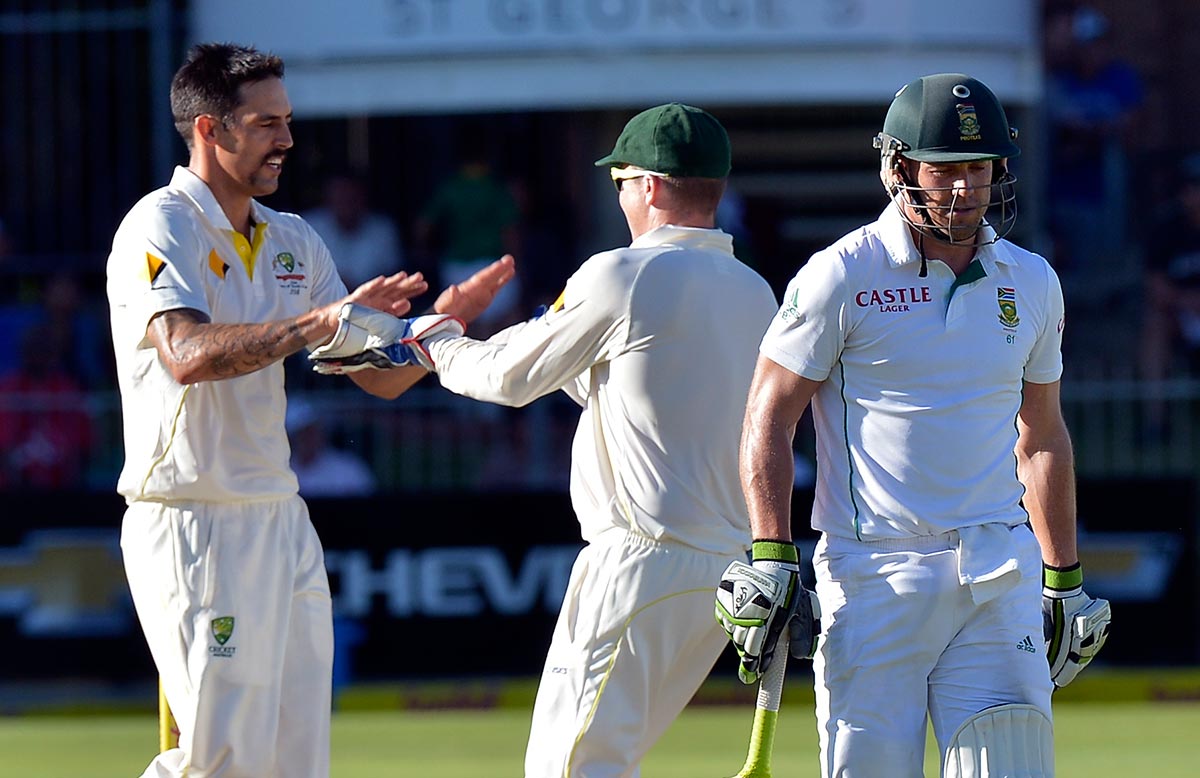 Ask Alistair Cook? Quiz Ian Bell or Faf Du Plessis?
Feel no jitters to ask Martin Guptill and Mahela Jayawardene about this 'bogeyman' of a fast-bowler. It's not a pretty site to see the stumps cavorting around with the grass as if being held together called for a grieving punishment. Johnson, the executioner, would loom large, be it Sydney or Jamaica, Mohali or Manchester.
Perhaps, it might not be a great idea to ask former South African captain Graeme Smith of his frequent nemesis. One's attention is instantly diverted to 2014, when Australia toured South Africa. When he couldn't get his wicket- neither through a barrage of setting shorter ones, Johnson somehow sent Smith packing with a broken hand.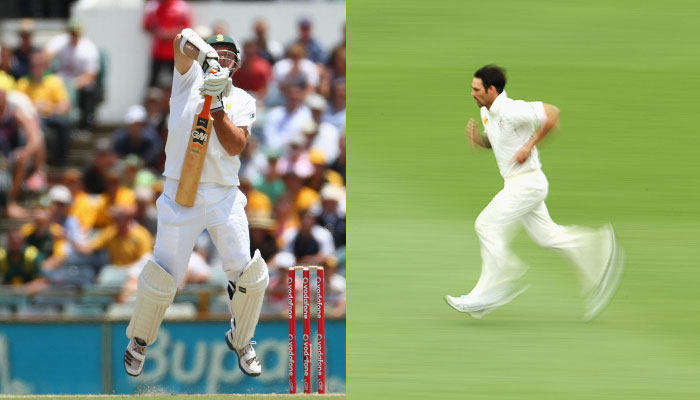 But this would be no 'one-hit' wonder.
If you rewind the clocks to the thrilling scenes of South Africa's tour of Mitchell Johnson-land, 2008-09, you'd find that that breaking Smith's forehand only to then remove his stumps at Sydney, was not just the perfection revenge for the left-armer, rather a vindication for the brute fast bowler.
After all, having to face the humiliation at Perth and Melbourne, where Australia were downed by 6 and 9 wickets respectively, Johnson and team had a lot at stake at the SCG. Throughout the series, waging lone but fiery battles with some of the finest willow wielders of his generation- Amla, Du Plessis, Kallis and, De Villiers- Mitchell Johnson scalped 17 wickets.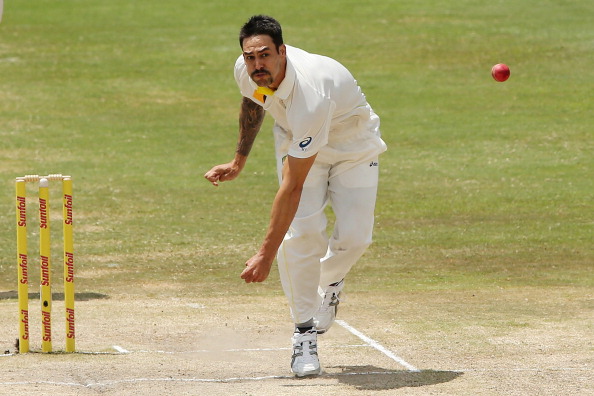 Only a few days earlier, prior to Smith's bone crushing saga at Sydney on 7 January, had Johnson produced a spell that, at best, could be compared to a reptile blowing away a tiny army of ants.
In aligning fury with speed, Johnson produced a career-best 8 for 61 at Perth.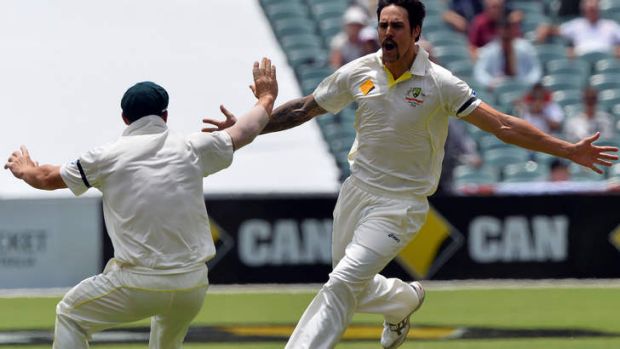 No other bowler, and there were legends of the game in Kallis, Steyn, Morkel and Lee- could manage a five-for.
It is perhaps this mighty impressive snippet of brute fast bowling that near perfectly essays the DNA of Mitchell Johnson: as a bowler, menacingly competitive, and as a campaigner- a perfect conductor orchestrating a concert which would, on furious days turn into a ringman taming a beast.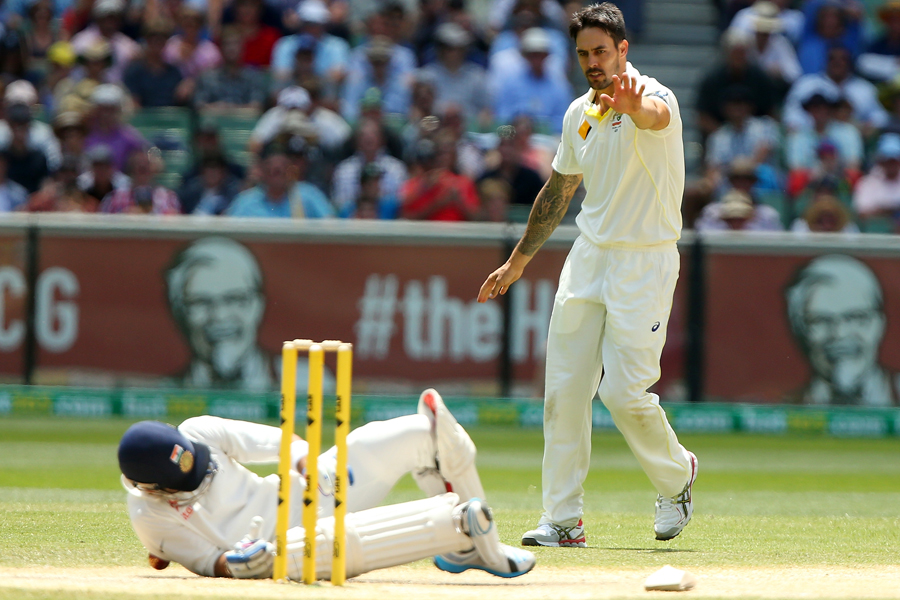 But that said one's not sure if Kohli would have any pleasant memories of his duels with Mitchell Johnson, a man who often in contests with superior oppositions became as much a rattler of stumps as a fiery orator who often over-relied in verbatim in an attempt to 'talk' batsmen out of the contest.
A series that would be most remembered for Johnson's pitch perfect 4-61 from at The Gabba as for the many centuries of India's current captain, it would all translate into a becoming Kohli versus Johnson show. It wasn't merely a cricketing contest. It was riling up of a genius batsman, morphing cricket's elitist stature into a tug of war that ran a thin course on mind-games and needless aggression. Kohli, with unmatched class and consistency was the crowd favourite.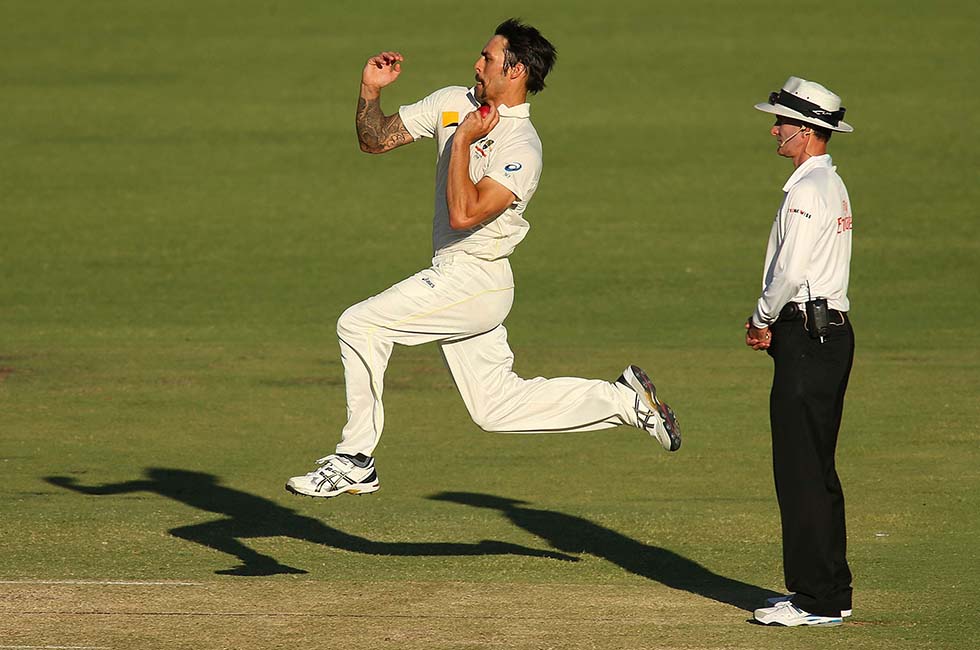 But Johnson, in spitting vehement cuss words and even hurling the ball back at Kohli at Melbourne in return fielding it, became the front line of mainstream Aussie media, garnering as many fans who prefer aggression over chivalry as abuses from purists who still relish the sport as a gentleman's game.
He was rage personified. He loved rattling stumps. He was all for a great contest but also offered a devilish smile, often in agreement with the batsman's victory over his attempted skirmish.
But all that said, Johnson, an unmatched athlete and a domineering quickie, someone with 313 Test scalps and 239 ODI victims was way more than just a spoiler for batsmen.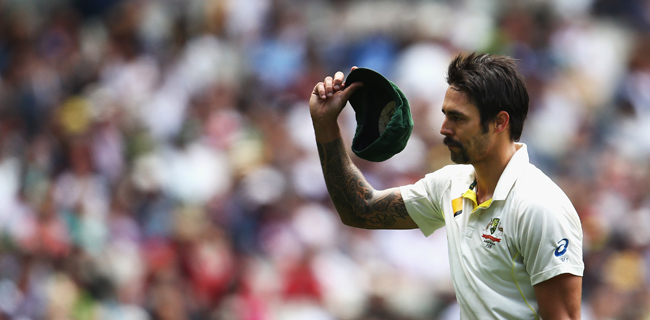 On an off day, an athlete who cheered his teammates and regaled their accomplishments and when on song, perhaps going as far as becoming a Halloween character, Johnson was, quite simply in a league of his own. The romantics would tend to think on the lines of identifying in Johnson a perfect conduit between fans' anticipation of thrill and the game producing a thriller.
But if you think of Cricket fashioning its checkered narrative going from the irrepressible impact an Akram had over it to the mercurial talent of Chaminda Vaas, then in the generation that came after, Mitchell Johnson, would always be regarded as a mighty figure that impacted the game bothways, quite his the in-swing that came ripping hard and the one that drifted away at a wayward angle.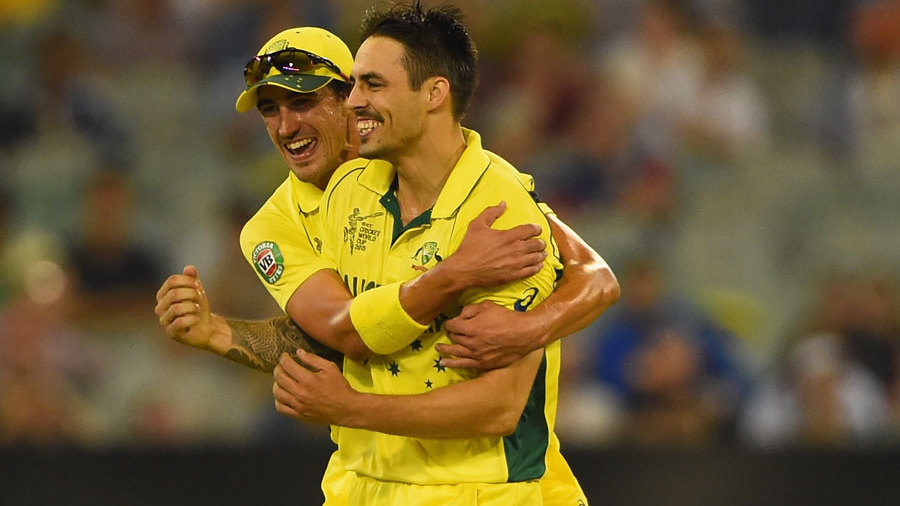 For playing the game with the same, hearty honesty with which he left it, not that his fitness cheated him, in 2015, one's compelled to tip the hat to Mitchell Johnson.