Wasim Akram, the former Pakistani first-class cricketer, now a cricket commentator and television personality has always been somewhat a benchmark in fast bowling. Acknowledged as one of the greatest bowlers of all time, Akram has paved many wins for his team. The left-arm bowler has a record of striking 414 wickets in 104 Tests and 502 wickets in 356 ODIs in his name. Back in 90s Wasim Akram and Waqar Younis were said to be the lethal combination from Pakistan's cricket team.
The legendary cricketer recently shared a video of a kid who can be seen bowling just as sharp as Wasim. A Twitter user Faizan Ramzan shared a video of a young kid who is actually swinging the cricket ball in the backyard of a house and you won't believe how precise his bowling technique is.
Compelled by the sheer talent of this young boy, Wasim took to Twitter to share the video and ask for his identity. He also tweeted that Pakistan has some serious talent flowing through the nation yet there is no platform that can flourish the talent of such kids. He also wrote that it's time that we should do something about it.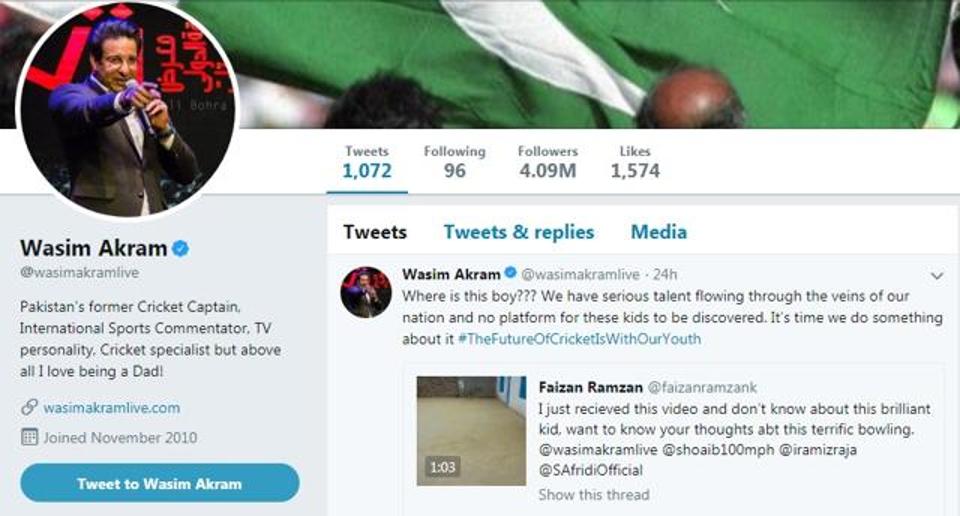 As soon as Wasim shared this video, it got viral. In the video, the young boy, who seems to use the bowling tricks and techniques of Wasim Akram and Mohammad Amir, delivers 17 balls in one minute at one single stump placed in the backyard and hits the stump seven times. All of his deliveries appear to bowl in the right areas.
Watch The Whole Video Here:
I just recieved this video and don't know about this brilliant kid, want to know your thoughts abt this terrific bowling. @wasimakramlive @shoaib100mph @iramizraja @SAfridiOfficial pic.twitter.com/8JPRQNHlfj

— Faizan Ramzan (@faizanramzank) February 27, 2018
Isn't this kid appears extremely talented? It's a shame that not all the talents get an opportunity to learn from a good trainer. However, the country is trying to provide the best it can.
While Wasim is adamant to find the younger version of him, his wife Shaniera Akram pointed out that he could be the next Wasim.

Wasim Akram who is the director of Multan Sultans franchise in the Pakistan Super League has always encouraged young talents. His team is in the third position after it won two out of their three league games.
Who knows, this kid might get a chance to train with professionals owing to the fact that his video has gone viral and people are appreciating his talent. We cannot deny the fact that social media does have the power to turn dreams into reality.
Avni S. Singh