Set up a party time, invite the friends, pull out the best numbers, and be in gear for the chill-out time with the best champagne: India beat Australia in the 4-match series.
In winning the Melbourne Test by a comprehensive margin of 137 runs, Team India has now gone 2-1 up in the series. Thankfully for the visitors, they were able to demonstrate that despite facing a sudden Australian fightback in the Second Test, the Virat Kohli side was up for a fight, a Boxing-Day one at that, going on to prove the worth of its salt.
In going ahead in the series, India were able to bowl out the Australians in both innings, even as the tourists had to wait for a bit longer in the second inning to bring curtains on what's again been a handy Australian team fight back.
In a game where some vital runs came from the bat of batsmen often unsung and where crucial wickets came at the back of arguably among the most inexperienced pacers' in the world of Test cricket, one wonders what are the key takeaways for India from this win in this India vs Australia 2018 series?
That said, let's figure out some vital takeaways that may come in handy for Virat Kohli and his men:
Bumrah and Shami are a hunting pack, can they be well utilised?
In a cricketing decade that appears highly skewed to the spinners- and for good measure- with the batsmen constantly failing to read spin or applying themselves well particularly on the tricky surfaces of the sub-continent, it appears that the pace bowlers are here to stay.
And why shouldn't they?
It also appears that despite the current international game not having expressing pacers that could cause blisters- with Starc, Rabada, and an inconsistent Gabriel seeming the only dangers- maybe the medium pacers can be given the reward they so highly deserve.
In that regard, the star of India's famous Melbourne win, one that may not be forgotten particularly since the age of the man who fashioned this triumph is just 25, Bumrah, has taken the centre stage.
With 9 wickets from the Melbourne Test, arguably a game that has the potential of being the most remembered contest in India vs Aus 2018 series, Jasprit Bumrah's presence in Tests answered the question some critics might have had regarding the quickie's selection in the longest format, given that it's his ODI and T20 credentials that seemed his only visiting card.
That said, how are India going to utilize Shami- arguably the most unsung pace bowler of 2018- alongside Bumrah? Can the duo offer their support on a regular basis to Ishant Sharma, easily the most experienced head in the pace department?
Kohli doesn't always have to score runs in an India win
That India won a Test and that too sensationally with Kohli not firing a hundred or the winning runs is about every bit surprising as it is interesting. As a batsman, there's hardly anything that Virat hasn't done this year. That said, as a captain, whenever the team has required him, the right-hander has stepped up the ante even before he can even be called out to step in and lead the scores.
But that in Melbourne, it wasn't Virat who plundered the runs but guys like Rohit Sharma, Pujara, Mayank Agarwal speaks of the side presenting itself as a well-oiled unit, one that can offer support to the familiar face behind tons of runs.
And should India's other batsmen continue to offer support and lead the way as they so beautifully did in the times ahead, one would think, a strong batting line-up may only become stronger.
Rivals- watch out, ha?
What are you doing Ajinkya?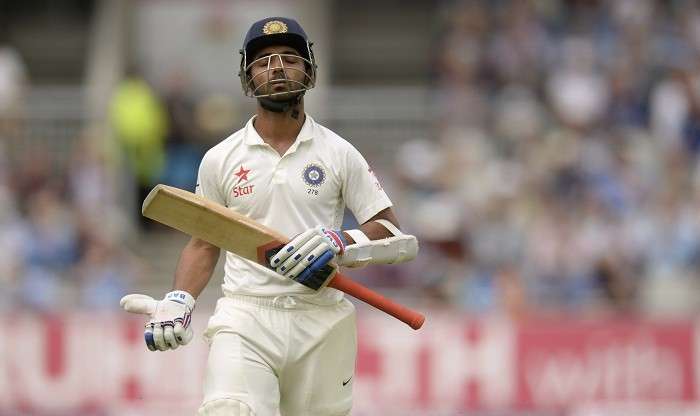 Ajinkya Rahane is a fine batsman. There's hardly a doubt about it. But having said that, is he a great batsman, something that his talent warrants?
In a year where several Ajinkya collected although 644 runs at an average of 30 from 10 Tests; 20 innings, it didn't really appear that his contributions, fundamentally from the point of view of a vice-captain were up to the mark or carried a sense of urgency to contribute.
Rahane, among the nicest people around in the game, entered the Melbourne Test with scores of 51 and 30, knowing well that his scores would've been paramount to assist India toward fancying a win.
That he ended the Test with merely 35 runs- 34 in the first inning and 1 in the other- seem to highlight common trouble he's had even during the two previous overseas tours he's been a part of South Africa and England, wherein he scored some vital runs minus a hundred to aid India during crisis.
Time to make Rohit Sharma a consistent Test feature?
Perhaps one may care to remember Sharma's unbeaten 63 in the Melbourne Test during India vs Aus series as being as important a knock as any of his blazing ODI tons.
The simple reason behind this assertion is that Sharma's fifty, the ninth of his Test career, came at a time where the biggies or Test regulars were back in the pavilion, with Sharma along with Pant holding the fort.
Having said that, Sharma's ability to balance his inning, as defined by those painstaking runs he collected in the first half of his fifty wherein he defended against pace only to offer the free-flowing and glowing cover drives and flicks in the latter do beg a question, perhaps one India may not be ready to answer right now.
Can Rohit be placed as a Test opener, should any of the regular features' 5-day form warrant plenty of criticism as has been the case recently or should Rohit stick to where he is batting right now?
There's more to life than questioning Pujara's strike rate; you know, he can score runs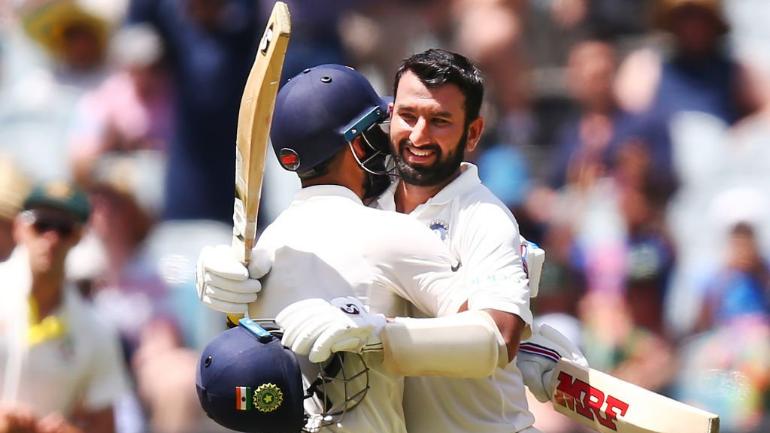 India has a Cheteshwar Pujara problem.
Rather, let's put it this way, Cheteshwar Pujara seems an endangered species owing to his natural batting temperament, something that's hardwired in his DNA, something that even though contributes to his side's fortunes in a Test, sees both- established critics and rising hipsters- sticking out their knives against him.
For a batsman who's played the longest Test inning of all time, batting alongside  Saha against the Aussies in 2017 during his 525-ball-outing should naturally align bowlers and his side regarding his style: that of batting for long.
But that his holidaying on the pitch- instead of being at posh nightclubs or utopian beaches- produce runs, just like 836 of them at 39 this year, along with 3 hundreds, doesn't quite appeal to his countrymen or Ricky Ponting, who's not really Gideon Haigh.2
That told, how does India plan to treat a batsman who's already struck 2 of his 3 Test centuries in 2018 in the current series, having classified him as a bat who takes 'too long to settle down and score?' one wonders.
For now, the stoic right-hander would want to know what crime did he commit against humanity by rescuing India first up in the opening Test of the series at Adelaide, and later, during in the first inning of Melbourne's Test?