The West Indies captain Kraigg Brathwaite is unbeaten on 11 from 41 deliveries at the end of the fourth day's play in the opening Test against Zimbabwe. Should he score another 39 more runs, which given his patience, he is well capable of, it would be his 29th Test fifty.
Interestingly, his last four scores in Test match cricket read- 19 and 3 at Adelaide and 110 and 64 against Australia at Perth.
Impressive?
What's more?
Just a few hours back, Kraigg Brathwaite scored a quintessentially dogged 182 as an opener here at Harare. In so doing, the right-hander faced 312 deliveries.
And with all of that, the batsman famous for his grit and patience demonstrated just that, rather importantly right at the beginning of what is a brand new year for the West Indies.
It almost seems that the status of West Indies batting at the Test level is secure and in safe hands when Kraigg Brathwaite gets going, which is often the case.
A capable batsman on the front foot and someone who is adept at shifting back at the crease, Brathwaite whips and cuts, drives and pulls and does all of that with a sense of purpose.
Actually, a few minutes back, he was facing Brad Evans, the young Zimbabwean seamer in what was the penultimate over the day. The sharply rising delivery that came in was clipped ever so gently off his pads. Resultantly, it went to the deep mid wicket boundary.
There was a sense of serenity to it. There was calmness all over the shot.
The batsman was unhurried. Truth be told, so soft is he as a batsman that even when he's truly applying himself, which he does just as well against an Australia as he does against Zimbabwe, it seems Brathwaite's hardly there.
But do you know what?
He's there. All the bloody time.
Like that saviour of the side on whom one depends to sway an opponent or to keep the bad times at bay, there are no pauses on Kraigg Brathwaite's world.
It's a world that's composed of dot balls; truth be told, one dot ball too many. It's a world where the best in the business acquire the right to feel that they are on top of him after bowling back to back maiden overs.
But to their dismay, Kraigg Brathwaite remains there. Almost unmoved, gifted with unflinching concentration as if nothing's happened and time has come to a standstill.
True to the saying that the proof of the pie is in the pudding, in Brathwaite's case, the evidence rests in the numbers.
Besides Chris Gayle in 2012, no other opener barring Kraigg Brathwaite managed to hit a Test century. A much needed respite in that sense was reached when Shiv 'the Tiger' Chanderpaul's son Tagenarine came along and fired a very impressive unbeaten 207 in the ongoing Harare contest.
But Brathwaite remained unmoved, sticking to the job as only he could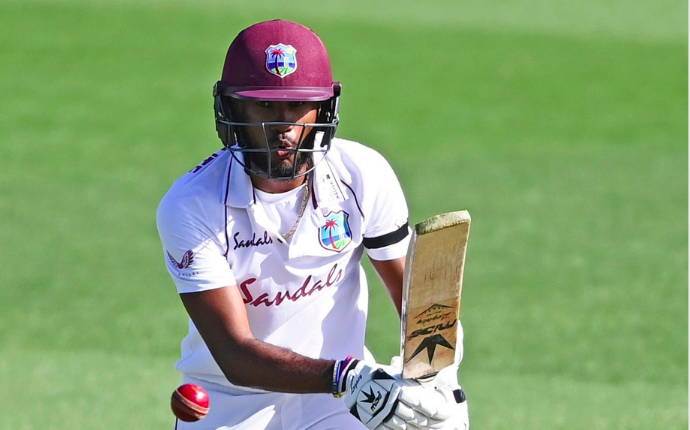 The only years where he failed to reach the three figures were 2019 and 2020 but there were famous hundreds in 2013, 2014, 2015, 2016, 2017 and 2018.
Just last year, Brathwaite collected an impressive tally of 687 Test runs and did so at a fantastic average of 67.
Though, it must be contended that in the process of it, he put spectators perhaps habitual of consuming T20 cricket, to sleep.
The English tried pretty much everything at the memorable 2nd Test, including Mahmood, Leach, Woakes and Fisher but to no avail.
On his part, Kraigg Brathwaite with remarkable patience almost snubbed the side as if he was holding a remote control using which he put the visitors on mute.
But like with all Test greats, there's a sense of longevity to Kraigg Brathwaite that's very much there but hardly gets celebrated or celebrated well enough.
He began his career with Chanderpaul sr. at the other end. Today, as he's the Test expert batter of his side, besides being the quiet captain who keeps winning series' at home, he has the junior Chanderpaul with him.
Brathwaite, all this while, is the unwavering factor. He keeps going. Keeps scoring; unmoved as ever.
May that continue for a team around whom the die-hard cricket fan loves to rally and shall provided the fine cricketer continues scoring the way he is.