Prior to entering their 5th IPL 2018 contest, KKR, were slightly edgy having lost 2 games out of 5 even as their losses came against the back of some exceptional batting by their opponents, Chennai Super Kings earlier and Sunrisers Hyderabad- arguably the strongest team- thus far. But even in their occasional rusticity, you couldn't say that the unit did not play well together as a team. So any doubts that KKR fans may have had of the Dinesh Karthik-led side's ability to play a brand of consistent cricket were laid to rest following the side's emphatic and clinical 7-wicket win over Rajasthan Royals. And that too at Rajasthan's own den at Sawai Mansingh at Jaipur.
In an exhibition of focused, determined and aggressive cricket- with special efforts coming in from both batting and bowling departments, KKR hardly sweated as they made lightwork of their Royal opponents, who had a rather forgetful encounter in front of home fans. But arguably the day's most special performance came at the back of arguably IPL 2018's most sincere and efficient all round talent. It was that man in the midst of dominating proceedings once again: Nitish Rana. But truth be told, by the completion of the 7th over batting first, Rajasthan Royals didn't seem like they would be overpowered so easily as dependable captain Ajinkya Rahane and hitherto out of sorts Australian T20 specialist D'Arcy Short seemed in control of the situation, piling useful runs from the top order.
It is exactly then where one expected both openers to have carried their bats well into the 10th over that the off-break exponent, Nitish Rana, first removed an in-form Rahane, off a peach of a fully-flighted off spinner. The bowl that spun a long way outside off saw Rahane missing it fair and square, being a long way out of the crease. His ouster brought by his opposite number in the KKR camp- Dinesh Karthik doing a bit of acrobatics in throwing the ball back to the stumps, diving mid-air to inflict valuable blow. A few balls later, Rana, the man in charge removed D'Arcy Short, managing to disturb his timber. From there on, Rajasthan Royals looked clearly on the backfoot with their most prized bat- Sanju Samson-holding out to Kuldeep Yadav off Shivam Mavi in the outfield. His ouster for 7 and then clearly, an out of form Rahul Tripathi's for 15 meant that the home team had their backs against the wall.
As fans, you knew that the home team weren't in the thick of things, collecting only 38 from the final 4. The damage, despite their top-heavy batting order contributing most of their 160, had been done thanks to Rana's cunning accuracy with a good day out with the ball. If there was yet another day where KKR's charge and eventual command seemed certain then it was so in this contest as being asked to chase 161 with the likes of Uthappa, Narine, Russell in the wings hardly mounting any challenge whatsoever.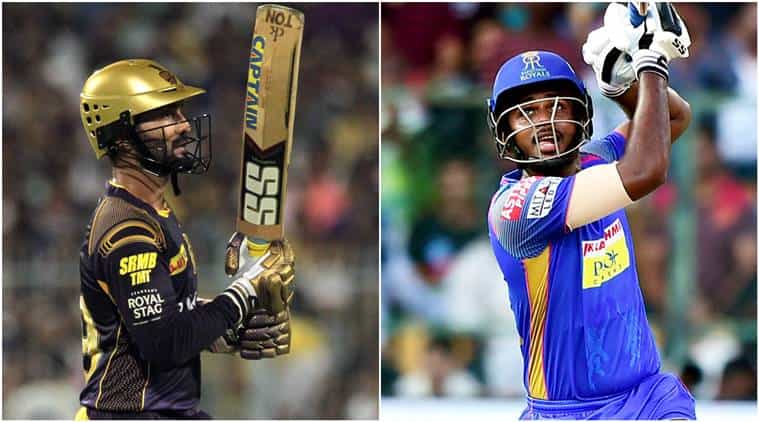 And that is what turned out to be as Narine, having failed in his last two outings with the bat, freed his arms and exerted pressure from the first over. In striking another cleanly hit accumulation of 35 off just 25, he led the attack striking big hits on either sides of the ground. Although his partner's form at the other end wasn't anything to be proud of, Uthappa, the next man in, made most of what Chris Lynn failed to do in a golden duck. Striking some gorgeous cover drives and backfoot punches, there was an air of understated confidence and familiar charm as the right hander blazed his way to a quick-fire 48 of just 36, including 2 sixes. Even as RR's most valuable exponent of spin, Gowtham, brought about the dismissal of number 2 and 3, it wasn't much that Rajasthan could do having put an easily chase-able 161 on board.
It could be said that once again lacklustre bowling by Rajasthan's usual suspects- Jaydev Unadkat and Dhawal Kulkarni- didn't make things easier as Kolkata strolled home to collect an easy third win, finding themselves at top the table. An ordinary day out there in Jaipur, Rajasthan will feel the ground beneath their feet shrinking and would be well-advise to pick themselves up before it's too late to proceed further in the contest.