Kamindu Mendis is today a name that probably the international bandwagon of globetrotting fans that support the game do not know of. Kamindu Mendis also happens to be this name that not many would even care to search about unless someone is shown a clip of this teenage cricketer who can actually bowl with both hands.
Surprised? Didn't believe it? You cannot be blamed. Here's why Sri Lanka, at this point in time, need a bowler like Kamindu Mendis and now, more than ever.
At present, Sri Lanka are a team that could really use quality bowlers. After all, for a team that has produced some quality batsmen of the class of Arvinda Di Silva and Sangakkara, Jayawardene and Jayasuriya, there's also a great league of bowlers that have come from the tiny island paradise.
When Murali played, he was known to spin webs around batsmen. Vaas was daunting and Perera was hard to score off. Then came Dilhara Fernando and then, Lasith Malinga. We know the damages they've wrecked. In between, there've been intimidating spells from the likes of Angelo Mathews and a few others. But none have managed to hold the headlines the way Murali did. The onus, as often seen in other teams, rests on the youth to deliver.
But for that to happen, the cricket board needs to up its strategy of inducing young blood. Can the board be expected to do the same with Kamindu Mendis. Probably, there could not be a better time to get him in the team than now.
Here's how.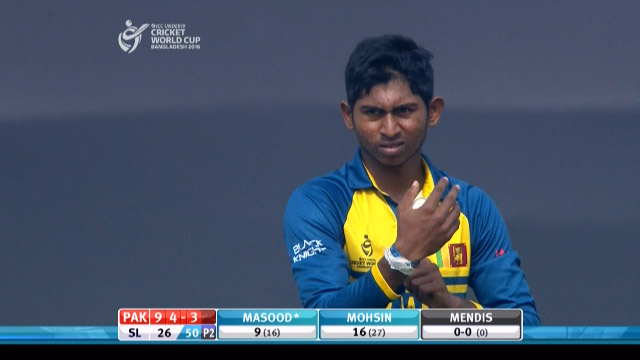 What Sri Lanka truly need probably now, more than ever, given the fact that Rangana Herath is departing from the sport is a great spinner in the times to come.
Post-2018, he won't be there in Tests. As it is, the ODI cauldron desperately needs a talented skilled hand.
That, traditionally, Sri Lanka's great strength has happened to be spin is in no ways surprising. It's probably so because of the likes of Murali and co., gave the team such flawless victories with such consistency that one almost got accustomed to seeing the team win.
The team, moreover, haven't really experienced a great run, of late
It didn't help the team that it was found guilty of ball-tampering at the Caribbean recently. Once again, a captain was involved in something truly shady.
At this point of current form, where Sri Lanka is actually trying to regroup and often failing, the island guilty of not churning massively-talented players, there was hardly any focus on developing handy pitches back home, this shambolic even should've been avoided.
The West Indies, couldn't be defeated and moreover thumped Lanka in a couple of Tests. 
Back in India during 2017, their series outcome wasn't ideal. Though Suranga Lakmal did help the team with a spirited bowling performance at Eden Gardens, there were morbid Test defeats ahead.
That said, can Sri Lanka benefit from this young spinner? What if the talented spinner is inducted sooner, than later, into the main fray of the side, one that is going to be on its way for the 2019 ICC World Cup? Here's a clue about what can or might happen.
In talents and established names like Chandimal, Perera, Mendis, Dickwella, and Mathews, there's a core of players that aren't presenting any great team results. But apart from chipping in now and again through individual efforts as seen in the Test wins against Proteas, where for a change they were comprehensive, a young spinner can make a change.
This is where why it becomes really crucial to induct Kamindu Mendis into the squad. Not only that he can bowl cleverly from both hands, this ambidextrousness being a niche of a rare kind that few possess, he's equally hard to score off.
And that said, it's not that Kamindu Mendis is just a spinner. He's also a handy batsman who's scored 4 ODI fifties back in the Under-19 games. He also featured in the Under-19 world cup that was held earlier this year.
The skill that Kamindu Mendis brings?
A turner of the ball and a belligerent hitter who bats left-handed, his name is already spreading across the island paradise and at present, the ICC too have rested their focus on the emerging Sri Lankan bowler. What difference could he bring to the team can be seen only in the future. But for starters, that players like Mathews aren't getting any younger, apart from experiencing recalcitrant form, it makes sense to induct the exuberance of the youth. While off-break seems his strength, who knows what he might end up contributing?
Even if one sees elsewhere, going the way of the youth seems to be the general trend. Take guys like Ollie Pope, Rishabh Pant, Shemron Hetmyer for example? Sri Lanka, what is your decision going to be?