To aim for the skies, one has to have his feet firmly placed on the ground. Guess whom this applies to? Well, Jofra Archer- the prime destructor of South Africa in England's 2019 World Cup campaign-opening game, who else?
At a time where most eyes were transfixed on what the likes of Jos Buttler, Eoin Morgan, Faf du Plessis, Hashim Amla, and Imran Tahir would do, 24-year-old Jofra Archer made an immediate impact well ahead of these established stars in the mother of all sporting battles.
For a cricketer whose inclusion in England was debated for the longest possible time, not to forget that whole argument as to when would one finally get to see him in live action, it could be said, it's Jofra Archer who has immediately created an impact in the opening game of the 2019 World Cup.
Held in Her Majesty's Kingdom, hosted for the fifth time by a team that is yet to win the very sport it helped create and conceptualised, if there's a question that concerns cricket's die-hard fans, then it is this:
Will England win the 2019 World Cup. And to that end, it may not be wrong to say that, the fact that the simple word "will" finds itself in presence of "can" is perhaps down to the presence of exceptional talents like Jofra Archer.
Maybe, that's the reason why most aren't asking: "Can England win this time?"
To be fair to South Africa, even as they were put up against a stiff climb of 312, with England batting first, making most of a batsmen-friendly Oval wicket, that England bowlers were up against the dynamic pairing of Hashim Amla and Quinton de Kock may not have been an easy sight to digest.
For a pair that's collected heaps of runs having batted together for close to half a decade, which bowler, it ought to be asked, would take this collective duo, responsible for nearly 12000 runs (together) lightly? Surely, Jofra Archer wasn't going to. But is that all?
Surely, Jofra Archer wasn't going to take South Africa lightly. Which is why, for starters, he rattled the experienced Protean in Amla by a barrage of short-pitched deliveries, before a lethally delivered white-ball contacted the helmet of the veteran Protean who completely misread a shorter one delivered with biting accuracy.
Immediately after this, Archer would begin to close in on the South Africans in pursuit. He'd get captain Faf du Plessis, usually, the man in charge and more so in the "post-AB-era South Africa", with a well-directed shorter one.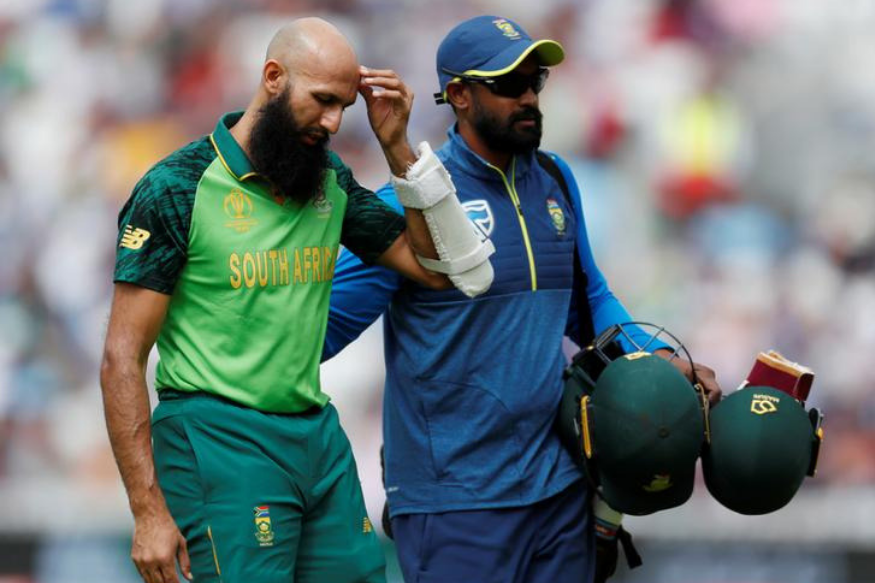 The Protea captain, who would open his World Cup campaign with a glorious square drive, would mistime a pull that never really should've been there with the fielder at deep square leg having been placed there with careful planning and execution.
It didn't help the Proteas that their captain would once again fail to bring the forward or front leg into play- as narrated by VVS Laxman in the dug-out- in executing a hookish stroke that would've otherwise been nothing more than a ball well left.
More damage would soon follow when Jofra Archer, playing his very first game against the South Africans and that too, in a World Cup would clinically dismantle the middle-order, taking Markram- SA's future leader- and newcomer van der Dussen, the latter going on to strike his maiden world cup fifty, playing his first-ever contest at such an eminent stage.
While England would eventually bundle down South Africa beating the living daylights out of a team that did exhibit some class, if not consistency as shown from its constantly faltering batsmen (in this opening game), all's not lost for South Africa, that would love to bounce back and perhaps also put together the frames of the puzzle that's Jofra Archer.
For he not only has pace but also- biting accuracy and a great repertoire.