None for 53. None for 64. None for 50. Three games and three spells of full 10 overs that yielded a wicketless return on the trot. 
That's Jasprit Bumrah's returns from the 3- nil series whitewash handed out by hosts New Zealand.
In a week where the glorious happened perhaps a bit unusually, it could be said the powerful Indian team fumbling in the Under-19 stage in the finals wasn't the only surprising occurrence, with all due respect to Bangladesh's emphatic win.
Perhaps it was also somewhat strange to see one of fast bowling's true modern greats to emerge wicket less, contesting against the very side he had tamed in the shortest formats days earlier.
But that's the thing about cricket isn't it. That's why it's called the sport of glorious uncertainties.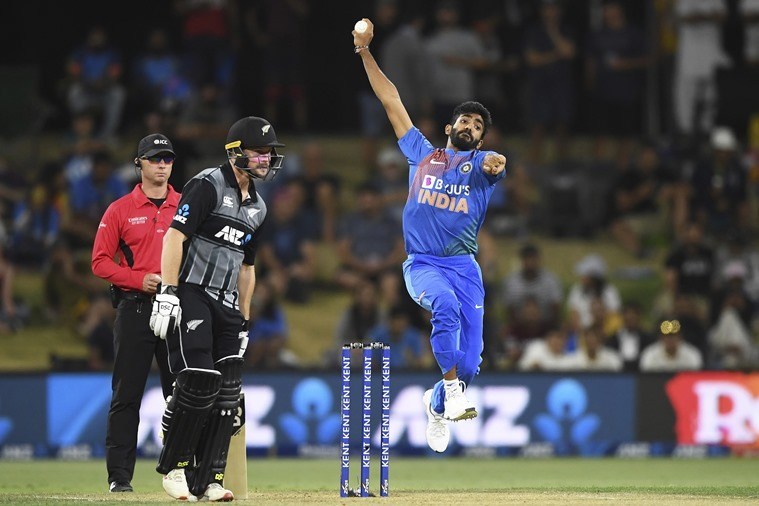 To a large faction that sees Jasprit Bumrah as the best current fast bowler- few, it regards, can come closer to the man renowned for bowling deadly yorkers in death overs.
Rabada has pace. Archer has bounce. Bumrah has both- batsmen have often found much to their chagrin.
To another lot in his cricket-frenzied nation, Jasprit Bumrah = Virat Kohli with the white ball. 
But whatever it is, one thing is clear.
Either we've grown accustomed at expecting the world out out of our cricketers where each time even before they walk out to the field, we duly raise hopes of seeing a rainfall of runs or a burgeoning wicket column from the men in blue.
Or, it could be that given our impassioned love for special talents like Bumrah- 104 wickets, 64 games- we forget that they too are humans, at the end of it all. 
That they can be allowed an off day at the office doesn't seem to feature in our fairy tale script.
O what fanboys we often turn out to be!
But is that all?
Could it be that there's something more in India's fast bowling sensation who went wicketless giving away a combined 167 runs from 30 overs, at nearly 5 and a half an over in the just-completed games?
Does New Zealand's outing against one of the most feared exponents of white ball medium pace not prove an important point that Bumrah is not invincible, after all?
Maybe just like it is possible, after all, to keep someone like Virat Kohli silent in an entire ODI series; that it's quite achievable to keep the King of big runs at distance from the usual high standards of reaching the three-figure mark.
Surely, both at the outset and whence viewed closely, something seems amiss.
But is it really so?
How could Bumrah have suddenly slumped out of form when here he was bowling very much the ODI kind of economical spells in the 5 T20s where just putting bat to ball against him seemed as tough as ask for the Kiwis as is walking barefoot on crushed glass?
It wasn't that he was absolutely plonked for runs.
The bouncers were darted. But were successfully evaded. The yorkers came in hurriedly but were met with the dead defence of the straight bat.
In spells where the big hits against the lanky pacer seemed challenging, the 1s and 2s and the odd boundary wore him down.
God knows how they did it.
But for the moment the New Zealanders must be duly regarded for proving that for all his outstanding talent- Jasprit Bumrah isn't unplayable.
Is there a lesson in there?
And that if one applies himself; possibly opting for the sensible virtue of playing him watchfully whilst attacking others, there's a way to counter the so-called "Burmah-threat!"
Credit to New Zealand then for making inroads toward a discovery of sorts which other sides like a West Indies or Pakistan or a South Africa – who've bore the brunt of facing the man with toe-crushing yorkers- would be wise to learn.