In a sport to often and enthusiastically called the "batsman's game," it only makes sense to celebrate a rare achievement in the field of batting. Isn't it? Although, with the remarkable quickness with which two different cricketers have accomplished this rare record, both doing it this year, one could be compelled to call this achievement- astounding in its scope- not too rare after all. So how is that? First up, a question- do you know who Jaskaran Malhotra is?
If not, then perhaps never a better time to know that than now. There's a reason. But hey, please note:
He's not a Punjabi rap singer. Not an industrialist settled in Canada but hailing from Ludhiana or anywhere from the charming hinterland of India. In fact, he is a cricketer of Indian descent, as one would make from the name.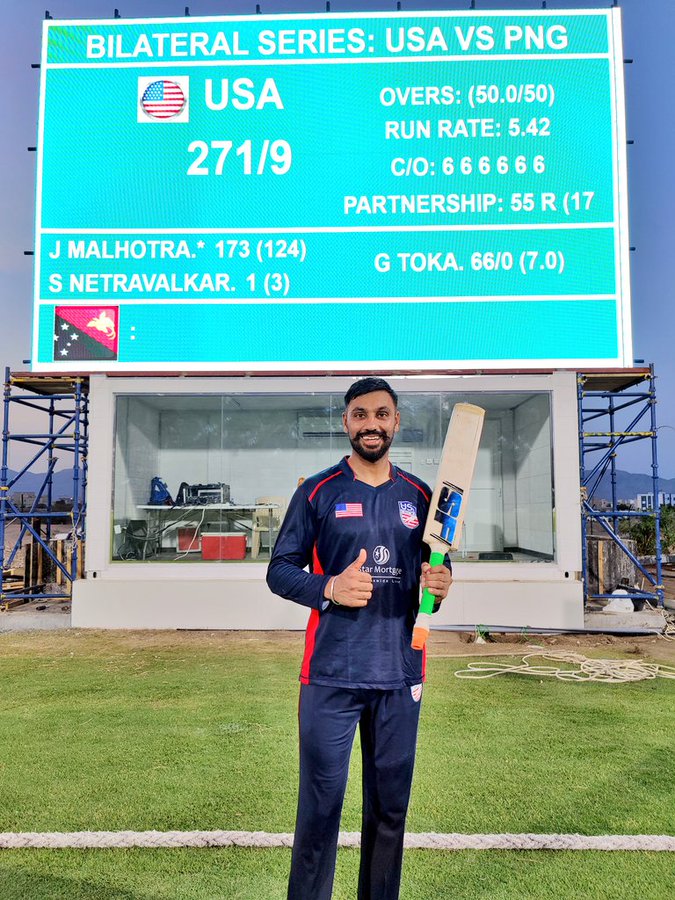 A prominent force of the USA cricket team, Jaskaran Malhotra hit six back to back sixes to etch his name in a distinguished list that includes massive names in the game such as- Ravi Shastri, Yuvraj Singh, Kieron Pollard, and Herschelle Gibbs.
The great milestone was achieved during a fifty-over game against Papua New Guinea and in the process of achieving the rare distinction for his team, Jaskaran Malhotra also achieved another prominent first for his country.
He also became the first-ever batsman from the USA cricket team to touch a three-figure mark in ODI cricket.
To hit a couple of sixes too, on certain days becomes quite a task. Actually, more so when you are up against rank turners and wily foxy spinners or toe-crushing speedsters, but to his six consecutive sixes in an inning is actually a sight to behold.
A feat, truth be told, like no other.
So while surely we know that Jaskaran Malhotra in the aftermath of achieving this mammoth feat would be feeling happy and delighted beyond any scope of doubt, what's also important to note that he'll now be tasked with an even bigger responsibility.
As it usually happens at the back of a big achievement in the game, where mighty records are made or broken, and in some cases, as seen in Jaskaran Malhotra's case, a first-time occurrence, there's pressure of performance and expecations.
He's a fine headlining material as of now and deserves every bit of praise coming his way. But perhaps Jaskaran Malhotra will now know that there'll be a certain kind of expectation, and perhaps, for his own good to score more and regularly.
The likes of Yuvraj Singh, Herschelle Gibbs, and Kieron Pollard, each of them having achieved the same feat before the now-popular USA cricketer are all legends and have made their careers at the end of consistent performances in the game's highest level over a period of time.
For now, Jaskaran Malhotra should let it all sink in, for what he has gone on to achieve is remarkable- an unbeaten 173 off just 124 deliveries. Not the kind of inning you end to see everyday or very often.
That being said, it's a huge moment for USA cricket and the 1989 born cricketer, who originally hails from Chandigarh must feel proud of his effort. It's not hard to know why- overall, he fired sixteen sixes.
If that's not stunning – then what is? The kind of effort that would make Pollard and Gibbs join their hands in appreciation- don't you think?