He really shouldn't have said that he hates or dislikes playing against the West Indies. It was the crucial quarter-final, a virtual mini-final of sorts in the middle of 2014 ICC World T20.
We rewind back to 4 years from now.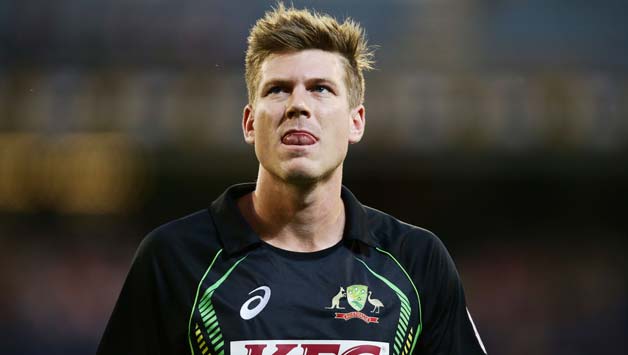 James Faulkner, who surely must have been pumped by the opportunity of seeing a capricious West Indies, known to frequently collapse thought it might be a good idea to rile up his opponents.
Not that it turned out in his favour. The West Indies, led by a marauding Gayle charge, supported by Lendl Simmons and finally taken over the ropes by then-captain Darren Sammy ended up blasting past Australia's imposing 178 off 20 overs.
This saw the West Indies proceed ahead and brought curtains to the Aussie's standing in the ICC World T20, 2014, yet another series where their T20 hopes were dashes down the ground.
But everyone asked in unison, who was the culprit on this occasion? The answer wasn't hard to find. James Faulkner, who today, is nowhere to be seen even close to the current Australian dug-out (wherever the team goes or plays at), bowled the delivery which Sammy clubbed for a massive flat six, down the ground.
It further didn't help his cause that James Faulkner contributed merely 13 from his bat. He went wicketless to expose his weaklings. But an even harsher truth lay ahead.
Bearing a stark resemblance to the way Windies were once called 'grovel', victorious Windies captain Darren Sammy then served a final nail in Faulkner's T20 coffin that evening by saying, "Talk is Cheap."
Surely, you didn't need to guess who was the St. Lucian aiming at? A dig had been taken; a retort was served and some vengeance had been returned. Not always that you see a Windies beating Australia. Not always that the Aussies get sledged back. Just that, on that occasion, it wasn't really a sledge from the West Indies camp.
But that was 4 years back in the past. James Faulkner, before retreating into the dim sidelines, where today one hardly gets to see the otherwise useful bowling all-rounder who could easily transform into a batsman, played for another 3 years or so.
But by the end of October 2017, one wouldn't see him anywhere. Goodness me, what happened to James Faulkner; where did he go? Not my line. Truth be told, fans wondered, what became of him?
There were fans that James Faulkner had collected in his memorable IPL stint with Rajasthan Royals. There were fans that Jimmy Faulkner- the man who often used the bat in the lower-order as if it were a sledgehammer- collected thanks to his mighty stroke-play.
When he came at number six and number seven, he often raised the ante of the score for Australia with about the same familiar ease with which a child pops in a candy; often in an endless streak.
This was James Faulkner, a potent Australia all-rounder, who in the wake of scoring 600 of his 1032 ODI runs overseas at an astonishing strike rate of 101, made fans sit close to the edge of the seat and commentators perplexed in a state where they'd nearly eat a mothball thinking of it being a candy made of mint, visibly besotted with this batsman, who'd take absolutely no time in freeing his arms.
Cut to February 2017. It's James Faulkner bowling against a rather lacklustre Sri Lanka, one of Aussies' famous opponents. He ends up scaling a vital three-four. Well, no windowpanes were smashed in frustration and no begrudged fans, often frustrated with Australia's lack of consistencies, found drinking beer celebrating Faulkner's spell of 3 for 20 off his 3 overs.
He'd not only dismissed the dangerous Tharanga but also removed Siriwardana and, then, Prasanna. He was a live-wire in the field and he was found diving around everywhere at the famous Adelaide Oval.
To be frank, none would've expected that one week after celebrating Valentine's day, the Australian selectors would fall out of love or flavour with James Faulkner, who by then, had only played 24 T20s.
It's been a year and a half since then. There's not been a single T20 appearance for arguably the only Jimmy, world cricket perhaps doesn't care about, Anderson, of course, is going strong.
But here's a fact. 
From his 24 T20s, indicative of a career that was perhaps peaking, James Faulkner had collected 159 runs off 138 deliveries, struck a personal-best of 41 (an unbeaten knock) and even found a way to clinch a definitive 5-for; a 5 for 27.
Above all of that, he'd already amassed 36 T20 wickets at an economy of 7.5 an over from merely 24 appearances.
Why James Faulkner, a gatherer of 527 IPL runs and 59 wickets, was curtailed from T20s and distanced from the format where he was excelling is mysterious than the logic that compelled the world-class duo of Steve Smith and David Warner tamper the ball?
The truth, ugly in its predicament for Faulkner was out there. His last international appearance before the Australian cricket board decided for whatever reason they'd had enough of James would come a few months later, in October. This is when upon playing an ODI against India, the fifth in that series, Faulkner, who scored 12 in a contest where captain Smith scored 16 and, Handscomb contributed 16 in a joint Aussie let-down was shown the door, thereafter.
Perhaps logic would point in the direction of Faulkner, having failed miserably in the ODI series that took place in New Zealand earlier in the year. But sadly, there wasn't anything malicious in James Faulkners' performances in Kiwi-land. Right after the abandoned 2nd ODI, Faulkner proved the lone figure of respect from an Aussie camp that had no answer to Ross Taylor's heroics as he clinched a 3 for 59 off his 9 overs in the third ODI
Surely, that can be called a pathetic bowling effort only in la-la land.
Still, it so happened that when the going got tough for Australia, its cricket board got going.
Since October-2017, the Australians have played a comprehensive series against New Zealand. This is where they'd create a world record of sorts by chasing 244 in a T20 game. There was no Faulkner there. They also travelled to South Africa to dig quite possibly the deepest hole in their cricket career, ever since Warne and Mark Waugh's involvement with the bookies.
One wonders what might have happened had the ball-tampering saga not had taken place?
Finally, they'd go to England earlier this year in 2018 only to find themselves roasted at Trent Bridge.
They'd find England climb a peak; scoring the highest-ever total in ODI cricket at the back of blasting Australian bowlers. Only Shaun Marsh courtesy a solid hundred in the series, got something for the Aussies to cheer about in a series that was about heartaches.
What was a senior member of the team like Glenn Maxwell doing on that tour one would never know quite in the same fashion one would never know why wasn't James Faulkner- not injured, not a culprit responsible for shaming the Aussies quite like legends or icons like Warne have in the past- picked?
You can call it a travesty.
You can choose to turn a blind eye to the entire episode.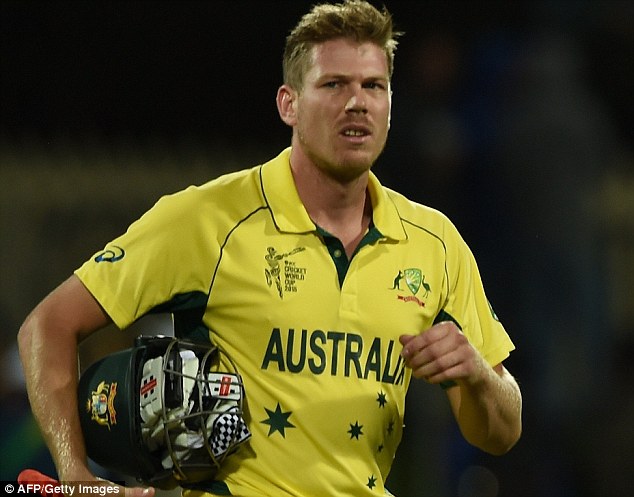 But that a James Faulker today sounds more complete as a sentence when you attribute the phrase 'comeback' to his name speaks of the mistreatment or the lack of any amicable treatment he's been a victim of.
This is a genuine all-rounder whose batting strike rate in the IPL was 135, proving he was no flash in the pan, having already mustered a massive hitting-range in limited-overs cricket leading to an ODI strike rate of over 101, from 69 outings.
That James Faulkner always had something of a natural keenness to contribute was evident from the word go when he would go on to strike a massively important 116 during Australia's forgettable ODI series tour to India in 2013. In the very first year of his ODI outing, he'd collect a hundred.
Since then, of his 1030 plus ODI runs, he'd score 327 and 272 against India and England respectively, at very healthy averages of 54 and 45, respectively.
Today's Australia needs a more experienced player as against a flashier exponent with the bat. What is Tim Paine doing in the ODI side is something no job-description warrants especially from an Australian perspective and something, not Paine himself can answer.
When will Maxwell produce the 'Big Show' a moniker he's painted with, we don't know? Will Mitch Marsh and Travis Friend befriend consistent ODI knocks, one knows not. What one does know is that for a team whose last quality all-rounder was Shane Watson, there was some hope in James Faulkner.
Should Australia re-consider him and help him mount that James Faulkner comeback that only a naysayer would dread is something that rests only in Australia's hands. What one knows is that for now, there's no sign of a James Faulkner comeback. For he too, like George Bailey is warming some bench, away from national contention, Down Under.