IPL 2017 Match 20 GL vs RCB: All-round Challengers Beat Struggling Lions.
IPL 2017 is turning out to be one of the most entertaining seasons in the history of Indian Premier League. Royal Challengers Bangalore entered this tournament with almost every of their marquee player being out due to an injury and Chris Gayle's struggle with the blade further made matters worse for the franchise.

And then came Virat Kohli. Since his comeback after his shoulder injury, we have seen a very different side of RCB where every player wants to deliver his personal best and one such chance was given to Chris Gayle yesterday. AB de Villiers was not playing in the match against Gujarat Lions at Rajkot and that gave Chris Gayle an opportunity to shine once again. And man!! The Universe Boss knows how to do it!!
Chris Gayle played an exceptionally blistering knock of 77 runs off 38 balls, including five boundaries and seven sixes. Also, during the initial stages of the game, he became the first ever cricketer to achieve 10,000 T20 runs and yes, he did it in style.
The first six from Gayle's bat came on the very next ball he faced after becoming a veteran of 10,000 T20 runs, initiated the well-known ball-bashing. Not even a single bowler was spared and we once again witnessed the behind-the-line straight sixes, well twice in a single over. Basil Thampi became the man to dismiss the Universe Boss but the damage had already been done.
While everyone was concentrating on Chris Gayle's innings, Virat Kohli was given enough time warm-up on the pitch with his singles and doubles, and after the former went back to the pavilion, it was time for the Kohli Show. The Indian skipper played a captain's knock of 64 off 50 and got out in the 16th over at 159/2.
Last four overs remaining and eight wickets still in hand, you must have got the idea about what happened next. Travis Head and Kedar Jadhav, both played 16 balls each and added 30 and 38 runs to the total, respectively.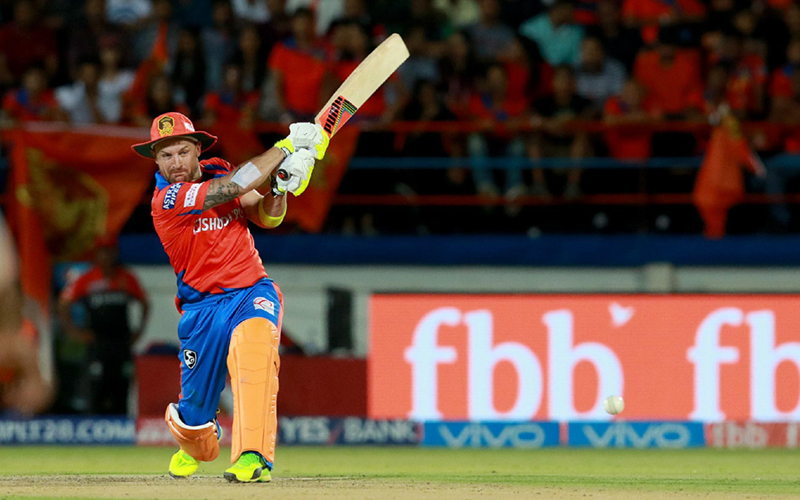 A target of 214 runs was never easy for Gujarat Lions, despite the match being played at their home ground, but it was Brendon McCullum's knock of 72 of 44 balls that helped Gujarat Lions to come very close to the target but the team could only manage 192 runs, which is certainly not that bad and we also got to see the man in action who brought glory to IPL, 10 years back. This was their highest score being on the losing side and second highest overall. Yuzvendra Chahal was the man who demolished the host with his 3 wickets in four overs, conceding just 31 runs.

Royal Challengers Bangalore and Gujarat Lions are both struggling at the bottom of the table and from now on, they will have to take desperate measures to get back to winning ways.